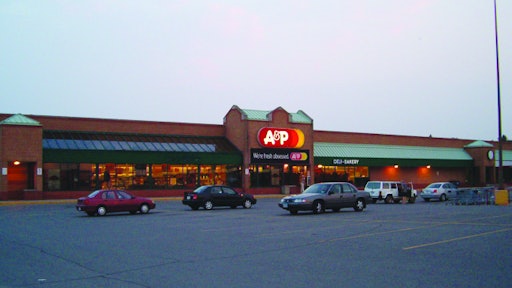 The Great Atlantic & Pacific Tea Co. Inc. will enter into a new supply and logistics agreement with its principal wholesale supplier, C&S Wholesale Grocers Inc., pending approval of the U.S. Bankruptcy Court for the Southern District of New York.
Montvale, NJ-based A&P estimates the revised contract will generate a run-rate of more than $50 million in annual savings, which will be realized in cash beginning upon its emergence from Chapter 11 pursuant to a plan of reorganization. The agreement will also help the company generate cash savings in the near-term by significantly and immediately improving supply chain and operational efficiency, as well as provide the company with key service enhancements.
"The approval of this new supply and logistics contract with C&S will mark a key milestone for A&P as we move forward with our restructuring," says Sam Martin, A&P's president and CEO.
"The agreement will strengthen our existing relationship with C&S, as we work together to drive service delivery and reliability enhancements and substantial efficiencies across our operations. The anticipated annual savings will significantly reduce A&P's cost structure upon emergence from Chapter 11, while ensuring consistent product availability in our stores and greater diversity of products for our customers," says Martin.
As part of the agreement, A&P will partner more closely with C&S to take advantage of its access to competitive rates from key manufacturers and producers, creating greater economies of scale and enhanced supplier relationships that position the Company to further distinguish its product offerings in key categories.
The company anticipates that the bankruptcy court will consider its motion on the new C&S contract at a hearing later this month.
Private Equity Behind Bevy Of Food Deals
Merger and acquisition activity was heightened in the first half of 2011 compared to the previous year, with The Food Institute recording 196 announced and closed deals through June. These numbers represent an approximate 27 percent increase in total M&A over the same period in 2010 and about a 65 percent rise from 2009's 117 total mergers.
"Investment firms and banks continue to play an influential role in food industry M&A activity, showing interest in devalued assets or in companies well-positioned to thrive in a down economy. A prime example is William Ackman's five million share investment in Family Dollar Stores Inc., making his Pershing Square Capital Management the retailer's largest shareholder," says Brian Todd, president and CEO of the Upper Saddle River, NJ-based trade association.
Private equity firms helped shape numerous deals within the food industry. Investment firms and banks participated in 39 acquisitions in the first half of 2011 vs. 24 the prior year. A notable deal included BJ's Wholesale Club agreeing to be acquired by affiliates of Leonard Green & Partners, L.P. and funds advised by CVC Capital Partners in an all cash transaction valued at approximately $2.8 billion.
Deals among food processors increased as well, with 45 deals either announced or completed, a rise of about 32.4 percent from 2010 and 50 percent over 2009. Specialty food makers continue to be an attractive target for acquisitions. Meyer Natural Foods acquired organic beef brand Dakota Beef..
Sara Lee Corp. acquired Aidells Sausage Co. for $87 million. Among gourmet and specialty sauce and condiment manufacturers, Beaverton Foods Inc. acquired Pacific Farms, making it the largest processor of wasabi products in North America.
Retailers were also involved in more acquisitions through mid 2011 vs. the prior year; 43 deals this year compared to just 23 in 2010. The Great Atlantic & Pacific Tea Co. sold seven Super Fresh stores in Maryland and one Super Fresh location in Washington to Mrs. Green's Natural Market. A&P received bids for 12 of the 25 Super Fresh stores put up for sale. The Lowe's grocery store chain purchased Super S Foods.
H.T. Hackney To Lay OffWorkers In Florida DCs
H.T. Hackney Co. is laying off 40 workers at its Miami distribution center after losing a grocery-distribution contract for Walgreen Co., according to reports.
The distributor also recently said it was cutting staff at its Tampa, FL, warehouse, according to the South Florida Business Journal. Neither Walgreen Co. nor H.T. Hackney, which is based in Knoxville, TN, could be reached for comment.
The Business Journal said a notice filed with the state indicated that it would stop distributing to Walgreen stores on Aug. 18, with the layoffs to follow. A union does not represent the affected employees, of whom 13 are in transportation, 20 in warehouse operations, two in sales and five in offices.
The distributor filed a WARN (Workers Adjustment and Retraining Notification) notice with the state of Florida on July 13 warning of mass layoffs as a result of a lost contract.
"We were recently notified that Walgreens is transitioning the grocery distribution of all of their stores in the southeast region to a different company," said Kimberly York, a human resources representative for H.T. Hackney, in a letter to a state official.
H.T. Hackney also filed a WARN notice for its Tampa distribution center, which is also expected to undergo a mass layoff of 40 employees.
AWG Breaks GroundOn Louisiana Warehouse
Associated Wholesale Grocers (AGW) has broken ground on its seventh full-line grocery distribution center—a 720,000-square-foot warehouse in Pearl River, LA, 20 miles north of New Orleans—that will service retailers across the South from Houston to Tallahassee and into Georgia.
With over 720,000-square-foot of space, the newly created AWG Gulf Coast division will stock almost 19,000 SKUs. The facility is scheduled to open in January 2013 and will service Louisiana, Texas, Mississippi, Alabama, Georgia and Florida—states in which the cooperative already has 40 members operating approximately 135 stores. Most of them are currently served out of the AWG facility in Southaven, MS, located 400 miles from Pearl River.
AWG says it expects the facility to enable customers to save more than $6 million annually in freight costs, as well as to provide better availability of fresh foods and locally grown products.
"We're excited about the future of our new Gulf Coast division and the potential for growth and expansion by our members in this dynamic region of the country," says Jerry Garland, AWG president and chief executive officer. "As a cooperative, we have a responsibility to our members to provide the best available food and related products at the lowest possible cost and this new division will significantly lower the cost of groceries to member stores and expand our abilities to further achieve that goal for our members and future members in this region."
AWG plans to employ 290 new employees in the distribution center.
Jewel Food Stores Cited For Safety Violations At Illinois Warehouse
The US Department of Labor's Occupational Safety and Health Administration has cited Jewel Food Stores Inc. in Franklin Park, IL, for 13 safety violations after an evaluation of the company's process safety management system was found lacking several required elements for handling ammonia refrigeration systems used in the food warehouse/distribution center. Proposed penalties total $75,000.
"Developing and following written procedures for the handling of substances like ammonia is critical to employees' safety," says Diane Turek, OSHA's director for the Chicago North Area Office, Des Plaines, IL. "Employers are responsible for knowing what hazards exist in their workplaces and following OSHA's regulations."
One repeat violation was cited for failing to develop and implement written operating procedures consistent with process safety information that provided clear instruction for safely conducting activities related to each covered process. A repeat violation exists when an employer previously has been cited for the same or a similar violation of a standard, regulation, rule or order at any other facility in federal enforcement states within the last five years. Jewel Food Stores was cited for the same violation in March 2010.
Ten serious violations involve failing to document inspections and tests performed on process equipment to maintain its mechanical integrity; not performing inspections and tests at applicable manufacturers' recommendations; not following generally accepted good engineering practices when performing inspections and testing of process equipment; not establishing and implementing written procedures to maintain the integrity of process equipment; and not annually certifying that operation procedures were current and accurate.
Finally, the hazard analysis did not address the hazards of the process and operating procedures, and it did not address normal operations for each operating phase. A serious violation occurs when there is substantial probability that death or serious physical harm could result from a hazard about which the employer knew or should have known.
Safeway, United Natural Foods Announce Distribution Partnership
Providence, RI-based United Natural Foods Inc. (UNFI) has signed a three-year distribution agreement with Safeway Inc., Pleasanton, CA. A brief transition period from Safeway's current distributors is expected, which will coincide with the termination of the current distributors' distribution agreements.
UNFI will assume distribution to all of Safeway's banners in the US for non-proprietary natural, organic and specialty products effective October 2011. The company anticipates incremental annual volume from this contract will increase annual revenues by approximately 4 percent in fiscal 2012.
"We are pleased to establish a distribution relationship with Safeway and are excited about the opportunities this agreement provides," comments Sean Griffin, senior vice president, national distribution of UNFI. "Our ability to continue to gain market share reflects the ongoing efforts by all of our associates to service our customers' needs and further strengthens our position as the nation's leading distributor of natural, organic and specialty products. We are in the process of finalizing a transition plan with Safeway in order to provide them with excellent service levels and support, while ensuring there are no disruptions to any of our existing customers."
"We are looking forward to our new partnership with UNFI to provide the variety of specialty, natural, organic, and regionally relevant products that will meet our customers' needs," says Kelly Griffith, Safeway's president of merchandising.
UNFI will incur approximately $1.5 millionto $2.5 million in total start-up expenses during the fourth quarter of fiscal 2011 and the first quarter of fiscal 2012 to transition this business. It is anticipated that approximately $0.5 million to $1.0 million in costs will occur in the fourth quarter of fiscal 2011, ended July 30, 2011, with the remaining costs being incurred in the first quarter of fiscal 2012.