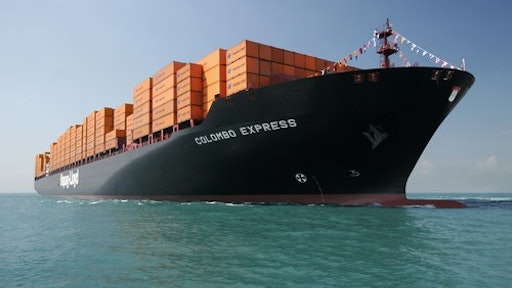 Congestion is becoming increasingly common at major U.S. ports—a problem that could have profound implications for the $900 billion worth of goods transported to and from the U.S. each year by container ships, according to a front page article in today's Wall Street Journal.
The slow movement of imports and exports illustrates how the logistics of global trade have fallen terribly out of sync. Ocean carriers are deploying progressively bigger vessels. Some would be taller than the Empire State Building if stood on end. They can carry more than twice as much cargo as their predecessors, and are more fuel-efficient than smaller vessels. To ensure they travel as full as possible, shipping lines have formed alliances to combine their loads.
But the floating behemoths are overwhelming many U.S. ports that weren't built to handle such supersize ships. Of the 10 busiest U.S. ports by container volume, as calculated by the American Association of Port Authorities, at least seven are grappling regularly with congestion.
The big ships "have stressed the infrastructure to the breaking point," says Jock O'Connell, an international trade adviser at Beacon Economics LLC in Sacramento, Calif. There needs to be "a concerted effort to rethink and redesign the ports to accommodate these larger vessels and the additional cargo they're generating," he says.
To read more, click HERE.