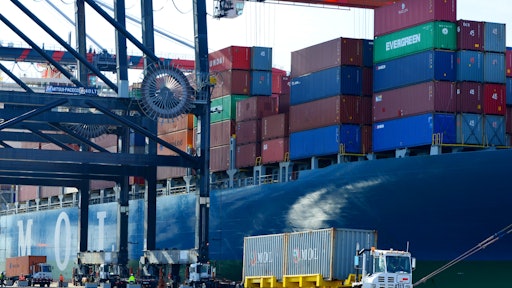 JAXPORT's TraPac Container Terminal at Dames Point welcomed the largest vessel to ever call on Jacksonville's seaport. The 8,100 TEU (containers) MOL Competence traveled from Southeast Asia through the Suez Canal and called on other U.S. East Coast ports before arriving at TraPac.
The Competence is more than 1,000 feet in length and at a breadth of 150 feet and is too large to fit through the current Panama Canal locks. TraPac Jacksonville Vice President and General Manager Dennis Kelly says the Competence and other post-Panamax sized ships calling on Jacksonville as part of a regular rotation through the Suez Canal demonstrate the port's strategic advantages for accommodating the larger ships calling on the U.S. East Coast.
"When you have a port, such as JAXPORT, that is situated so close to so many consumers, distribution centers and retailers, the last mile is a lot more affordable and a lot easier, too." Kelly said. "It lends itself to a much more timely, efficient and reliable supply chain."
To view a video of this event, click HERE.