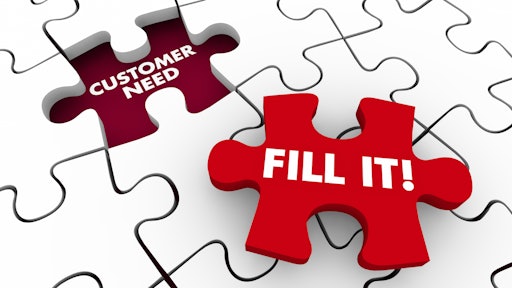 AdobeStock_216758857
According to one enterprise survey, the pandemic pushed enterprises' digital transformation timeline forward by about six years. The grocery sector is certainly among the industries most affected. Early in the pandemic, many grocery chains scrambled to meet the sudden need to sell online and via mobile apps and had to find new ways to fulfill demand when supply chains were disrupted.
There's also evidence that the changes in the retail and grocery sectors will be long-lasting, so stores will have to accommodate new buying habits like home delivery even after vaccines bring the pandemic under control. Large-scale industry players know this, which is why they're making strategic moves now to keep new customers onboard.
Competition in the grocery sector is rising from startups and established retailers who have embraced selling on digital channels. Micro-fulfillment centers for final-mile grocery delivery are one way grocery chains can meet customer expectations in a cost-effective and efficient way and compete successfully in a transformed marketplace.
How micro-fulfillment centers work
Micro-fulfillment centers — small distribution warehouses placed strategically to fulfill orders in urban areas — are emerging as a competitive asset in the grocery sector. They typically have a much smaller footprint than the gigantic warehouses retailers have traditionally used, occupying a compact 2,000-50,000 square feet rather than acres of space.
Micro-fulfillment centers contain high-demand, fast-moving goods to facilitate quick fulfillment. They are distributed throughout urban areas, usually handling up to 10,000 SKUs instead of consolidating inventory in a massive facility on the outskirts of town like traditional warehouses. Here are some other key features associated with micro-fulfillment centers:
· Automated. Micro-fulfillment centers use modular automated technologies to fulfill orders more quickly and expedite last-mile distribution. Technologies might include mobile robots, pallets and shuttles for order picking. Automation eliminates as many repetitive, manual, labor-intensive processes as possible to maximize efficiency.
· Connected. Grocers use warehouse automation software and execution systems to connect networks of micro-fulfillment centers and enable real-time order management. Connected networks also enable customization by delivery location and customer preferences. In this way, the centers can facilitate the delivery of thousands of orders daily.
· Digitized. Micro-fulfillment centers digitize processes like storage, order processing, dispatch planning, packaging and shipping. This enables the grocery chain to streamline core processes, accelerate delivery and ensure accurate labeling and goods delivery.
Micro-fulfillment centers can often handle up to 5,000 orders daily, enabling grocers to serve customers in urban areas with unprecedented speed. That's why it's a trendy solution for grocery chains and other retailers that are exploring ways to overcome last-mile challenges and set themselves apart from competitors. Competition is top-of-mind in the online grocery space, which is projected to account for more than 20% of all grocery sales by 2025.
That said, it's important for grocery chain leaders who are contemplating a micro-fulfillment center strategy to fully understand what's involved in deploying the approach. There are many opportunities grocers can take advantage of with this strategy, but there are also barriers to entry that decision-makers should consider carefully.
The pros and cons of a micro-fulfillment center approach
Last-mile obstacles, logistics and labor costs, inventory management constraints and rising customer expectations require new solutions from grocery chains. A micro-fulfillment center strategy can help grocery chains overcome all of those challenges and more. Here are some of the pros of taking a micro-fulfillment center approach:
· Accelerated last-mile fulfillment. The close proximity to customers drives faster pickups and deliveries, enabling delivery in just an hour or two after the order is placed.
· Lower logistical costs. Automation and proximity reduce many expenses associated with delivery, including fuel costs, while streamlining logistics processes.
· Reduced labor costs. With digitized and automated processes, micro-fulfillment centers typically require less human intervention, which cuts labor costs.
· Increased customer satisfaction. Accurate, speedy deliveries enhance the customer experience and build brand loyalty.
These are all huge points in favor of a micro-fulfillment strategy as a way for grocers to get a leg up on competitors. But before committing to such an approach, it's critical to be aware of implementation obstacles, such as:
· Deployment investment. Micro-fulfillment centers require an initial investment in quality machinery and automation technology, which can be daunting for some retailers.
· Storage capacity limits. The micro-fulfillment approach optimizes space utilization, but the distribution hubs are definitely smaller, which limits the assortment of goods available.
· Inventory management challenges. Decentralizing inventory through a network of micro-fulfillment centers makes inventory management more complex.
While none of these obstacles prevent grocers from successfully deploying a micro-fulfillment center network, each is a factor that should be considered. It's critical to weigh the pros and cons thoroughly and reach a fully informed decision.
Last-mile optimization in the grocery sector
Grocers and other retailers were already focused on overcoming last-mile challenges before the pandemic. But, the Coronavirus disease (COVID-19) accelerated changes in consumer buying behavior and drove more companies to embrace omnichannel selling out of necessity. With vaccine distribution providing hope that normal business operations can resume, now is the time to think about the future.
Whatever strategy grocery chain leaders adopt will have to include solutions for persistent last-mile issues. A micro-fulfillment center strategy can be the key to success for some companies. The grocery sector's most competitive players are already embracing advanced technologies like artificial intelligence and machine learning to streamline their supply chains, drive faster fulfillment — and win the future.