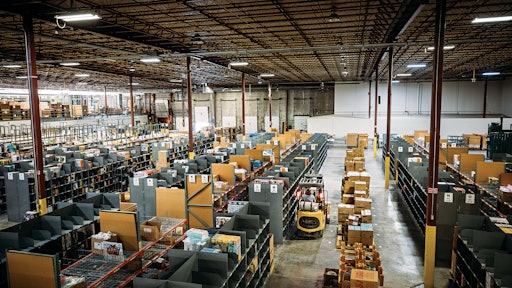 Holiday season inevitably brings with it a significant spike in shipping volume, meaning an increased workload for material handling professionals across the country.
Planning ahead and making sure they have dependable equipment can help ensure businesses aren't left scrambling when the busy season arrives. Ineffective or unreliable material handling equipment can directly impact crew productivity, cause errors and delays and affect customer satisfaction.
Businesses can make sure their crews have all the advantages they need to get the job done safely and efficiently by powering their fleet with propane. Propane-powered forklifts offer key benefits over other energy options, including reliability, easy refueling and unparalleled versatility.
Reliability that doesn't fade
Material handling professionals need equipment with reliable, non-stop power, especially when demand spikes around the holidays. Propane-powered forklifts provide 100% power throughout operation, granting crews uninterrupted operational capacity during the workday and ultimately, bettering the company's bottom line.
According to data from the Propane Education & Research Council (PERC), propane forklifts can push heavy loads at full capacity longer than electric forklifts and one propane cylinder typically covers an entire eight-hour shift whereas the fading power of electric forklifts can make employees less productive throughout the workday.
Minimal refueling downtime
Whether for large operations or smaller fleets, propane forklifts provide the quick, simple refueling needed to keep materials moving, unlike electric models which can take up to eight hours for a full charge. Swapping out an empty propane cylinder for a full one takes less than a minute, so materials keep moving while eliminating the need for additional expensive, heavy batteries required by electric forklifts.
The minimal refueling time required for propane-powered forklifts is a huge asset for multi-shift operations or any fleets that can't afford waiting for electric forklift batteries to be recharged. Propane can not only help businesses maintain an efficient shipping strategy during busy season but can also help crews boost productivity year-round.
Businesses running their fleet on propane have another significant perk -- the support of their local propane supplier. Local propane suppliers can help crews establish a custom refueling and delivery schedule that works for their fleet, demand, budget and schedule. With on-site refueling, propane suppliers can teach crews to refill cylinders themselves. Alternatively, if businesses prefer a cylinder exchange program, propane suppliers monitor their usage and deliver full cylinders to keep them up and running.
Unparalleled versatility
Crews don't want to juggle multiple fuels to complete different types of jobs, which is why many choose propane over electric or diesel. Propane is a versatile energy source powering forklifts in all weight classes to match the job at hand, whereas electric forklifts can't carry the weight of large job and diesel isn't a good fit for smaller tasks.
According to data from PERC, the majority of forklift fleets operate both indoors and outdoors, meaning crews need equipment that can safely operate both places. Fortunately, propane-powered forklifts can operate effectively indoors in properly ventilated areas, as well as outdoors. Well-maintained propane forklifts meet or exceed nationwide indoor air quality standards, whereas gasoline and diesel can produce higher amounts of carbon monoxide and other harmful emissions.
Non-stop power, even when the grid is down
Beyond powering material handling equipment, like forklifts, businesses can also use propane for backup generators. After recent vulnerabilities in the grid, businesses across the country are seeking a more resilient operation and a reliable propane standby generator is a key part of a resilient design.
Propane is a reliable, portable energy source that can support businesses even when the grid goes down, which could happen at any time. When the power is knocked out, a propane standby generator kicks in almost instantly, restoring power in as little as 10 seconds after a main power outage. By protecting their facility with propane backup power, businesses can reduce the magnitude or duration of a disruption event to their operation.