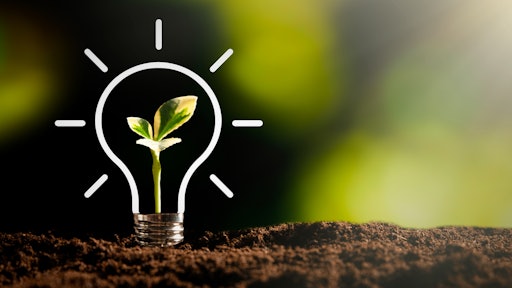 Proxima Studio AdobeStock_368293717
Maintaining a sustainable food chain both upstream and down comes with a host of challenges and opportunities. On one hand, doing so protects people, product and plant, reduces waste, encourages a green economy and ensures the freshest of foods are transported in the safest, most efficient manner possible. Plus, it's just good business practice.
On the other hand though, an aging infrastructure, a rise in grocery e-commerce and an influx in globalized sourcing continue to stress today's cold chains.
So, how can companies continue to keep sustainability top of mind amid a global pandemic and continuous supply chain disruptions? Sounds like a tall order even for the most resilient of cold food chains.
But, global pandemics and supply chain disruptions aren't selective on who or what they target. They can strike at any time, and impact cold food chains in different ways.
"Cold chains are faced with several risks that other commodity chains are not as susceptible to," says Brittany Surine, VP, ISN. "These include climate risks [such as] increased temperatures and fluctuating weather conditions, which can spoil produce or other raw materials, as well as the need to address other environmental concerns such as greenhouse gas emissions and waste."
That's why a fusion of technology, initiatives, planning and execution help companies obtain the supply chain visibility needed to effectively maintain a sustainable food chain.
Chipping away at the challenges
One of the biggest challenges impacting U.S. cold food chains is the ability to reduce waste and implement efficiency company-wide. That's because even though most of the world came to a halt with the onset of the Coronavirus disease (COVID-19), cold food chains forged ahead at lightning speed to keep product moving from farm to fork and do so sustainably.
"Never before have we witnessed a disruption to our food chain as was seen in early 2020 with COVID-19. The world stopped, but the food chain couldn't because it is driven by the animals we breed and crops we consume. Those products all contain living elements [that] don't respond to government mandates or fear and require our undivided attention to prosper," says Chris Hlubb, program director of F3 Tech's Accelerator Program. "Waste is where true sustainability is measured, and we, as a society, wasted countless volumes of food from the euthanization of animals to the destruction of crops to avoid further financial losses for products [with] no buyer. Reducing waste is the greatest value we can add and the truly most sustainable action we can make."
Click here to hear more about food waste and sustainability:
What's more is, green-minded supply chains are struggling with how to strike the right balance between clean and efficiency.
"At the Propane Council, we've noticed that the trend toward sustainability has lent itself to electrification solutions across food and beverage operations, but what businesses may not notice initially is the productivity they sacrifice with this choice," says Matt McDonald, director of off-road business development for the Propane Education & Research Council (PERC). "Businesses need equipment with the power and reliability to efficiently move materials day in and day out, ensure uninterrupted operation and protect their bottom line. Electric forklifts require downtime for recharging, expensive, heavy batteries and strict battery management by employees. Propane-powered forklifts, on the other hand, offer 100% power throughout operation, indoor/outdoor usability and quick, easy refueling. Additionally, propane offers the versatility to handle any size job, anywhere, whether moving pallets from deliveries or operating to and from cold storage — all without sacrificing environmental impact." [CLICK HERE to read the full interview with Matt McDonald].
Other challenges like water scarcity, carbon emissions and food waste continue to plague the cold food chain.
In response, the CEA Food Safety Coalition created what is said to be the first-ever food safety certification program specifically for CEA-grown leafy greens. The Leafy Greens Module is measured against science-based criteria and is an add-on to existing compliance with an underlying Global Food Safety Initiative (GFSI)-recognized food safety standard, enabling CEA growers to distinguish produce grown indoors while ensuring the highest standard of quality and compliance.
"Controlled environment agriculture offers a powerful solution to solving food insecurity and climate change. As an innovative, technology-driven method of farming, CEA reimagines how food is sourced and distributed. The sector is uniquely positioned to engage with local communities to build sustainable local food distribution systems," says Marni Karlin, executive director, CEA Food Safety Coalition.
Freight Farms developed Greenery S, a modular farming solution designed to use 99% less water than traditional farming methods through hydroponic systems and moisture reclamation processes.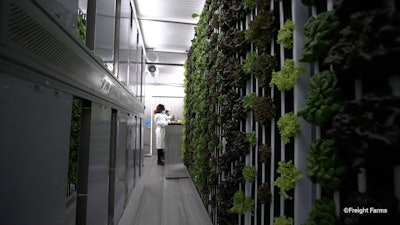 "The compact and easily transportable design allows customers to grow food as close to the final consumer as possible, ensuring a local supply chain that minimizes the distance food travels, which also helps to reduce the carbon footprint of the whole operation. This ability to grow food locally also reduces food waste post-harvest -- the produce stays fresher for longer, making it more likely that it is consumed instead of thrown away," adds Rick Vanzura, CEO of Freight Farms. "Furthermore, the Greenery S is completely climate controlled, allowing each farmer to customize the environment to the needs of the plant, providing the perfect environment, again reducing waste by ensuring 95% of plants are sellable. Additionally, Freight Farms is partnered with Arcadia Energy to easily connect farms to community solar and wind energy, reducing the farm's carbon footprint to just one-quarter of traditional agriculture."
Plus, like so many facets of the supply chain, COVID-19 exposed the problems inherent to the nation's reliance on an extended supply chain, he adds.
"Every transition point, plus the length of the journey itself, introduces the risk of contamination, spoilage and loss of traceability. Of course, thousands of transportation miles also knock days off shelf life, compromise flavor and nutrition and leave a large carbon footprint," Vanzura adds.
The biggest challenge for building sustainable food supply chains is building the linkage and dialogue between the different key members of the supply chain, for instance between farmers and their buyers and customers. And, lack of supply chain visibility continues to upend the ability for companies to achieve a sustainable supply chain.
"The key point is the lack of a global vision. While an increasing fraction of fresh produce is being sourced globally, many regions in the world have an almost total absence of cold chain or rely on obsolete technologies, resulting in short shelf life, preventing access to high-value markets and generating high rejection rates," says Michele Bruni, chief commercial officer, InspiraFarms. [CLICK HERE to read the full interview with Michele Bruni]. "This is preventing producers, consumers and supply chains in general to benefit and are generating massive amounts of greenhouse gas emissions, while proper cooling treatment at source and well managed cold chain can prevent most of this financial and environmental inefficiencies, allowing everyone to capture more value along the chain and consumers to enjoy higher quality food, potentially at a lower price."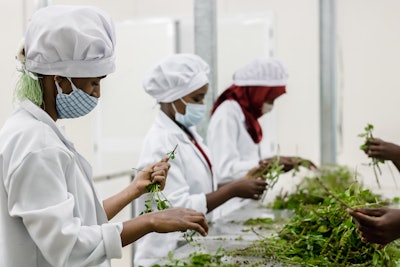 Likewise, the cold chain needs to become more centralized, according to Sarah Watt, senior director, analyst, Gartner Inc.
"The main challenge for cold chain from a sustainability perspective is to reduce greenhouse gas emissions (and energy consumption), while still maintaining product quality and ensure good service. The second challenge is to reduce food waste in the field and at the consumer end," Watt adds. "Especially with consumer trends toward buying more locally grown food and agriculture products, the cold chain needs to become more distributed. Not always in this chain can the cold chain be sustainably sourced unless there are local laws or incentives that will require it. In this sense, food safety will compete with sustainably sourced cold food logistics, especially for micro-growers and food producers." [CLICK HERE to read the full interview with Sarah Watt and Susan Boylan].
Sustainable solutions
In Food Logistics' SCN Summit: Sustainability session, Internet of Things (IoT) and automation ranked as the Top 2 kinds of technologies companies are investing in to achieve a more sustainable footprint; robotics and artificial intelligence (AI) tied for third place.
Meanwhile, companies are implementing recycling programs, going paperless and enhancing building design to become more sustainable over the years.
What's more is, nearly 75% of distributors around the world have responded to sustainability-focused challenges by adopting a circular economy strategy to promote a sustainable food chain and mitigate waste production, according to a Sage study. The report also found that the most common strategies to sustainability are product recycling and reverse logistics (73%), low/no emission internal logistics (65%) and low/no emission internal supply chain (61%).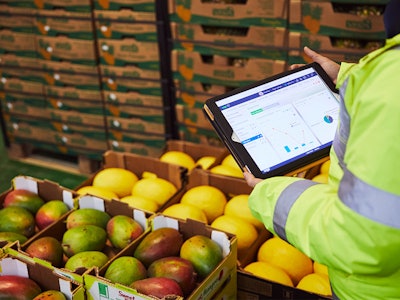 "To achieve a successful circular economy strategy, food and beverage manufacturers must digitize their business so they can build better end-to-end supply chain and manufacturing processes to minimize food waste and bring products to the market efficiently," says Mike Edgett, U.S. product marketing director at Sage. "Industry 4.0 makes sustainable strategies achievable. Migrating to the cloud helps distributors take advantage of Industry 4.0 technologies including automation, AI and data analytics. Enterprise resource planning (ERP) software can inform circular economy strategies by reducing costs, extending visibility into various aspects of the supply chain and optimizing manufacturing processes to minimize food waste." [CLICK HERE to read the full interview with Mike Edgett].
Another way to achieve a sustainable supply chain is for companies to better understand their carbon footprint.
"The COVID-19 pandemic further demonstrates why sustainability is so critical to the well-being of our communities and our planet. In 2020, supply chain disruptions from the pandemic were felt across the globe. As a logistics company, we play a vital role in bringing items like essential goods, medical equipment, supplies and food to people around the world. It is therefore fundamental to invest in efficiencies, modernization and the reduction of waste in the supply chain – in fact, it's something we have been doing for decades for our customers," says Rachel Schwalbach, VP, ESG, C.H. Robinson. [CLICK HERE to read the full interview with Rachel Schwalbach].
That's why C.H. Robinson invested in Emissions IQ, which measures and reduces emissions across the chain.
"The first step is gathering data and setting a baseline. How is your carbon footprint looking now, and where can you improve? Once you have an opportunity to evaluate your impact, that's when you can start to make changes. Not only that, but Emissions IQ will save companies significant time, effort and money that they would spend estimating their carbon emissions. It could take businesses, or specifically shippers, thousands of hours to build an equivalent emissions measurement tool on their own," says Schwalbach.
What's more is, the acceleration of technology to mitigate waste in the food supply chain has grown exponentially, says Michael Keck, senior director, business development, DHL Supply Chain. [CLICK HERE to read the full interview with Michael Keck].
"From software programs that bring together on-hand inventory with point-of-sale data to predict inventory requirements, to robots that are being tested in grocery stores that roam the aisles scanning and taking inventory, preventing over-ordering from the warehouse while also preventing out of stocks," adds Keck. "Additionally, resilience of the supply chain has grown from social platforms integration into software that monitors global events, like the recent blockage in the Suez Canal, a strike at a port or a derailment. When decisionmakers have this information at their fingertips, they can make more meaningful and timely adjustments to avoid or mitigate disruption and potentially avoid a spoiled shipment into the distribution channel."
For its part, IBM Sterling developed Sterling Inventory Control Tower, an artificial intelligence (AI)-powered control tower platform that provides end-to-end inventory visibility.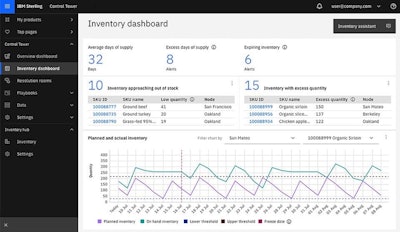 Meanwhile, IBM Sterling's intelligent order fulfillment platform, Sterling Fulfillment Optimizer, helps determine how to leverage inventory to maximize freshness, on-time delivery and identify eco-friendly shipping options.
"It's in everyone's best interests that the food we produce be harvested, processed, transported and consumed while it's fresh. The trick is maintaining the temperature and humidity within acceptable ranges at all times and minimizing the energy consumption required to get it in the hands of the end consumer," says Shari Diaz, director of innovation, strategy and operations, IBM Sterling. "The storage and logistics sustainability challenge for cold food chains is a significant cost center and a major point of risk, making it also a tremendous opportunity for optimization. How do we optimize the design of the physical supply chain from Point A, B and C and securely monitor it from start to finish? How do we optimize our inventory packaging and positioning to ensure we have what consumers want where and when they want it? And, how do we ensure we're meeting all of these needs while minimizing energy consumption, carbon footprints and waste? It is the convergence of these interconnected challenges where we see how much of the cold food supply chain is siloed across functions and enterprises and how difficult it is to manage." [CLICK HERE to read the full interview with Shari Diaz].
InspiraFarms designed and delivered turnkey modular cold rooms and packing houses, cooling and energy solutions for the fresh produce and a fully integrated digital system to monitor and control the farm-to-fork process.
"We range from few tons/day of high- value crops to 2,000-plus tons, designed to respond the need of agribusinesses," Bruni says. "Managing pre-cooling is the fundamental step to generate sustainability and financial returns. It is essential to gain as much shelf life and quality possible, key to reduce losses and rejections and to reduce the energy use per kg throughout the cold chain, and we can demonstrate the impact through our IoT and remote sensing system, tracking fruit and vegetable cooling and storage conditions, energy data and machinery performances."
Machine learning is also being used to reduce food waste, according to Susan Boylan, director, analyst, Gartner Inc.
"IoT, AI and blockchain can identify potential sources of contamination and make recalls easier to manage. Mobile apps combined with blockchain can help smallholders record their sales to corporations, improving the odds that the smallholder can get access to better, more affordable credit. Big data and satellite mapping can identify how corporations are impacting the world's forests," Boylan adds.
There are also environmental, engineering and technology solutions designed to create a sustainable farming ecosystem, adds Watt.
"Environmental solutions are focused on how we farm, but using, for example, regenerative farming techniques, which focus on soil quality though cover crops, limiting soil disturbance, focusing on crop diversity to improve soil quality and in some instancing integrating grazing livestock into this system," she says. "The technology solutions vary. From mobile phone applications that can help smallholder farmers identify crop disease and actions to take, to high-tech solutions such as vertical farming and precision agriculture. There are also engineering solutions that can improve crop production and harvesting. This includes the application of robotics and automation to harvest some crops."
Other technologies designed to support traceability and automate the agricultural process aid in helping companies obtain more visibility into their food's safety.
"Automation in agriculture is on the path to optimizing food yields and reducing wasted crop by automating the grow, pick and packaging process," says Shane Rooney, principal consultant, Proxima. [CLICK HERE to read the full interview with Johnathan Foster and Shane Rooney].
Sensors, GPS and routing software and other temperature-control features also help optimize cold chain logistics and reduce waste, according to Ryan Anderson, senior director, supply chain and logistics, Plenty.
"Plenty, for example, has temperature sensors in its trucks to identify if our products ever break the cold chain. This system also helps to give an early warning to prevent any potential spoilage of the product," Anderson adds. "As we move into the future, we will have more information on where our food comes from, and consumers can make choices to buy products that fit their values."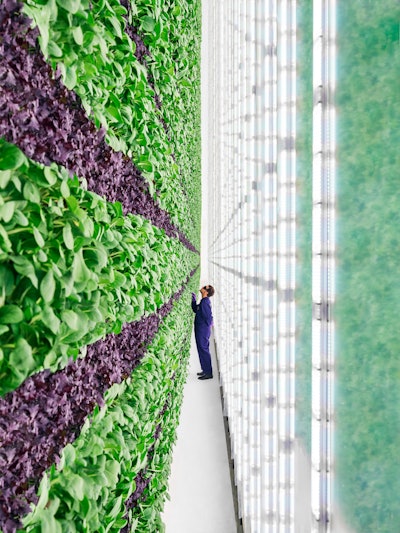 Resolving climate change
On Jan. 27, President Joe Biden announced an Executive Order to tackle the climate crisis, both domestically and internationally, and with that, re-joined the Paris Agreement. While doing so preserves the future of U.S. supply chains and the sustainable facets that follow, some industry experts are eager to see results sooner than later.
"These early steps by the Biden Administration send the message that the United States will play its part in working to solve the climate crisis. This is critical. But, now we need to put policies in play that walk the walk," says Karlin. "We are encouraged that the Biden Administration will look to sustainable food and agriculture - whether it is CEA, organic or farmers practicing regenerative agriculture - for examples of how we can promote climate health. There is no universal solution, but a variety of climate-smart agriculture approaches that can make up the next generation of American agriculture policy."
That's why the Global Logistics Emissions Council (GLEC) developed the GLEC Framework, what is dubbed as the only globally recognized methodology for harmonized calculation and reporting of the logistics greenhouse gas (GHG) footprint across a multi-modal supply chain.
"The Biden Administration has made it clear that climate change and protecting the environment are critical initiatives. With Emissions IQ, we're making it possible for companies to understand how and where they can do their part. The figures we calculate will give them the momentum to create change and track progress against their sustainability goals," says Schwalbach. "In fact, being accredited to use the Global Logistics Emissions Counsel (GLEC) framework, Emissions IQ gives shippers data that's trusted and universally accepted, and is more closely aligning to the Paris Agreement goals. We are accredited to use the only globally recognized methodology for consistently calculating and reporting the carbon footprint of a multimodal supply chain."
Case in point: You can't improve what you don't measure, Keck says.
"DHL Supply Chain has a culture of continuous innovation and a strong commitment to environmental, social and governance (ESG) goals as a corporate citizen of the global economy," he adds. "DHL has publicly made commitments aligned to the UN Global Sustainability Goals and committed $7 billion euros of investment through 2030 to reduce our CO2 footprint."
The Climate Change Action Plan also makes a call-to-action for farmers.
"There is huge potential for climate reform within the agricultural segment by reducing greenhouse gas emissions, carbon and nitrogen fixing soil, practicing regenerative agriculture, the list goes on," says Vanzura.
Why sustainability matters
A BCG survey reveals that more than two-thirds of companies polled think that economic recovery plans should make environmental issues a priority by reducing household energy consumption, increasing recycling and composting and buying locally produced goods.
"Studies have shown that NOx and particulate matter emissions, which are typically associated with vehicle emissions, have drastically dropped during the height of the pandemic's stay-at-home orders, and this has opened people's eyes to emissions reductions more than ever," says McDonald. "Ensuring a sustainable and environmentally efficient operation is more important than ever, and while keeping everyone at home isn't a sustainable, long-term solution to our air quality issues, this may be the inspiration businesses need to transition their fleet to alternative fuels. By switching to propane autogas medium- and heavy-duty vehicles, businesses can reduce harmful emissions and promote healthier air quality."
That's not to say future-proofing the food supply chain doesn't come without its own risks and rewards.
"As with many industries, the rewards outweigh the risks. The rewards include developing a more sustainable food chain that will have a smaller environmental impact and survive for future generations. The rewards also include meeting consumers' demands for a more responsible food system. Consumers have various desires about their food - nutrition, lack of use of pesticides, local, environmentally friendly. Taking steps to develop a sustainable food chain can respond to consumers' needs and differentiate and decommoditize your product," says Karlin. "Risks are centered around increased costs and increased trial and error with new approaches. As these innovations become more mainstream, the cost curves will decrease, and the planet and the people on it will be better for it."
Plus, the emphasis on easily biodegradable packaging and automation appears to be on the horizon for all sustainable-minded food chain organizations in the future, Rooney adds.
"Not transitioning to more sustainable ways of working could result in influencing consumers to buy elsewhere as their demand for visibility and sustainability within food supply chains is growing stronger by the day," he says.
Case in point: A sustainable food supply chain is a successful supply chain.
"Sustainable food chains will become the norm in time," Diaz says. "In the face of ever-changing policy mandates whether here in the U.S. or more globally focused, with the U.S. rejoining the Paris Climate Agreement and in the context of the recent Executive Order on revamping America's supply chains, we can see this to be true. Businesses that have invested in sustainable supply chain capabilities will continue to gain a leadership position and competitive advantage by way of better business performance, higher brand loyalty and greater resiliency to changes in regulatory oversight."
And, now is the time for food companies to take a proactive approach to determine what steps are need to help support this initiative vs. waiting for government regulations to drive this, says Edgett.
"The future of sustainable food chains is green," he adds. "The world is continuing to change, and people and companies are more conscious of their impact on the environment. Businesses that have already adopted circular economy strategies are ahead of the pack and are reaping the benefits of doing their part to save the planet."
Despite a global pandemic and a host of supply chain disruptions, companies still keep sustainability top of mind in today's cold food chains. Doing so helps today's organizations obtain the supply chain visibility needed to effectively maintain a sustainable food chain, day in and day out.