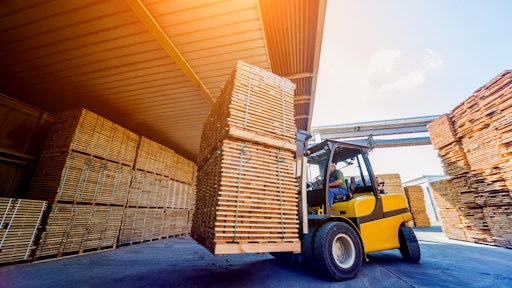 romaset
Distributors and manufacturers are dealing with a myriad of challenges in 2021 as volatility and change have accelerated after the pandemic. On the demand side, the massive shift from retail to e-commerce purchasing puts enormous pressure on omnichannel capabilities. In addition, it has accelerated volatility of customer tastes and choices. On the supply side, increasing tariffs, supply issues and a host of transportation bottlenecks are giving supply chain leaders more challenges.
This high level of change is hopefully clarifying an important management principle -- if it isn't core to my business, I should not be managing it myself because there are too many critical, strategic issues to focus on.
One area experiencing a massive shift is material handling, specifically when it comes to processes and equipment, namely forklifts. Customer requirements are changing faster than ever, placing undue strains on facilities. Material handling equipment may be aging, out of date or inappropriate for the job at hand. Vendor management may be overwhelming, with too many partners to reasonably monitor. Or there may be hidden equipment costs when it comes to power, docks, doors and maintenance solutions, and some of these costs may be unwieldy or difficult to control. Forklifts and ancillary equipment that drive facilities' material handling processes may be a challenge to manage with different operators on different shifts. The sites may not be set up for safety, leading to OSHA incidents and liabilities. Or, there might be poor dock area equipment choices or inefficient material flow through the docks.
At most distribution centers, the logistical hurdles and headaches faced by facilities managers can feel endless. To guarantee uptime and limit service interruptions, it's essential to optimize and streamline site logistics while eliminating the waste in material handling processes. Some best-in-class brands find 15% savings by doing so, while gaining a competitive advantage to respond more quickly to changing consumer demands and reducing safety risks.
It may seem easy to push optimizing material handling processes to the backburner, while focusing on the "larger" issues at stake at any given time. Yet while there are always strategic issues to tackle, it's impossible to optimize a facility and achieve better uptime, productivity or safety without first incorporating a consistent, streamlined set of processes when it comes to materials handling.
What to do? Here are some tips:
1. Know what you're up against. Understanding the competitive advantage that Fortune 100s are building against you in material handling processes is significant. The giants of the industry have teams dedicated to everything from material handling equipment management to automation. They have the capital in longer term ROI projects and are willing to outspend to expand their competitive advantage. For mid-market organizations seeking to compete, partnering with outsource partners to deliver across facilities at a top level can provide better visibility, consistency and control.
2. Incorporate learnings from other sectors. Fleet management has long been a staple of the long-range truck and delivery van markets. Why wouldn't the No. 3 cost inside a warehouse -- the forklift equipment -- be treated in a similar vein? What other adjacent sectors can the material handling and facility maintenance world learn from? Perhaps the MRO space as they've moved to a model of outsourced management of parts and daily supply needs.
3. Rethink your vendor management approach. Managing hundreds of vendors isn't realistic, feasible or practical. When you think about managing facilities nationwide and having multiple vendors servicing each due to a myriad of equipment types, the number of vendor relationships adds up quickly. Look for opportunities to seamlessly weave together, streamline and integrate site logistics from top to bottom. This process can begin with finding an expert partner or enabling your single point of contact to cut down the vendor list. Solving complex problems can rarely be done by one organization, but finding ones that can manage and deliver multiple services can be the ticket. In fact, lowering the number of vendors accessing facilities can also be a crucial first step to creating a standard operating procedure for your material handling processes with better controls and better safety.
4. Make decisions that enable scale and flexibility. Standardizing and reducing the number of processes and forklift applications you manage across facilities gets you started. From there, get down to one equipment specification for each application that works for you. That said, ensure you have the option for multiple manufacturers for each specification—this provides a level of optionality in times of equipment supply issues and gives you more service provider options.
5. Do what other world-class companies do. They are investing the time to streamline processes, equipment and management. They understand that consolidation to the right partner can deliver improved performance, efficiency and safer facilities. Great partners provide real-time data on cost, usage and repair data, driving toward prescriptive maintenance, improved future equipment purchasing and the best possible data-driven solutions engineered to address specific metrics. They've learned that outsourcing non-core functions of the business enables them to focus on strategic, core functions of their business. Distribution companies need to think about things like next generation automation or delivering end to end customer visibility – not get stuck spending all their time managing equipment.
Supply chains today are focused on building resilience. In too many cases, that is code for increasing cost in the form of increased inventory, supplier redundancy, technology investment and automation. Beside inventory management, the core function of distribution facilities is managing the material handling processes. As these become more fluid and more dynamic, expecting to design, integrate and manage material handling equipment and maintenance system in-house is not a realistic option for those seeking to operate at the level of top competitors with endless budgets. Better management of material handling will deliver better results for customers and partners – more efficiently, more safely and more cost-effectively.