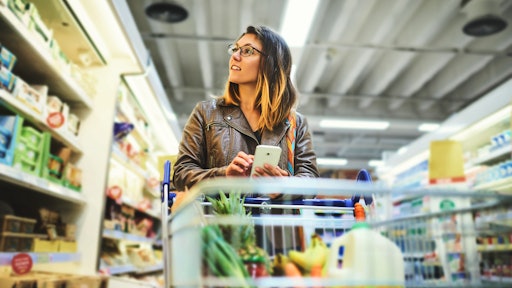 Getty Images
The U.S. online grocery market finished last month with $8.8 billion in total sales, up 1.5% compared to last year, according to the monthly Brick Meets Click/Mercatus Grocery Shopping Survey.
"The expanding user base for online grocery illustrates its growing reach, but the changing role it plays is evident from contractions in the use of multiple receiving methods and average order frequency, which mostly muted the gains in reach," says David Bishop, partner, Brick Meets Click.
From Brick Meets Click:
Excluding ship-to-home sales, the core e-grocery segments of delivery and pickup slipped 1.2% compared to last year, which reflects a drop of almost 9% in delivery sales and a gain of nearly 5% for pickup during the month.

The year-over-year growth in e-grocery sales was partly driven by an increase in monthly active users, which climbed more than 5% in February compared to the same period in 2022.

The research showed that more U.S. households used only one of the three receiving methods for online orders in February, jumping nearly 8 percentage points vs. last year and returning to levels similar to February 2021, which hovered around 72%.

The combined average order values for pickup and delivery gained just over 5% vs. February 2022 while ship-to-home's 14% growth in average order value was boosted by an easier comparable period as

last year's, which was one of the lowest recorded to date for ship-to-home.

Meanwhile, cross-format shopping between grocery and mass remained near 30% for the month and

was

up 300 basis points vs. a year ago.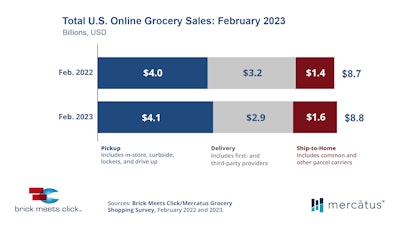 "The changes in the mass and grocery user bases illustrate what could be characterized as a 'flight to value' as shoppers deal with persistently higher grocery prices," says Bishop. "Another sign of inflation's impact on e-grocery ordering patterns is the continued growth that pickup has experienced over the last few months while delivery has encountered a pullback in users."
"Given that ongoing price inflation is clearly influencing shopping behaviors, grocers should promote ways customers can save more money," says Sylvain Perrier, president and CEO, Mercatus. "Grocery retailers can consider highlighting store brands, offering pricing promotions, creating personalized digital coupons, and implementing variable fee structures that lower fees for customers and reduce the cost to assemble."