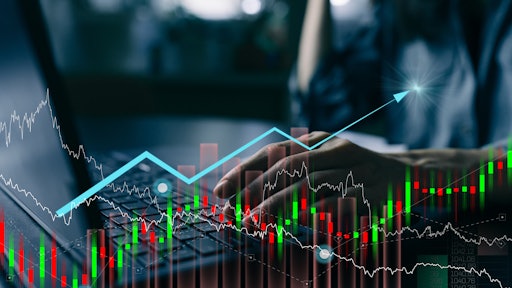 Leonid AdobeStock_501221203
July is the first month where e-commerce entered deflation after 25 consecutive months of persistent inflation online, according to the Adobe Digital Price Index, powered by Adobe Analytics.
In July, online prices decreased 1% year-over-year (YoY)—after increasing 0.3% YoY in June and 2% YoY in May—and dropped 2% on a monthly basis.
"Wavering consumer confidence and a pullback in spending, coupled with oversupply for some retailers, is driving prices down in major online categories like electronics and apparel," says Patrick Brown, VP of growth marketing and insights, Adobe. "It provides a bit of relief for consumers, as the cost of food continues to rise both online and in stores."
From Adobe Analytics:
Prices for electronics, the largest category in e-commerce with 18.6% share of spend in 2021, fell sharply and decreased 9.3% YoY (down 2% MoM). This is a greater YoY decrease than June (down 7.3% YoY) and May (down 6.5% YoY).

Prices for apparel fell 1% YoY (down 6.3% MoM), marking the second consecutive month where prices fell after dropping 0.1% YoY in June. Apparel prices had increased for 14 consecutive months since April 2021, with prices having spiked in recent months (up 9% YoY in May, 12.3% YoY in April and 16.3% YoY in March).

E-commerce demand remains resilient on a year-to-date basis, with consumers spending $525.4 billion online in 2022 so far, growing 9.2% YoY.

Price drops were observed across 14 categories, including electronics, personal care products, office supplies, jewelry, books, furniture/bedding, toys, home/garden, appliances, flowers/related gifts, computers, sporting goods, medical equipment/supplies and apparel.

Food costs remained high however, with grocery prices rising 13.4% YoY (up 1.4% MoM), a record YoY high and the largest increase of any category.

Grocery prices continued to surge and rose 13.4% YoY (up 1.4% MoM), more than any other category. It is a new YoY record, following a 12.4% YoY increase in June, a 11.7% YoY increase in May and a 10.3% YoY increase in April—all previous record highs. Grocery prices have risen for 30 consecutive months, and remains the only category to move in lockstep with the Consumer Price Index on a long-term basis.