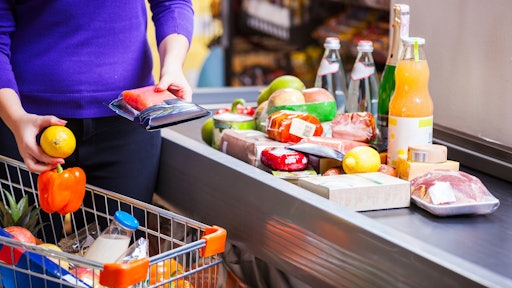 Andrey Bandurenko
It is indisputable that the dramatic impact of the Coronavirus disease (COVID-19) pandemic has led to an exponential rise of e-commerce within the retail food and beverage industry. Figures published by Statista say the U.S. online grocery market generated sales worth about $28.68 billion in 2019, and forecast sales will reach $59.5 billion dollars by 2023.
For many grocery businesses, the pandemic accelerated digital strategies and the expansion of omnichannel customer-centric services. Plans that were on the backburner were suddenly fast tracked when lockdowns hit in response to shoppers demanding safer online supplies of essential food, drinks and household goods.
It forced grocers to rethink fulfilment operations and offer new digital services such as buy-online-pick up-in-store (BOPIS), curbside pickup, click and collect and ship from store, with several opting to outsource these processes to keep up with demand. Achieving excellence in fulfilment operations became an industry-wide priority overnight, in an increasingly digital landscape.
Outsourcing fulfillment processes might have appeared to be the best option in the rush to adapt in the short term, but this approach has several long-term disadvantages. The loss of direct customer relationships and customer data negatively impacts brand loyalty and customer satisfaction. Moreover, grocery suppliers risk losing ownership of pricing strategies and cost management as fulfilment companies add their own pricing structure on top of the order value.
Confidence and loyalty are lost as customers perceive a barrier between themselves and the grocer they have grown to trust, and retailers lose the ability to fully control their interface with customers as they are unable to accurately judge buying preferences and behavior.
Taking ownership back of fulfillment services is at the fingertips of grocers
For grocers that recognize the full value of keeping fulfillment in-house, not least customer brand loyalty, many have pivoted successfully to a self-fulfillment model by using scanning-enabled smartphones to manage and integrate processes directly.
A single smart device equipped with mobile computer vision, capable of doing many tasks across the fulfilment workflow is an intelligent, and generally, inexpensive way of reclaiming any degradation in operational excellence and product visibility caused by outsourcing inventory management and logistics.
By using smart devices with a robust inventory management mobile application, retailers can connect employees across the entire supply chain with enterprise systems. From quickly accessing inventory levels and product information in real-time to simultaneously picking and restocking products, smart scanning solutions build a cost efficient and highly productive fulfilment workflow from store to curbside and home to store.
Attracting and retaining employees with a single smart device strategy and flexible mobile fulfillment app solution
Using mobile computer vision-enabled smart devices to access a company's inventory management system can play a major role in minimizing labor and hardware costs, while simultaneously speeding up enterprise workflows. With a mobile inventory management app, employees can use their personal or company supplied smartphones to scan product barcodes quickly and manage the end-to-end fulfilment process with a single device.
Smartphones with enterprise-grade scanning enabled are also a great way to upskill staff, reduce employee churn and attract talent. Scanning-enabled smartphones in the hands of grocery employees represent a familiar and state-of-the-art digital companion for scanning, picking and fulfilling orders more efficiently. And, being seamlessly integrated with stock management systems makes the job easier. Smartphones are also lightweight, ergonomically pleasing and powerful when deployed with high-performance scanning technology.
And, with the addition of augmented reality (AR) functionality and batch scanning, employees can locate items from large stocks immediately, unburdening them from having to do thousands of daily scans and the irritation of multiple mis-scans.
Greater stock data accuracy facilitates convenient, differentiated services for customers
To be truly differentiating, flexible fulfilment services like BOPIS and curbside pickup require speed and inventory accuracy.
Integrating advanced computer vision into retail fulfillment apps also brings a new level of speed and efficiency to workflows and enables retail employees to support the growing volume of online shoppers who want to purchase and collect goods in these innovative and safe ways.
It also supports new levels of employee productivity and customer satisfaction by leveraging a single device strategy. With one smart device, pre-loaded with ready-to-go mobile apps, any employee can effortlessly switch between back-of-house tasks and front-of-house tasks, from fulfilling click-and-collect orders to shipping online orders direct from stores while accurately managing inventory and stock levels.
Multiple items can be scanned simultaneously in a crowded assortment of products, and AR overlays alert them when the correct item is found. Batch scanning with AR also speeds up the click-and-collect process by matching a customer's receipt with their pre-ordered item instantly. And, on the shopfloor, employees can access real-time product information and customer data at their fingertips. They can quickly locate product items for shoppers, identify stock availability and verify prices with a single touch on their smartphones.
All these time-saving actions center on delivering a differentiated and memorable experience for customers, both in-store and online. Thanks to innovations in mobile computer vision technology, today's grocery retailers can make inventory management more reliable and intuitive than ever before, paving the way for greater profitability and enhanced customer service.