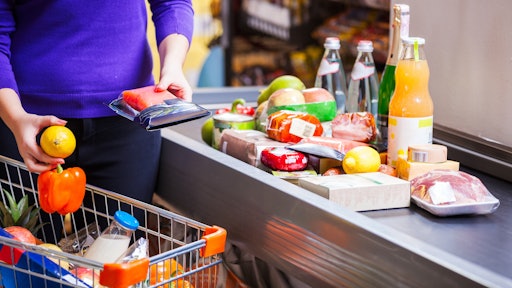 Andrey Bandurenko
Many years from now, industries across the board will still think of time in terms of BC and AC – Before Coronavirus and After Coronavirus.
That's especially true for the grocery industry, where the pandemic dramatically accelerated ecommerce growth, with ripple effects that will be felt both online and offline for decades to come.
In 2019, e-commerce accounted for just 3-4% of all grocery sales in the United States, according to an estimate by McKinsey & Company. As the Coronavirus disease (COVID-19) moved life and commerce online, that figure spiked to 7.4% in 2020, and it's on pace to reach 11.2% by 2023, per eMarketer.
On the one hand, these figures attest to the breakneck pace of ecommerce growth over a remarkably short period. On the other, they're a reminder that the bulk of sales will still take place offline for the foreseeable future. But even as ecommerce growth moderates and shoppers return to brick-and-mortar stores, the offline experience won't be as offline as it was before. Hybrid will be the new norm.
With that in mind, here are four key takeaways from a year of monitoring how people shop in pandemic conditions, and a look at what it all means for the future of grocery.
1. The digital demographic is expanding.
Prior to the pandemic, the online grocery market targeted primarily younger shoppers, especially Gen X and Millennial consumers who were either digital natives or at least digitally deft.
But, the pandemic fueled a surge in online grocery shopping by seniors, many of whom have proven eager to return to physical stores as the pandemic has waned but scores of whom have grown more digitally oriented over the past year, making them likelier to embrace in-store digital tools like scan-and-go, self-checkouts and smart carts.
The breakdown of longstanding barriers to tech adoption isn't just a matter of age, but there has been an undeniable broadening of the demographic appeal of digital shopping tools. With this demographic shift comes a new responsibility for retailers: In-store digital features should provide customers with easy, seamless, and customized shopping experiences. User-friendliness must be the name of the game, for digital natives and late adopters alike.
2. Hybrid fulfillment models hold the key to the future.
Meeting increased online demand will require retailers to ramp up their fulfillment capabilities. The good news is that they've had the opportunity to experiment with different ways of doing so; now it's all about fine-tuning and optimizing.
With most transactions still taking place in-store but with an increasing volume of online orders, some retailers have struggled to fulfill online demand without disrupting the experience for in-store shoppers. But, as grocers seek to maintain the best of both worlds, they've started to better understand how to leverage regional dark stores for order fulfillment.
Others have turned to micro-fulfillment solutions in or near their stores, while some have found success with express baskets, which offer customers a limited number of high-demand goods in a ready-made basket for rapid fulfillment.
Whatever the method, the key is to maintain fulfillment efficiency with by proactively eliminating bottlenecks.
3. Leverage data and don't sacrifice it.
How can grocers achieve operational efficiency and deliver the seamless experiences that both online and brick-and-mortar shoppers crave? The answer lies in data.
With more and more transactions occurring digitally, retailers have reams of data at their fingertips, offering vital insights into customers' habits and preferences that they can wield to optimize their operations and improve the shopping experience across channels.
However, because many retailers outsource their e-commerce provision to third-party service providers, they lack true control over this ever-increasing data trove. Meanwhile, the third-party service providers are amassing vast sums of customer data, which will help improve their competitive position against existing grocers. Preserving ownership of their data, by contrast, will help grocers stay competitive while building the personalized omnichannel journeys they need to ensure a consistently superior experience.
4. New solutions are vital to overcoming profitability challenges.
Data-based insights can play a decisive role in helping retailers overcome the barriers to ecommerce profitability. For instance, they can help identify areas where grocers can reduce operating costs, including through cheaper packaging and cooling solutions, optimized shopping routes and development capabilities that provide service and support to customers in digital channels.
Armed with their own data, retailers can optimize sales forecasting and supply chain processes to ensure consistent inventory. Additionally, drop shipping through partnerships with outside suppliers can empower grocers to sell a wider range of products than those available in-store.
The bottom line? As a 100-year-old operating model undergoes disruption and e-commerce claims a bigger slice of the pie, complacency isn't an option, and BC thinking just won't cut it. To ensure profitability in the AC era, it's time for retailers to embrace the hybrid transformation.