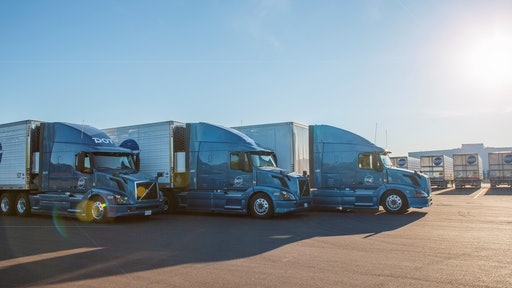 Dot Foods
It was March 15, 2020. The Coronavirus disease (COVID-19) had just hit the United States, however many restaurant chains and foodservice distributors were already feeling the effects of what was still to come.
But, then, a few months later, things started to turn around. The lockdown measures lifted just enough for restaurants to open back up for drive-through, carry-out and delivery. Foodservice distributors re-shifted their focus to direct-to-consumer delivery.
Fast forward to present day, with the lockdown measures officially lifted and more and more Americans getting vaccinated, the revival of the restaurant business is in full effect and sparing no expense to stay ahead of any and all supply chain disruptions.
In Food Logistics' July 2021 issue, editor-in-chief Marina Mayer talks with several industry experts about how one year later, the restaurant revival is in full effect.
Here's an interview with Joe Tracy, CEO of Dot Foods, Inc., with excerpts publishing in Food Logistics' July 2021 issue. [CLICK HERE to read the article in full].
Food Logistics: Foodservice distributors have had to make quite the pivot over the last 15 months. Explain to our readers what this pivot looked like for your company.
Joe Tracy: Our business is somewhat different than a traditional foodservice distributor, however, our volume is very much driven by broadline distributor volume. We were down significantly in early 2020 and now are trying to effectively handle the ramp up. The challenges include demand forecasting, poor inbound service levels and staffing.
Food Logistics: As a result, what are some of the challenges/pain points you continue to face and why?
Tracy: The driver shortage is worse than before the pandemic, and it is currently difficult to staff our warehouses. Government funding has made it too easy for some potential employees to stay home. Staffing challenges make it harder for us to provide the level of service that our customers have come to expect from us. Anticipating demand by SKU is extremely difficult.
Food Logistics: What are some of the opportunities for foodservice distributors post-COVID-19? Explain what that silver lining is, if there is one.
Tracy: Industry volume variance generally improves the demand for our services. As logistics costs increase and service declines, manufactures and distributors look for better alternatives like Dot.
Food Logistics: To piggy-back on this, what are some of the solutions, efforts or initiatives in place to help your company better overcome future supply chain disruptions?
Tracy: We have continued to build tools to help our distributor customers compete in a digital environment.
Food Logistics: What kinds of technologies/solutions (i.e., Internet of Things, automation, visibility, etc.) is your company investing in and why?
Tracy: We are investing in warehouse automation and other technology because of challenges in staffing as well as the need to manage costs long term.
Food Logistics: While the future of foodservice distribution may seem uncertain, what could it look like?
Tracy: I think channel blurring will continue, and over the next three years, foodservice will start to take back some share from retail it previously lost because of COVID-19. Most distributors are more open to offering more choice to operators in the future than they have been open to in the past.