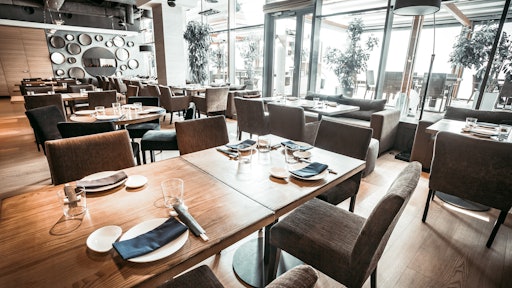 Goinyk - Adobe Stock
The world has been waiting for this moment for a long time – the ability to get back to "normal" life, and it finally feels like it is starting to happen. With vaccines starting to become available to the wider U.S. population, events, arts and entertainment are slowly coming back, including in-person dining. However, it's important to keep in mind that the world we once knew will not go back to exactly the way it was – mainly since consumer habits and preferences have changed significantly in the past year.
Food deliveries have become a staple for many throughout the past year, and not just for those hesitant to eat in-person at restaurants. Restaurants have begun to make significant investments in different technologies that help increase the efficiency of deliveries. But, that's not all. With recent innovations in the food industry, deliveries can be as great an experience as dine-in, and even better to some people who prefer to be in their home environment, due to the pandemic or just convenience.
Here's why implementing new delivery systems can be an advantage to both restaurants and their customers.
Streamlined operations
Most of the restaurants in the world today work on the FIFO method -- first in, first out. However, some sophisticated artificial intelligence (AI) systems put the FIFO method aside and work through their own recommendations. For example, systems may re-distribute orders based on factors such as the order type, the exact location of the drivers who would be picking up the order and how many items are in the order. By implementing AI systems, restaurants in effect get a new type of "brain," ensuring that decisions are being made off of the system's data, preventing human error when relying on decision making by the restaurant's staff. Optimizing order flow based on factors outside of FIFO allow restaurants to cater to customers more quickly and efficiently, reduce labor costs and ultimately provide a better experience to their customers and staff.
Quicker delivery times
It seems that today's customers are much less patient – let's face it, timing and convenience is everything. A customer that orders food for themselves or their family and waits longer than expected will likely reconsider ordering from that same restaurant next time. The increasing demand for customers to have access to on demand updates is a factor that restaurants need to consider, and technology can help. Restaurants that boast features that provide the customer with the ability to track the delivery are helping themselves strengthen the relationship by providing transparency. This also helps in the event a delivery is delayed, giving the customer a clear picture of what has happened and a platform to contact the restaurant if they so desire.
Expanding delivery options
Innovations in the food industry today are rapidly taking hold. All of these innovations open more opportunities to reach audiences that may not have been relevant to restaurants in the past. One example is contactless food deliveries by drones. With this technology, drones are able to drop off strategically coordinated orders from restaurants to remote landing zones, ranging from parking lots to other distant destinations. The orders are then picked up by delivery drivers or the customers themselves. In looking at a hypothetical real world example, this could allow people from New Jersey to order a dinner from Manhattan without ever even having to step foot in the city.
There are many companies that can help restaurants grow their business – each one of them with their own advantages. However, it's imperative that restaurant owners and operators take a holistic view of their operations and think about what is best for the business' needs. It is, though, absolutely necessary that the customer remains the top priority. Without the customer on board, it won't matter how much the restaurant has invested – they won't have customers to roll their new offerings out to.
Now that restaurants are increasing their capacities for dine-in and customers are eager to venture out, those that have leaned on delivery will need to keep up their creativity and guarantee an experience that matches or exceeds what they might get at the physical restaurant. Throughout the pandemic, restaurants worked hard to be creative and flexible, from putting up tents and temporary structures for outdoor dining to reducing contact points and ensuring digital menus and QR codes were available to customers. It's these types of initiatives that delivery services will have to mimic in their own way to survive. While it's hard to compare apples to apples, delivery timing, convenience and consistency are certainly areas that need to be kept up, and technology can help achieve these goals presently and in the future.