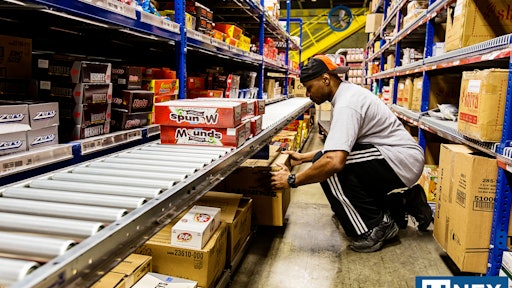 Emerging trends and channels are changing the way shoppers buy groceries, and in turn, shaping how retailers approach fulfillment and distribution.
According to Brian C. Neuwirth, vice president of sales and marketing at UNEX Manufacturing, today's retailers and grocers increasingly must consider where and how consumers want to buy goods, where they want to receive food and how they want to receive food.
"Stores are reacting and dealing with changing consumer behavior by asking, 'does somebody want to walk into the store? Do they want to drive up to the store? Do they want to have the store drive it to them?' And all of those realities change how material is distributed either to the customer or to the store," Neuwirth says.
The approach to answering those questions is unique to each retailer. While the majority of groceries are still purchased at brick-and-mortar locations, options such as meal kits and e-commerce (or a mix of all three) are growing.
"The change in consumer demand is causing grocery to take another look at how to meet consumer needs," says, Matt Rivenbark, executive sales manager, SSI Schaefer Systems. "Food retail in general has worked seamlessly for decades, and now, e-commerce and meal kit delivery has everyone rethinking their fulfillment strategies to meet these new demands.
"Plus, most retailers are looking at ways to streamline processes while they are looking at making these changes," Rivenbark adds. "Trying to meet this e-commerce growth with traditional grocery distribution isn't ideal. Most grocers today have to switch their fulfillment strategies to compete with large e-commerce players for customers who want convenience and meet the demands of consumers who want complete meals delivered."
An Omnichannel Approach
Many traditional brick-and-mortar retailers have or are transitioning to an omnichannel approach, where they can maintain a pleasant in-store shopping experience while still competing with e-commerce and meal kit providers.
An omnichannel approach comes with a distinct set of challenges. It has introduced a new style of picking called piece picking, which can be extremely expensive.
"[Piece picking] is something that the retail industry and clothing and e-commerce have been doing for a long time, but it can be very foreign to grocers," explains Rivenbark. "[Grocers] have to completely adapt the way they see fulfillment. What it takes to pick a case and put it on a pallet to get it ready for shipping is a lot different than traditional picking, so it's a much more expensive pick, and people are having trouble figuring out how to best to combat that."
So how can today's grocery stores maintain an affordable yet efficient omnichannel fulfillment strategy? Rivenbark suggests a little bit of automation, specifically shuttle solutions.
"They can use shuttles for both piece picking operations as well as smaller levels of piece picking," he explains. "It's the most efficient way because you're able to put a lot of SKU's into a small area and pick it with a lot less people than you would in a traditional type of picking."
With traditional picking, Rivenbark explains, employees walk up and down a warehouse picking each SKU from a pallet on the floor. Shuttle solutions allow the employee to choose each SKU by a code in a system that delivers the product to the operator to pick, instead of the operator having to walk up and down all the long warehouse aisles. 
"You're basically able to keep the operator there to just do the picking process and not have to do all the extra stuff that's required for the traditional style of fulfillment," he adds.
An omnichannel solution is also effective in picking for fresh foods, another challenge driven by consumer demand that is unique to the grocery store.
"Large clothing chains are not faced with having to keep items cold, frozen or fresh," adds Rivenbark. "It is a special challenge that grocers have."
To fulfill orders from multiple channels, today grocers use storefront employees to shop the floor with large totes and bins. This, Rivenbark says, negatively impacts consumer experience and even customer service.
"Picking for e-commerce orders from the store isn't an optimal use of in-store labor, but right now that's what a lot of grocers are being forced to do in order to compete," explains Rivenbark. "This is why many grocers are now searching for an omnichannel solution with smaller format distribution centers (DC) or wholesalers to put the picking back where it belongs—in the DCs."
Some grocers, he adds, are even exploring having delivery from DCs or delivering to pick-up areas where items are stored appropriately.
"This entire process is then moved away from the brick-and-mortar storefront aisles, so that consumers shopping experience remains pleasant," he says.
Increased Capacity and Fulfillment
Whatever you're approach to fulfillment, a revamped back room is a certainty. UNEX, who focuses on the grocery market because of its high number of SKUs, is seeing big changes in the back room as more inventory is stored at the actual retail location.
"You're putting more inventory in the back obviously because it's going out in multiple channels," explains Neuwirth. "Some stores are fulfilling online orders from distribution centers (DC), while other stores are fulfilling from the actual retail stores, so the solutions of 20 years ago—bringing product in, putting it on a shelf and waiting for somebody to walk down the aisle—no longer exists. They need more capacity in the back to make sure they have inventory out on the shelves in order to fulfill what's going through their door, but also through the dot com channel as well."
Rivenbark adds that increased SKUs and inventory levels are due in part thanks to e-commerce channels such as Amazon, where shoppers can easily purchase the exact brand or item they want.
"That's causing these grocers to expand their inventory and what they're offering," he says. "And as consumers have more and more say on the situation, you're going to see a lot more piece picking. You're going to see a lot of grocers offering more SKUs than they are traditionally doing, and that my even create more problems as they try to create big spaces for all these additional SKUs, and that's something with piece pick type operations you're really able to streamline."
Follow Wunderlin on Twitter.