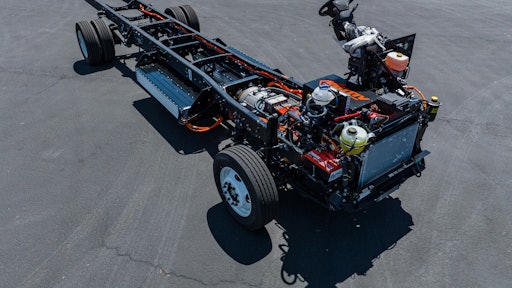 Motiv Power Systems
Motiv Power Systems announced its next-generation electric trucks for medium-duty fleets.
"Motiv's new technology platform tackles key barriers to electrifying a commercial fleet: payload confidence, range anxiety and serviceability concerns. And we've done so in collaboration with our customers," says Tim Krauskopf, CEO of Motiv Power Systems. "The driver holding the wheel every day is our target – and our success at getting them to advocate for Motiv's EV's is the best validation for adoption."
From GlobeNewswire:
Motiv worked with Nidec to design and patent a six-phase motor and motor controller-producing torque that surpasses internal combustion engine (ICE) counterparts. Motiv also co-developed and has patents pending for its battery interface to the new battery system, the first ONE Aries LFP battery system on the market, capable of reaching a 200-mile range on a single charge.
The new EVs are built on Motiv's previous iterations to embody an efficient, reliable design by combining 12 different parts into a single, high-reliability unit with fewer wires and cables.
Fleets can select 2-3 battery packs to suit range needs.