am/stock.adobe.com
For many Americans, filling up at the gas tank can be somewhat daunting. But, for the more than 3.5 million truck drivers in the United States, the frustration at the pump is more complex.
In June, President Biden called on Congress to temporarily suspend the federal gas tax to give U.S. drivers "just a little bit of breathing room." This would amount to savings of about 18 cents per gallon of gasoline and 24 cents per gallon of diesel through the end of September.
But, how will this tax break impact the Highway Trust Fund, which finances most federal government spending for highways and mass transit? Revenues for the trust fund come from transportation-related excise taxes, primarily federal taxes on gasoline and diesel fuel. This means that reducing the federal gas tax could possibly impede on projects specifically tied to the Highway Trust Fund.
"With our deficit already down by a historic $1.6 trillion this year, the President believes that we can afford to suspend the gas tax to help consumers while using other revenues to make the Highway Trust Fund whole for the roughly $10 billion cost. This is consistent with legislation proposed in the Senate and the House to advance a responsible gas tax holiday," a White House press release states.
Yet, President Biden is also calling on Congress to make sure that the gas tax holiday has no negative effect on the Highway Trust Fund.
However, Jim Ward, president of the Truckload Carriers Association, says that "implementing federal or state gas tax holidays would significantly starve the Highway Trust Fund of much-needed financing and directly undermine industry and policymakers' ability to implement the newly-won infrastructure law. Trucking, an industry directly reliant on fuel, unequivocally understands the cost of rising fuel prices, however we do not support short-term solutions at the sacrifice of long-term progress toward a better-funded and more-reliable national infrastructure network."
"The Highway Trust Fund is already facing expanding structural deficits and needs greater investment moving forward – instead this policy would erode the funding we need to rebuild our nation's roads and bridges," Ward says.
American Trucking Associations (ATA) president and CEO Chris Spear calls the plan "a gimmick," and wants leaders to get serious about lowering energy prices and reducing inflation.
"After months of touting the passage of the well-funded Infrastructure Investment and Jobs Act – a much-needed investment in our nation's roads and bridges – the Biden Administration wants to cut that same highway system's primary source of funding with a suspension of the federal fuel tax."
Federal gas taxes aside though, the trucking and transportation industry has been plagued by a series of supply chain challenges. The driver shortage. Increased wages. Rising fuel prices. Rising cost of goods. Ingredient shortage. Supplies shortage. Canada-border protests. Increased shipping costs. The list just. Keeps. Going.
But, it's the driver shortage creating the biggest impact.
Curbing the driver shortage
ATA estimates that in 2021 the truck driver shortage hit a historic high of just over 80,000 drivers, and if trends remain the same, the shortage could surpass 160,000 in 2030. And, women make up just 7% of all drivers.
"Because there is no single cause of the driver shortage, that means there is no single solution," the ATA study says.
In response to the ongoing driver shortage, the U.S. Department of Transportation and the U.S. Department of Labor launched the Trucking Action Plan (TAP) "to increase the supply of truck drivers by creating new pathways into the profession, cutting red tape to expand high-quality training through Registered Apprenticeship and laying the foundation for improving job quality to keep people in the profession."
"Truck drivers earn well above the national average making it a career that ensures the ability to feed a family and pay the bills. For young people just starting out, it could mean a real opportunity to enter the skilled workforce," says Lindsey Trent, president and co-founder of NextGen Trucking.
"The Next Generation in Trucking Association—a newly formed trade association—is establishing high school programs across the United States to meet this huge need. There are only nine high schools in the U.S. that offer CDL driver programs. One of those is Patterson High School in Patterson, Calif., which was created by teacher and former truck driver, Dave Dein in 2016, and has steadily grown over the last four years. Dave helped create Next Gen Trucking, which can provide turn-key curriculum and partnerships for free and discounted resources. Next Gen also helps foster key partnerships for advisory boards and apprenticeship programs," Trent says.
Students are exposed to technological advances such as autonomous trucks, alternative fuel vehicles and advanced safety technologies, and the plan is to begin working with students in their sophomore year of high school with a basic Class C driving class with an emphasis on trucking.
"Juniors would begin learning the basic operation of a truck involving how to shift a 10-speed transmission as well as proper identification of vehicle parts. Then seniors would not only be elevating and perfecting their skill building but would also take on a leadership role in assisting in the training of the underclassmen," Trent adds.
For those fleets directly impacted by the shortage and having to restructure every route as a result, despite its promising goals, the Trucking Action plan has a long way to go before an impact will be made, says Brent Hutto, chief relationship officer at Truckstop.com.
Case in point: A Truckstop.com survey found over half (51%) of carriers polled are looking to change jobs in the next 6-12 months even though 32% of respondents are making 50-74% more money.
"The apprenticeship program has garnered 10,000 applications for drivers. That is a good start but covers just 12.5% of the need for drivers. We will have a better idea of the effectiveness of the apprenticeship program a year from now," he adds. "The emphasis on TAP will help but it will take years to build the necessary infrastructure. Due to the time needed to appropriate and build, federal and state-owned rest areas are not the solution. Additionally, there are safety issues that must be constantly monitored. The best solution, in our mind, is for the federal government to work with the trucking industry and private owners to develop to the need of the industry. The driver shortage could also be alleviated by reducing wait times at the docks, which leads to another 6% loss in capacity. The removal of manual processes and adoption of automation will help, allowing freight to run faster."
Meanwhile, bipartisan lawmakers in both the House and Senate introduced the DRIVE Safe Act to promote opportunity and enhanced safety training for emerging members of the workforce and bring younger drivers into the industry. "The DRIVE Safe Act creates a two-step apprenticeship process to ensure these individuals are safe and prepared. Recent research shows that the average wage ($79,000) for foodservice distribution delivery is far higher than the average high school graduate's annual salary of $38,000-51,000 starting salary for the average college graduate and it comes without the average $33,000 in college loan debt," according to the International Foodservice Distributors Association (IFDA).
Despite companies' best efforts to provide more incentive for driver recruitment and retention, higher wages from last year will not help ease the driver shortage for 2022. A new survey from IRU shows that we will see a surge in the shortage this year by 40%, caused by tight labor markets and high demand following pandemic restrictions. Additionally, the gap between old and young workers continues to grow.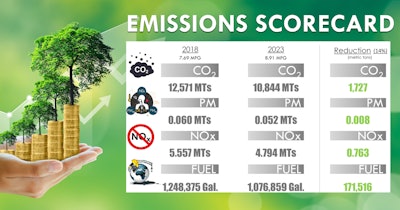 "It is harder to attract younger drivers to the profession, which reinforces the need to build a fleet replenishment plan around shorter trade cycles whereby trucks are increasingly spec'd for newer, advanced safety features that keep drivers safe while returning them home to their families more frequently," says Brian Antonellis, SVP, fleet operations, Fleet Advantage. "The DRIVE Safe Act, part of the $1.2 trillion infrastructure bill President Joe Biden recently signed into law, should help pave the way for drivers under 21 years old to enter interstate trucking. It requires transportation organizations to utilize industry-leading technology, including active braking collision mitigation systems, forward-facing event recording cameras, speed limiters set at 65 mph or less and automated manual transmissions. These requirements further illustrate the need to spec for newer trucks. What's more, the recently launched Truck Action Plan, part of the Infrastructure Bill, is focused on 'getting Americans working in better trucking jobs.' Newer, reliable trucks with advanced safety features is a central place to start in improving the quality of these jobs."
This piggybacks on the 90-Day Trucking Apprenticeship Challenge, which was created to get more well-trained drivers on the road. The challenge asked employers to commit to accelerating the development of new apprenticeship programs and help expand existing ones through new employer and labor partnerships to support recruitment, retention and return on investment in the trucking industry.
While these plans are great for the long term, there are more immediate ways to help small carriers, says Guillermo Garcia, CEO and co-founder of SmartHop.
"They help focus on the areas where truckers struggled the most: job quality and training. But typically, these plans benefit private fleets and publicly traded companies looking for drivers. There are more immediate ways the government can help small carriers. For example, they can provide support for small trucking companies by subsidizing fuel tax for companies with less than 10 trucks until fuel prices come back down; offer contracts to small trucking companies so they can haul government freight at quality rates; and make low-cost loans available to owners of small fleets and independent trucking companies who are struggling through this looming recession, continued inflation and a decreasing spot market," Garcia adds.
Electrification lights the way
The electric vehicle sector is driving demand for lithium-ion (Li-ion) battery technology, with an estimated global demand to reach over 1.6TWh by 2026, representing a 5-year CAGR of 27.9%, according to Interact Analysis.
In fact, the share of shipments to electric vehicle (EV) manufacturers will remain stable, standing at 75.9% of the total, but expect growth in demand from the energy storage system (ESS) sector, with shipments forecast to total 312.4 GWh, accounting for 19.2% of all battery shipments, a 5-year CAGR of 40.9%. CE battery shipments are expected to total 81.3 GWh over the 5-year period, with a CAGR of 4.4%.
In recent weeks, several motor carriers have announced their intentions to add electric trucks to their fleets.
"There has been an increasing amount of press coverage romancing the idea that a plethora of start-up truck companies can quickly revolutionize the industry and deploy a convoy of long-haul trucks built with EV battery technology," Antonellis says. "However, these companies have so far failed to deliver on their promise because of a simple fact that EV battery technology remains elusive in its quest to accomplish the realities of balancing battery weight, necessary vehicle range, and payload requirements especially for over-the-road Class 8 equipment."
Fleet Advantage suggests bridging today's clean-diesel technology into tomorrow's alternate energies to obtain an appropriate ESG strategy, Antonellis adds.
"Until a national network of truck chargers is created, companies will need to install them in their delivery stations or DCs. On top of the cost of charging stations ($25,000-100,000), an EV typically costs $325,000-360,000, compared to a diesel tractor ($125,000-150,000). Combined with the charging station costs, it would be difficult to make up those upfront expenses over the first five years," Antonellis says.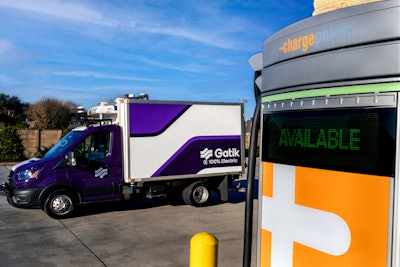 Fixed, point-to-point, middle-mile logistics is also a natural fit for an electric vehicle's range and charging infrastructure, according to Richard Steiner, head of policy and communications, Gatik.
That's why Gatik introduced electric autonomous box trucks, designed with an all-electric powertrain, providing an energy-efficient autonomous solution to optimize freight movement on the middle mile.
"Helping our customers as they meet their ambitious emissions targets is a key pillar of our long-term strategy. Our electric autonomous box trucks are defining a new frontier in sustainability, while continuing to offer the cost reductions and shorter delivery times our autonomous solution is known for," says Gautam Narang, CEO and co-founder of Gatik. "The B2B short-haul market is ideally suited to electric technology thanks to the route lengths involved. Trucks can charge while they're being loaded, enabling continuous service during operational hours."
Another game changer is real-time visibility of freight. In response, NorthStar Digital, in partnership of Radaro, developed F8Focus, an integrated driver mobile application geared toward real-time visibility of assets and freight for client, real-time tracking.
"Transportation requires more digitization in ways that other industries have adopted for scheduling and capacity. With today's supply chain challenges, shippers need carriers to share their capacity transparently in order to give shippers the opportunity to set their delivery expectations appropriately," says Dave Brajkovich, chief technical officer, NorthStar Digital Solutions.
Driving ahead
While some industry experts predict a calmer 2023, especially as the Coronavirus disease (COVID-19) pandemic becomes more contained and supply chain bottlenecks unravel and work themselves out, others still remain cautious.
"Entering 2022, food distribution companies continue to deal with a host of challenges carrying over from 2021, including driver shortages, logistical changes due to a fluctuating pandemic environment and asset management hurdles that continue to impact organizational bottom lines," says Antonellis.
Gatik's partnership with Georgia-Pacific and KBX will automate part of the Georgia-Pacific-KBX on-road transportation network in the Dallas-Fort Worth metroplex, delivering goods 24/7 across a network of 34 Sam's Club locations. This dedicated autonomous vehicle fleet is said to be the first time that Class 6 autonomous box trucks have been deployed to disrupt short-haul logistics networks traditionally involving Class 8 trucks.
"By restricting delivery to fixed, repeatable short-haul routes, Gatik is able to maximize fuel efficiency and provide a solution that is ultimately more environmentally sound," says Steiner.
While filling up the gas tank may be cumbersome for some time, the trucking and transportation industry is forging ahead with plans to attain and retain drivers, work with lawmakers to improve infrastructure and safety measures and keep sustainability in mind along the journey.