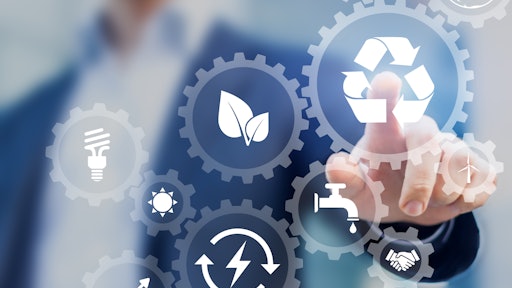 Getty Images
Did you know carbon and greenhouse gas emissions have increased by over 16,300% over the last 170 years? That's 4.4 times faster than the rate of U.S. inflation.
Transportation makes up 27% of the world's total emissions – the single largest contributor - prompting the SEC to signal Scope 3 emissions reporting as a requirement for all public companies by 2025. This means CEOs and CFOs of all publicly traded companies now have to ensure they have a strategy for capturing, reporting and (ideally) improving transportation emissions.
It's no secret that supply chain processes directly impact the environment. As the demand for corporate social responsibility grows, supply chain leaders must make strategic course corrections and chart a path toward sustainable supply chain operations. These efforts must be defined and timely but also reasonable and scalable.
Achieving supply chain sustainability
Adopting sustainable supply chain practices is a top priority for transportation and logistics leaders. But the question of how to achieve this isn't one-size-fits-all. That's why it's essential to understand the fundamental steps before launching a full-fledged sustainability strategy.
Scalable supply chain sustainability solutions
According to Global Environmental Change, leaders should adhere to the following three recommendations to successfully scale solutions:
Improve understanding and raise awareness for a critical mass of stakeholders.

Create motivation and incentives for new practices by embedding the practices into institutional and policy standards.

Develop capabilities to implement new practices at a socially acceptable cost.
Here is how those steps are carried out:
Internal alignment and governance
Shifting toward supply chain sustainability is a holistic endeavor, and no departments will be untouched. This requires intentional efforts toward internal alignment and governance measures to enforce the new protocol. For organizations, top-down support is critical. Once the C-suite "buys in," it generates company-wide awareness. An organization's culture is also crucial. Many people will be excited about sustainability. Tap into those individuals and get involved.
Bottom line? Winning buy-in from staff at every level of an organization is key to frictionless implementation. ​​
Roles and responsibilities
A move toward sustainable practices is an "all hands" situation. Therefore, it will be essential to impart ownership by assigning new roles and responsibilities.
Engaging with suppliers
Once internal stakeholders have been given the plan, it is vital to proactively engage with suppliers and vendors. These key players in supply chain operations will be directly impacted by measures that support sustainability. Therefore, it is important to support and reward suppliers, make it easy for them to align with new standards, and highlight shared benefits and opportunities that result from necessary changes.
Establishing goals and tracking performance
Business leaders are well-trained to establish performance indicators, set goals and track performance. However, you need sound data and data governance processes to do it. That's where freight audit and payment comes in, along with regular data cleansing and other operational best practices. A freight audit and payment program can capture the foundational transportation logistics data needed to build a sustainability program and measure KPIs over time.
High standards and accurate tracking are essential in sustainability efforts for the supply chain, as the timeline for implementation can extend indefinitely. In addition, benchmarking the process and being public about success is crucial to maintaining endorsement internally and externally.