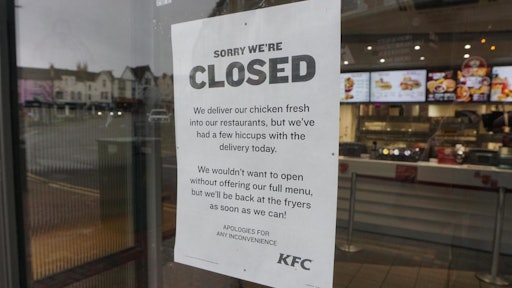 Less than half of the 900 KFC restaurants in the U.K. are offering customers a full menu after the the chain was hit by delivery problems two months ago.
In February, KFC was forced to shut down 700 of its restaurants after the chain switched from food distributor Bidvest to DHL. Since the problems started, Bidvest has been rehired to supply 350 outlets in the north of the U.S. However, customers all around the country are still unable to order from the usual full menu.
Customers have taken to social media to complain that they cannot buy certain products ranging from chicken burgers, wraps and sweetcorn. KFC's owner Yum Brands has said that 260 will start offering a full menu later this week, only bringing the number of fully operating stores to 400.
A spokesman for Bidvest said that every restaurant that they deliver to will be on full menu starting April 24.
Insiders have claimed that the distribution switch was based on cost and that the restaurant was warned ahead of time that switching to DHL would not be a good decision because is has limited experience in food delivery.
To read the full original article, please click here.