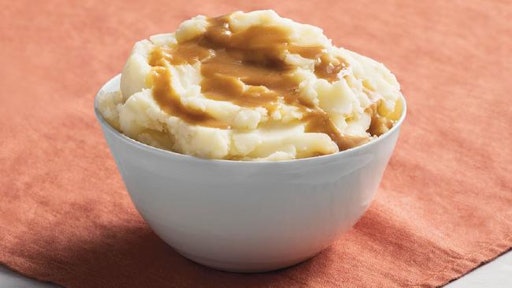 Just as the United Kingdom's KFCs started to reopen after its chicken shortages, the restaurant chain has been hit with another challenge- a shortage of its fan favorite gravy.
Nearly 97 percent of KFC restaurants have reopened since the chicken shortage last month, however, many are still offering a limited menu due to the continuing problems with its delivery service, DHL.
KFC switched is supplier contractor from Bidvest Logistics to DHL in mid-February. Shortly after the switch, the chain had to close nearly 800 of its 900 outlets across the U.K. due to delivery problems.
KFC took out a full page ad in newspapers apologizing for the shortage with a picture of a bucket of chicken with the letters rearranged to say "FCK." The accompanying text read: "WE'RE SORRY. A chicken restaurant without any chicken. It's not ideal ... Thank you for bearing with us."
This will be studied. https://t.co/BlNcZrcxsM

— R/GA (@RGA) February 23, 2018
The company invited their social media following to use the hashtag #WheresMyChicken to find open restaurants.
You always want what you can't have... but now you can 🙌

Just hit the #WheresMyChicken button below and find your nearest open KFC… https://t.co/suCBp2Mf53

— KFC UK & Ireland (@KFC_UKI) February 26, 2018
To read the full original article, please click here.