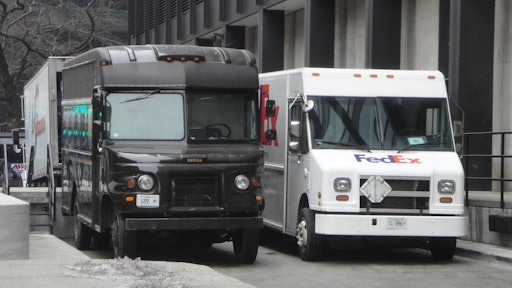 FedEx Corp. is raising its fuel surcharge for the second time this year, jolting e-commerce companies, retailers and other shippers with price increases just as they gear up for the make-or-break holiday sales season, according to Dow Jones Newswires.
The increase, which takes effect Nov. 2, would add about $170 to the bill for shipping 100 shoeboxes overnight from New York to Atlanta, up from the $67 added by the current surcharge. The figures, from an analysis by supply-chain consulting firm Spend Management Experts, are based on FedEx's published rates and the August average fuel price.
The package-delivery company previously boosted its fuel-surcharge index in February, following a similar increase by rival United Parcel Service Inc. Their indexes determine how much the price of shipping a package will rise as fuel prices fluctuate.
UPS's surcharge would add about $200 to the cost of shipping the same 100 shoeboxes, the analysis found.
FedEx's latest increase caught customers off guard because the company's fuel costs have been falling. The price of diesel fuel, which FedEx uses in its trucks, has plunged by about a third over the past year.
Spot prices for jet kerosene, which power FedEx's airplanes, have fallen by nearly half to about $1.37 a gallon, according to the U.S. Energy Information Administration.
http://www.nasdaq.com/article/fuel-prices-fall-but-fedex-and-ups-boost-surcharges-20151005-01223
Editors Insight: The rises in delivery fuel charges are due to an increase in residential deliveries, which are more expensive. This is a factor that could impact the e-commerce business disproportionately, which many observers believe will be a big part of the economy.
The food and beverage ecommerce business is still in its early phases. Food companies active in the e-commerce space will have to pass on higher costs to customers. The costs will be even higher once the fuel prices rebound, which they will at some time.
The higher cost of delivery could impact how quickly food and beverage e-commerce expands. 10-6-15 By Elliot Maras