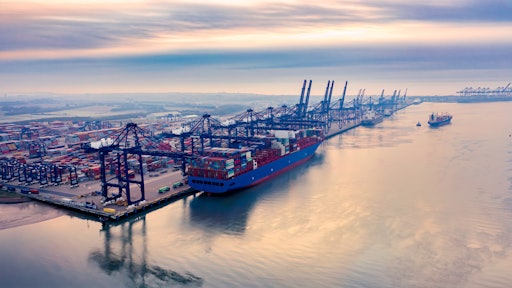 Graham AdobeStock_354682790
Aug. 21 marked the first day in 30 years that Felixstowe, a port town in Suffolk, England, experienced dock workers going on strike.
According to BBC.com, about 1,900 members of the Unite union at Felixstowe are walking out for eight days in a dispute over pay.
Although the port spokesman calls this labor strike "disappointing," Felixstowe handles about one-third of Britain's total container volume and an even bigger share of direct trade with Asia. This means that even one day of inactivity from dock workers can put this port, dubbed a vital stop for Asia trade, into a position that could upend supply chains and disrupt more than $800 million in trade.
"The stark reality is that higher shipping costs will be passed on to customers because of the industrial action at the port of Felixstowe. The shipping and freighting industry has already navigated COVID lockdowns in China and the war in Ukraine. The strike action will be felt for weeks, not only in the shipping industry but in families' pockets too, as the cost of goods increases even further amidst a cost-of-living crisis and inflation at a 40-year high," says Scott Wyatt, head of operations at DG International. "For the wider economy, it's not good news either, as we are in peak season for businesses moving goods around the world ahead of Christmas. What's happening in Felixstowe will create a significant backlog in the other UK and European ports."
Beyond the backlog, this supply chain disruption could drive up costs of goods even further, impact product shortages already in existence and put a wrench in global supply chains working to still undo repercussions from COVID-19.
For instance, the 4-week average ocean dwell time at the Port of Felixstowe is currently at 8.8 days average across import, export and transshipment stops, according to FourKites data. This is 20% lower than levels seen at the beginning of the year when the average was at 11 days.
FourKites also expects port congestion to increase after the strike goes into effect.

Stay tuned for further updates….