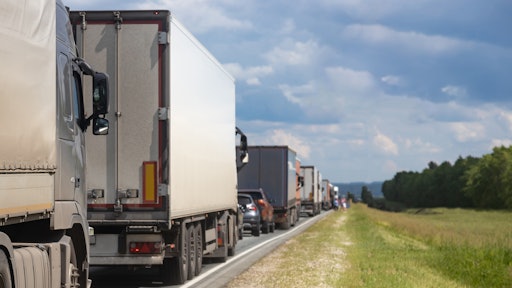 xartproduction AdobeStock_542785160
The New Normal… a phrase created shortly after the pandemic to signify the new way of doing business.
But for many supply chains, that "new" way of doing business changes constantly, forcing decision-makers to continuously pivot.
In Food Logistics' Nov/Dec 2022 issue, editor-in-chief Marina Mayer talks with industry experts about what the return to normalcy in the supply chain space looks like and what's in store for global cold chains come 2023.
Here's an interview with Adhish Luitel, senior analyst, ABI Research, who details why rail strikes, staffing complexities, congestion and bottlenecks will continue to challenge supply chains in the New Year, with excerpts publishing in Food Logistics' Nov/Dec 2022 issue. [CLICK HERE to read the article in full].
Food Logistics: 2022 saw a lot of instability within the supply chain. Port strikes, rail strikes, driver shortage and more. Industry experts even predict it may take supply chains close to 2-3 years to turn around. From your vantage point, what does the state of the supply chain look like next year and the years ahead?
Adhish Luitel: I would agree with the industry experts on this. I would expect instabilities to continue for the next couple of years. Although port congestion (mostly on the West Coast ports) are easing, labor strikes definitely aren't helping. Rail strikes (especially in the U.S.) will cause an added amount of pressure on the trucking industry. And due to the staffing complexities in trucking, we will see more congestion and bottlenecks, not just within maritime, but other modalities such as rail and trucking as well. In addition, lots of warehouses are short-staffed as well.
Food Logistics: What are some of the main trends or challenges set to disrupt supply chains in 2023 (be specific)?
Luitel: Material scarcities and production delays. Lack of inputs in production has been a concern ever since the start of the pandemic, mostly due to the dramatic rise in customer demand. Even now, retailers and manufacturers are facing record-long lead times and limited availabilities. This issue will persist next year as well.
More stakeholders. Supply chain by its very nature involves a lot of stakeholders. A retailer may have multiple suppliers and each supplier might have its own LSPs/3PLs and fleet operators. Due to ongoing disruptions, businesses have realized they need to better equip their supply chains by identifying alternative networks. This would mean a broader network of suppliers, more alternative markets/customers and logistics/transportation providers. As a result, we will see more stakeholders for different supply chains and a higher level of collaboration will be needed to mitigate risks and overcome disruptions.
Staffing complexities. We might see labor shortages across different points of the supply chain. The trucking industry is already plagued with driver shortages. Warehouses faced similar issues earlier this year and last year. Staffing complexities and labor shortages will be an ongoing trend next year as well.
Inflation. Inflation has grown rapidly this year globally and a lot of regions in the world are now dealing with the highest level of inflation in years. Businesses must be prepared for cost increases related to procurement, finished products, wages, transportation fees, storage space rent and more. Coping with inflation and trying to minimize its impact would entail fixing a lot of inefficiencies across supply chains.
Food Logistics: The cold food chain continues to face a host of risk/security challenges. What can companies be doing now to adapt for the future?
Luitel: Retailers need to understand the exact requirements of each individual item. Each unique item has different requirements on how they are packaged, stored, and shipped. A reefer with uniform temperature control might not be apt for more than one type of item and this should be considered. IoT-enabled item/crate-level tracking might be one of the ways to minimize various cold chain challenges. Similarly, fleets need to ensure reefers are fully functioning to avoid any threats due to equipment failures. Companies should focus on enhancing their fleet prognostics and diagnostic capabilities. Finally, one of the biggest reasons behind wastage across the food supply chain can be attributed to poor load/unload practices. Practices such as pyramid stacking, or temperature tracking of individual crates being loaded/unloaded can help mitigate these challenges.
Food Logistics: Drones, autonomous vehicles and other cutting-edge technologies are making headlines in logistics. How do they impact the future of supply chains?
Luitel: We're definitely seeing a lot of traction in adoption of autonomous vehicles and other robotics in warehouses, fulfillment centers and ports. They will make supply chains more agile to volume fluctuations. Continued robotics adoption of robotics across different points of supply chain also ensures an added level of consistency and quality improvement. They can also help overcome labor shortages and enhance workplace safety,
Food Logistics: The labor shortage is a real thing, and it's impacting several facets of the supply chain. What is your company – or what should companies – be doing to hire, onboard and retain good quality supply chain workers?
Luitel: Requirements might be different for different companies and for different points across the supply chain. Setting concise standards and goals from the beginning would be a start to cultivating a better quality employee culture. Making training a priority would also be a good way to make workers more productive and enhance workplace safety. In addition, blending elements of emerging technologies with workers can greatly enhance their performance and help reduce turnover as well. For example, using video telematics data to devise training programs curated for individual drivers based on their driver behavior can address specific issues as well as possibly motivate the driver to perform better.
Food Logistics: Sustainability continues to be a core part of many companies' supply chain strategies. What's most important in achieving that ultimate sustainability footprint?
Luitel: There are a lot of factors involved. Warehouses and fulfillment centers can start tracking resource (electricity, water, etc.) consumption for a start. Lots of fleets are contemplating moving either partially or entirely to EVs as well. I would say the most important factor is tracking resource consumption and focusing on waste reduction to be more sustainable.
Food Logistics: The influx of e-commerce put supply chains in the spotlight to pivot or fall behind. What can companies do to re-tool their warehousing and transportation tactics?
Luitel: The growth in e-commerce coupled by the effects of the pandemic is what caused mass supply chain disruptions in the first place. And e-commerce will continue to grow in the coming years. Introducing more technological solutions to make warehousing transportation and warehousing processes would be the way to go. We're already seeing rising adoption of robotics in warehouses/ports and private wireless networks to ensure they perform well. Video telematics and cold chain monitoring are also growing in trucking to ensure more efficient processes are put in place. Another solution to this would be to provide more visibility. Bluetooth and RF-enabled IoT solutions can streamline track and trace processes which allows for granular level tracking of orders. This level of visibility can also help supply chains become more agile and resistant to disruptions.
Food Logistics: What are some things not addressed above that may be pertinent to our readers?
Luitel: Something related to sustainability would be reducing produce/perishable item wastages across the supply chain. The average inventory shrink last year was 1.4%. Inventory shrinkages cost retailers close to $100 billion in losses just last year. Tracking produce or any perishable food items through IoT solutions at an individual level (temperature and condition monitoring as well, in addition to location tracking) can help reduce inventory shrinkage and enable automation of a lot of processes for fulfillment centers and retailers.
[CLICK HERE to read the article in full].