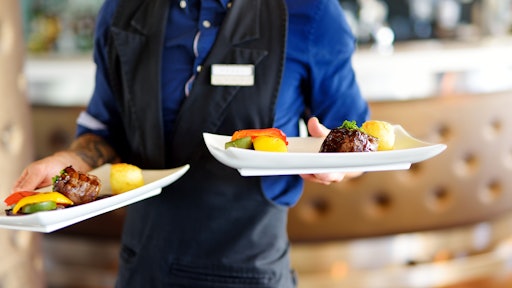 Getty Images
He wanted Greek and she wanted Chinese—so they ordered takeout from two different Manhattan restaurants offering home delivery, enjoyed dinner and a movie in their living room, and everyone got what they wanted. 
This isn't an unusual scenario for today's two-career, very busy families—or even individuals who want a variety of food options and just prefer to "dine in." Nor is it unusual today for restaurant patrons to insist on substitutions and mixes and matches of menu options to get what they want.
"The consumer ultimately drives everything, and the ripple effects are felt throughout the entire food supply chain's ecosystem," says Cullen Andrews, vice president of sales and marketing for Dot Foods, a food industry redistributor.
This makes it imperative for foodservice companies to closely monitor consumer trends so they can stay on top of them.
What Food Consumers Want 
"We are seeing that consumers want convenience, and that's especially true when it comes to food," notes Mark Allen, president & CEO of the International Foodservice Distributors Association (IFDA). "Restaurants are investing in technology and changing the experience of dining out. There is a real emphasis on creating a seamless experience for their customers. Mintel (a market intelligence agency) reports that 82 percent of consumers say convenience is a top concern when dining out."
Also important to consumers are transparency and sustainability. "They have a strong interest in not only where the food comes from, but how it gets to their table. I believe the emphasis on local, organic and sustainable will continue," says Allen.
This means there will be a persistent, higher demand for "natural" specialty products and products that are viewed as cleaner and better to consume.
"There is also continued growth with authentic global ethnic foods," says Andrews. "Flavors and products that are influenced outside of the United States continue to appear in menus across all segments and channels."
The foodservice industry is also responding to new technologies and modes of delivery that consumers are demanding. E-commerce has been a major driver of consumer behavior because the broad assortment of food products it offers has exposed consumers to more food options—and has raised consumer expectations that foodservice providers can fulfill demands for more variegated food choices. In other cases, restaurants have teamed up with technology-delivery options like Uber for takeout delivery, and restaurants and meal services have added options so consumers can place orders online and have them ready for pickup at the restaurant or delivery at home.
"One of the most noticeable changes I've seen is how restaurants have emphasized the take-out experience with apps like Grub Hub, UberEats and the like," observes Allen. "They are focused on making things as convenient for their customers as possible—both in the physical restaurant or for take-out."
Retooling for Freshness, Variety and Convenience 
For the farms and distributors that support restaurants and stores, evolving consumer demands for freshness, variety and convenience are bringing change to the foodservice industry. For instance, distributors now partner more closely with foodservice outlets by suggesting technology improvements that could be made in the food supply chain. In some cases, distributors even come up with menu suggestions.
To meet consumer desires for sustainable, fresh and varietal foods, foodservice retailers and distributors seek out more locally sourced goods, and use improved packaging options to keep these foods fresh while they travel from farms to distributors, retailers or consumers.
"As the farm-to-table movement grows in popularity, we're also seeing an increase in indoor farms in urban areas using hydroponic, aeroponic or aquaponic technology," says Allen. "Some are in greenhouses using natural light and some use shelf-like stacked planes or vertical growing walls with LED lighting. One shipping container, for example, can produce as much as two acres of farmland. Unlike outdoor farms, however, the indoor versions can repeat the growing cycle over and over, 52 weeks per year."
These urban farms can produce food with 95 percent less water than conventional farms—plus, they have no run-off or soil-stripping issues. Food safety can be strictly controlled from seed to restaurant delivery in a way that isn't possible with a large farm.
An example is Gordon Food Service's first urban farming campus in Wyoming, Michigan, which it recently announced. Gordon is partnering with Square Roots, a Brooklyn-based urban farm technology provider, in the venture. It is projected that 10 hydroponic shipping container farms will produce more than 50,000 pounds of herbs annually, which will be made available to nearby GFS customers in retail centers such as the new GFS Detroit grocery store.
The Challenge of Meeting New Consumer Demands
The Gordon Food Service urban farming campus project is exciting and forward-thinking. Nevertheless, it doesn't hide the fact that foodservice retailers and distributors still face challenges as they strive to fulfill elevated customer expectations.
Improving results through collaboration.
"Distributors today must be a business partner to their customers as well as a vendor," says Allen. "As foodservice distributors continue to adjust their sourcing, procurement and assortment of products to meet changing consumer tastes, more are also finding that it pays to play a more active role with their customers. When a distributor does this, the distributor can help customers navigate a rapidly changing environment. Foodservice distributors also play a vital role in ensuring products are delivered safely and efficiently to the customer."
Allen emphasizes that while technology is seen by many as an enabler and a differentiator in foodservice, it's also important for distributors to keep a personal relationship with their customers. "While Amazon might be convenient—are they invested in your success?" he asks. "One of the biggest competitive advantages distributors have is customer service and relationships."
Dealing with expansions in consumer choice.
At the same time that distributors and retailers are running and monitoring their supply chains, the variety of foods being funneled through these supply chains is growing. 
This means that both distributors and retailers must carry more products, manage increased operational costs for carrying more products, and enact means of ensuring that products stay fresh from farm to table.
"The move to a broader assortment of products can impact a distributor's sales team," Allen explains. "It's becoming more important for salespeople to be more consultative and understand the latest consumer foodservice trends so they can add value to their customers with their knowledge of products and consumers. Meanwhile, the more products a distributor carries, the more difficult it is for the distributor's salesperson to be a product expert. This means they need to have the tools to help them support the customer and offer insights."
Technology.
When it comes to tools, analytics is playing an important role in monitoring and reporting on consumer buying trends in foodservice—and analytics are giving distributors the tools to better assist their retail customers.
Distributors are also expanding their e-commerce capabilities, whether it is providing a better user experience for online ordering, or generating content on products and trends. To do this, they must integrate many disparate systems and platforms to provide a seamless user experience, and to move data from multiple systems into analytics programs that can produce value-added business insights.
The other operational aspect that technology helps is time to market.
"I think distributors are accepting that 'the future' is here," says Allen. "Delivery drones, warehouse robots, and automated factories are not a thing of science fiction anymore. It's vital for distributors to embrace this new technology."
Talent.
Of course, to run the new technology you have to rework your operations—and possess the internal talent to run these new systems. "It's easy to talk about foodservice trends, but not always so easy to execute thestrategies associated with them," says Andrews. "For years, distributors have been experts at supply chain, customer service, inventory management and the like, but now they need technology know-how. One key challenge is attracting and finding the talent that can help lead and execute new strategies that involve new technologies. If you just look at e-commerce, it requires investments in IT, marketing, and e-commerce talent that may not exist in your organization today, as it might not have been a core competency. 
It also requires significant planning and alignment across the organization so that you can operationally support new ways of doing business."
Labor shortages.
There are also supply chain realities that impact distributors and retailers, although they don't necessarily control them. For instance, as the need for freight transport soars, estimates from the American Trucking Associations (ATA) show trucking companies will need to hire an additional 890,000 drivers over the next decade. "According to an industry analysis by DAT Solutions, just one truck was available for every 12 loads needing to be shipped at the start of 2018, which is the lowest ratio since 2005," says Allen. 
Undoubtedly, the labor shortage is having a huge impact on both the operator and foodservice distribution industries. "If we don't put more drivers behind the wheel, we can't make the timely delivery of the hundreds of thousands of perishable products," says Allen. "Given that American consumers expect their meals at the speed of an app, this creates a huge challenge."
Fortunately, work is being done to reduce the truck driver shortage. In February, bipartisan lawmakers in the Senate and House introduced legislation to address the driver shortage with the DRIVE-Safe Act, which modernizes federal law to empower the trucking industry to fill labor gaps with a qualified, highly trained emerging workforce.
What to Do Now
As consumer trends shift, it is important for foodservice distributors to shift with them. Here are several steps they can take to stay ahead of market demand:
❶ Include local, sustainable and plant-based foods in your planning. "The demand for local and sustainable food will only increase, so that is something that should be on everyone's radar," says Allen. "In the same vein, I think you'll see more plant-based foods."
❷ Network with others. "Industry associations provide opportunities for information and networking," says Andrews. "There are great industry associations across channels and initiatives that help you learn from those that have experience. It can especially be helpful to network and learn from similar business models in other industries to learn what is happening outside of your primary industry."
❸ Include emerging trends in your strategic planning. Your foodservice strategic plan should look ahead three to five years, and not just focus on the next 12-24 months.
❹ Use outside market research. Working with market research companies that have robust operator or consumer data in the food industry can provide valuable input to your strategic planning.
❺ Stay engaged with your customers and stakeholders. "There is still nothing better than being in front of customers, suppliers and other key stakeholders at their place of business," says Andrews. "It helps you to understand what they are focused on, what their customers are asking of them, the challenges they are facing and what they see as the current trends."