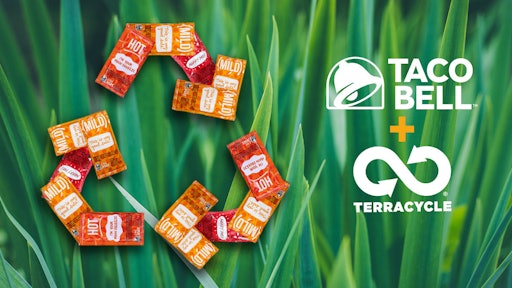 Taco Bell
Taco Bell is collaborating with TerraCycle to make its sauce packets recyclable. The companies intend to announce more details of its recycling pilot program later this year, hoping to encourage customer participation in the process.
"In the food industry today, there is no widely available solution for recycling the flexible film packets that are so commonly used for condiments," said Liz Matthews, Taco Bell's Global Chief Food Innovation Officer. "So, we're thrilled to leverage the expertise of TerraCycle to recycle our iconic sauce packet packaging in a way that's as bold and innovative as our menu."
The fast food restaurant has made a goal to make all its consumer-facing packaging recyclable, compostable or reusable by 2025 in all of its restaurants. The pilot launch is expected to begin later in 2021, with results determining the most viable solutions moving forward.
Taco Bell is the first QSR brand to partner with TerraCycle to tackle recycling flexible film packets.
For customers who may already be eager to recycle their sauce packets, there are steps they currently can take to leave a lighter footprint. Be sure to check the specific recycling and composting guidelines of your local municipality when disposing packaging.