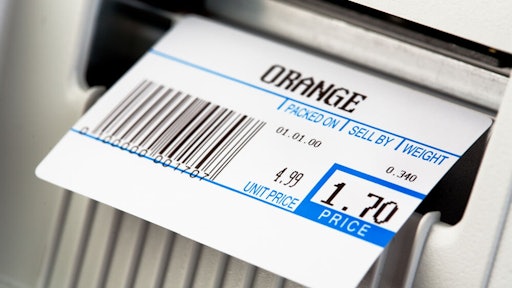 Dynamsoft
The common use of barcode technology in grocery stores goes back to the 1970s. It was at this time the industry realized its potential. The first UPC code scanner was installed at a grocery store in Ohio. This has led to its widespread use worldwide. Nowadays, pretty much every grocery store uses barcode technology. However, price labels are also used to easily show prices to customers. So, what if it was possible for a label reader to also read non-barcode information from these labels? How might this help?
A case for label reading
Price labels are usually located on the edges of shelves alongside a barcode. Sometimes they are also on more prominent signs, often to call out a special sale. But, these prices can be incorrect. A common problem in such a case is an item on sale not being programmed into the register.
When a customer encounters such errors, it can be an inconvenience to their time waiting for a price check. More seriously, it can cause customers to lose confidence that items are truly on sale in the future. So, incorrect price labels can hurt customer loyalty in the long run. Also, there are stores which have policies that give consumers groceries free if the store rings it up wrong. Of course, this is an immediate loss of revenue.
Technology exists that can reduce errors on pricing, and it involves label recognition. With the technology, an application developer can enable a store clerk or a robot to scan and extract text from labels. As a result, the label scan can detect if a label is incorrectly priced. Such a scan is almost as quick as a barcode scan. So, there is no noticeable extra time to do so.
This type of scan is based on optical character recognition (OCR) technology. OCR is widely used for extracting text from scanned paper documents. However, when OCR is optimized for use with short and sparse text that might be on a busy background, like with price labels, it can be useful in grocery store applications too.
A label reading scenario
A label reader can work in conjunction with a barcode scan to capture and present label and barcode information to the scanner. The label information captured can be corroborated with the barcode information in real time.
A typical scenario might involve a store employee armed with a scanner. Since signage and pricing is constantly changing, this procedure might need to be constantly occurring. Some might find this a tedious but necessary task to regularly perform. However, it should be noted some stores have experimented with robots doing aisle scans of barcodes. So, full automation of this procedure is possible.
In a scenario involving a robot, they are equipped with several cameras. The cameras take pictures of the price tags as the robot moves along an aisle. The label reader decodes the barcode value, which is typically the product SKU number. It then sends the SKU number to the backend database to look up the pricing and sales in the inventory management system.
Meanwhile, the label reader processes the legible alphanumeric content on the price tag. It extracts the key information into structured data. For example, this might be the product name, price, unit, promotion, etc. The data can be structured in a predefined format so that an automatic comparison against the data from the inventory management system is possible.
Whether done by human or machine, multiple barcodes can be scanned at once. For example, as an employee or robot moves down an aisle, the barcode scanner can scan barcodes on multiple shelves. Results can then be provided in a summary report as to which price labels are incorrect. This multi-barcode scan capability can save a lot of time.
It can save customers and grocery stores millions in lost money annually, resulting from incorrect price labels. And it can also significantly reduce the inconvenient scenario of a "price check" that halts a checkout line from moving forward.
Implementation considerations
The use of this technology has several advantages for stores. This increases worker productivity and reduces chances of human errors in pricing. Even when a barcode is damaged, a store employee can usually make use of a label recognition capability on a mobile device to perform price verifications.
When implementing a label reader, there are various technology considerations. For example, should you implement zonal OCR or not? For reading store label shelfs, this is probably a good idea as such labels are often fixed in size. Store management should collaborate with application developers to decide.
In addition, an application developer might specify if a label has a common expression. This is basically an assumption about the content. This might be, for example, that a label is always no more than 15 characters long. Such customizations are important because they speed scanning and increase accuracy of scans, which of course aids with productivity.
Grocery store services continue to evolve and despite the surge of online delivery of groceries, research shows most shoppers still go into stores to make purchases. Using technology that can make for better customer experiences is important to competitive in-store differentiation. Equally, the use of technology to reduce costly human errors is also important to revenue.
Label recognition technology is one potential solution to consider for improving accuracy and speed of grocery shopping. It can verify the accuracy of in-store shelf labels and avoid customer issues that stem from incorrectly labeled items. As a result, in-store shopping experiences can be further improved.