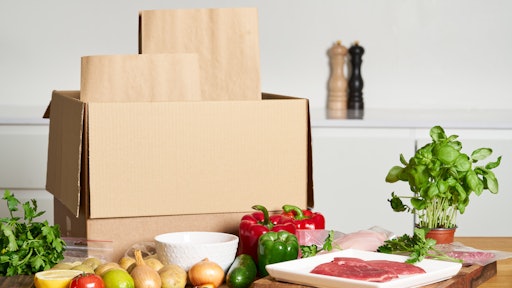 Anna - stock.adobe.com
The need to reduce greenhouse gas emissions and other forms of pollution has begun to change everything about the $7.5 trillion global food industry – from the food we eat to how we prepare, package and transport it. Amid these profound shifts, cost savings and customer satisfaction depend increasingly on companies' abilities to operate sustainably.
As the food industry adjusts to growing consumer preference for e-commerce, scaling up with environmentally sound infrastructure becomes increasingly vital. One of the most significant opportunities for food businesses to green their operations is to re-evaluate their packaging. For decades, plastics have been ubiquitous in food packaging. The appeal was clear -- plastics were an inexpensive way to preserve, insulate and cushion food in transit. Now the planet is choking on discarded plastic packaging.
Worldwide, approximately 42% of all non-fiber plastics are used today in packaging. Packaging is responsible for almost half of all non-biodegradable plastic waste, huge amounts of which finds its way into the ocean. Plastic is also associated with a range of public health problems. This fall, NYU scientists found that exposure to phthalates, "hormone disruptor" chemicals commonly found in plastic food containers, were responsible for roughly 100,000 premature deaths annually in the United States.
Amid this information, a growing number of food operators are turning to paper as an alternative. For example, six out of eight Australian states are moving to reduce single-use plastics and replace them with sustainable packaging.
Paper -- a sustainable alternative
The Coronavirus disease (COVID-19) pandemic accelerated the trend of consumers receiving prepared foods and groceries at home, rather than going to a restaurant or supermarket. Consumers expect their purchases to be packaged sustainably. A January 2021 survey conducted by Ranpak, in partnership with The Harris Poll, found that more than two-thirds of Americans (68%) are more likely to purchase from retailers who offer plastic-free packaging options.
This outlook elevates the role packaging plays in the brand experience companies offer. For example, prepared meal kits have become more popular during the pandemic. But, it undermines a brand's eco-conscious image when a customer unboxes a meal pack to find each ingredient enclosed in a separate plastic baggie surrounded by other plastic packaging. You simply cannot have sustainable food without sustainable packaging. As food e-commerce continues to accelerate, sustainability becomes an important brand differentiator alongside food quality and the ease of preparation.
In many cases, brands searching for more responsible choices need not look further than paper. As food packaging, paper is a cost competitive alternative to plastic and other fossil-fuel derived materials that is both sustainable and recyclable.
Paper also performs consistently as well as or better than plastic at ensuring that food and beverages arrive intact, at the right temperature and remain safe for consumption. Already paper is widely used as an insulator for applications from the sleeve on a cup of coffee to the high voltage power cables on submarines. In a series of tests, Ranpak engineers found paper to be competitive with expanded polystyrene (sometimes known as Styrofoam) and a plastic bubble pouch at keeping products cool. Companies needn't compromise since it's possible to develop industrial and consumer-facing cold chain solutions composed of 100% sustainable, biodegradable paper.
Click here to hear more about sustainable packaging alternatives:
Maximizing efficiencies
Paper packaging also mitigates some of the lesser-known ways plastic contributes to climate change.
The waste associated with packaging shows how putting thought into food logistics can have a meaningful impact. Both paper and plastic can serve as void fillers cradling boxed foods and protecting them from damage. But, in addition to being made with renewable resources that is also curbside recyclable, paper is available as an "on-demand solution." This means that a worker may determine the appropriate usage to pack a given item rather than choose a pre-fabricated plastic offering, which creates waste and even more pollution.
The difference between paper and bubble wrap is similarly clear. While both can be used as protective packaging, bubble wrap's volume is mostly air. As a result, rolls of bubble wrap used in factories are less efficient to transport than tightly wrapped rolls of paper, resulting in a higher emissions profile. Not only is bubble wrap more environmentally damaging than paper to manufacture and dispose of, it's more damaging to move across the supply chain.
Packaging is one aspect of how the business of food – and most other industries – need to reassess its efficiency and environmental impact. Applying this kind of thinking across the food supply chain will go a long way to reducing emissions and waste, while saving money. Amid consumer expectations that food brands reflect their environmental values, paper fulfills the three Ps of successful food packaging -- protection, preservation and presentation.