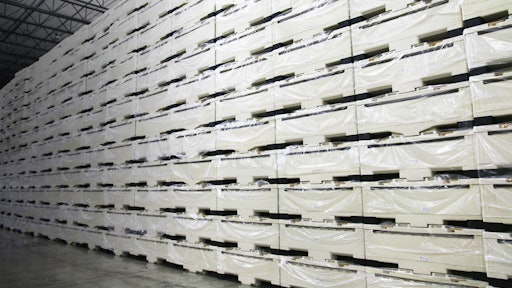 CHEP
Sustainability and efficiency in the supply chain are no longer mutually exclusive, as long as you're choosing the right tools.
Reusable packaging, for instance, is a great option for effectively transporting food and beverage products while simultaneously contributing to a sustainable supply chain.
By opting for reusables to ship and receive ingredients, you can decrease wasted material, save time and money, eliminate empty transport miles and participate in innovative pooling programs, all to enhance both sustainability and business efficiency.
Decrease wasted material
According to a report commissioned by the Plastic Waste Partnership, 46% of plastic waste is a one-way packaging material. This includes everything from the corrugate used to create disposable shipping boxes to the stretch wrap used to protect product shifting to the plastic airbags placed inside trailers to safeguard product during transportation.
Instead of adding to all this waste that will ultimately end up in a landfill, reusable containers accomplish many journeys through the supply chain over years of useful life before they can be ground down into raw material and further repurposed.
Even if a reusable is damaged mid-journey, it can often be repaired and put back to use. For instance, let's say a frozen dessert manufacturer orders a large shipment of liquid egg and the product leaks in transport, accidentally seeping into the corrugate. Not only can that corrugate not be reused from a food safety perspective, but it also can't be recycled in a traditional recycling stream because of that contamination.
Save time and money
Of course, physical matter is just one type of waste. Monetary waste can also be reduced by choosing reusable containers. Due to surging e-commerce sales, the pandemic has increased cost of corrugate, with some of the country's largest producers announcing increases of $50-70 per ton. And, because corrugate is a one-way asset, companies using it will end up purchasing more (and spending more) repeatedly.
In addition to monetary waste, time and labor waste can also be reduced by choosing reusable containers. A recent survey of U.S. supply chain leaders found that nine in 10 felt they needed to increase hiring to meet customer demand, meaning any opportunity to increase efficiency of their existing workforce can be a big win for manufacturers.
For example, corrugate intermediate bulk containers (IBCs) take significantly more time and effort to set up than reusable containers. Reusables can be made ready to fill up to 30 times faster than corrugate and save up to 4 minutes of manual assembly time per container, ultimately offering a massive labor-save for manufacturers. A single operator can often set up and collapse a reusable container in under one minute, as opposed to the difficult and laborious process of setting up a heavy-duty triple wall corrugate box.
In fact, manufacturers typically opt to bypass this laborious process altogether by requesting corrugate containers be delivered already constructed, which requires additional transportation and deepens environmental impact.
Eliminate empty miles
To solve the dichotomy of sustainability and efficiency, collapsible or nestable reusables that fold down when empty can help companies reduce transport miles, further benefitting both the environment and business operations.
In contrast, options like 55-gallon drums do not collapse and can create a very inefficient return trip after use. By choosing a container option that can collapse, stack and cube out a trailer efficiently, companies can eliminate the need for entire truckloads and the carbon emissions that go along with them.
Participate in pooling
Finally, the ability to participate in a pooling program is a great benefit of working with a reusable container provider. These providers often have entire transportation solutions teams that use their network and data to optimize the movement of customer fleets and eliminate wasted miles.
These transportation solutions teams identify situations where they're delivering product to a customer that happens to be nearby another customer needing assets to be picked up. This also ensures reusables are returned as efficiently as possible, further reducing their environmental footprint.
To be fair, reusable containers are not always the best option -- there is room for one-way packaging in the supply chain. If a manufacturer is exporting product to a region in which their provider does not operate a reusable container pool, it could be more sustainable to use corrugate, as the reusable would just become a lost asset. However, with pooling programs benefitting the shipper, receiver and provider, the chances of exporting to an area without pooling capabilities is becoming less likely.
For these reasons, reusable containers are the clear choice for food and beverage companies looking to increase efficiencies and contribute to a sustainable supply chain. They eliminate excess physical, time, labor and monetary waste, as well as reduce empty transport miles to protect both the environment and business operations. The more we all implement reusable assets, the brighter the supply chain's, and the planet's, future.