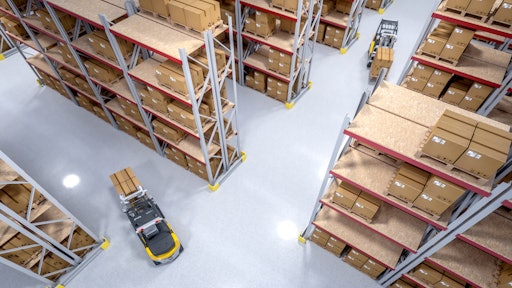 AutoScheduler.ai
The advancement of technology is an important part of the supply chain today, with automation leading the charge. Today, the first and foremost goal of automation is to reduce inefficiencies in operations, which is exceptionally important now as many gaps in the supply chain were exposed throughout the Coronavirus disease (COVID-19) pandemic.
Additionally, the surge of e-commerce and the numerous disruptions throughout the past year pushed companies toward automation to reduce inefficiencies, help build resiliency and protect against disruptions.
"The surge in e-commerce over the past 18 months has encouraged companies to speed up their investments in warehouse automation and automation systems," says Scott Deakins, COO of Deacom. "This digital transformation has been essential in meeting demand as a result of a turbulent year with COVID-19, the Suez Canal blockage, chip shortage, among other unprecedented global disruptions. Namely, automated storage and retrieval systems and order systems that provide a higher level of speed and accuracy will continue to be essential to keep supply chains afloat no matter the circumstance."
Now that automation is prolific and supply chain disruptions are everywhere, the technology becomes more of a "need to have" rather than something that is just nice to have.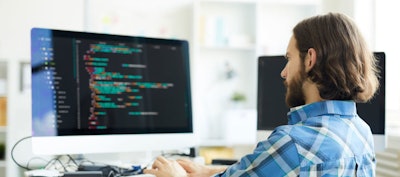 "With margins tight and employee resources scarce, particularly coming out of the pandemic, having the ability to let technology handle manual, tedious tasks is the key to success and in some cases, even survival," says Belinda Rueffer, director of marketing at Axele. "The automation technologies that are built into today's transportation management systems (TMS) allow companies to handle tasks that once were complex in an easy manner. They can carry goods more efficiently by optimizing routes and maximizing Hours of Service and leveraging team drivers to keep the chain moving quickly and leanly. They can accelerate the time from invoice to payment by managing documents digitally and integrating directly with factoring companies and clients. And, they can eliminate time-consuming customer check calls by providing handy tracking links so everyone in the supply chain ecosystem can see exactly where the goods are and understand the real-world ETA for shipments."
More than robotics
But, the growth in automation does not lie just with robotics. There is more to automation than this, including solutions, artificial intelligence, data processing, label printing and more. Tapping numerous forms of automation and linking them together is key in the creation of a modern and efficient supply chain, from end to end.
"When people hear automation in the supply chain, their minds tend to go toward leveraging robotic solutions to streamline assembly workflow, but we're also talking about the automation of data processes and label printing through software," says Nick Recht, enterprise product manager, TEKLYNX International. "With the rise in e-commerce, multichannel and omnichannel distribution and faster delivery time expectations by consumers, plus in response to labor shortages, companies are investing in automated software solutions to speed up processes and improve profit margins. While automation is critical, IoT continues to expand and drive efficiency. The expectation that sensors, printers and other devices talk to each other and can proactively notify a business of restock or maintenance needs is front of mind for many companies."
Automation is a necessity today and important part of the supply chain. But, when it comes to newer technologies, sometimes companies might flock to them as part of a syndrome called "shiny object syndrome." Just because a technology is new and seems interesting, does not mean it is right for all supply chain and cold chain companies. Many times, warehousing and logistics companies will quickly integrate an automation solution hoping it will speed up fulfillment without taking a holistic approach to the situation. This, in turn, defeats the purpose.
"Many businesses add automation to the warehouse, such as conveyors, AS/RS and other automation, to speed fulfillment," says Keith Moore, chief product officer, AutoScheduler.ai. "But, just throwing automation at supply chain processes without taking a holistic look at how all operations interact won't necessarily fix problems upstream or downstream.
"Today, the ugly truth is that most automated systems exist in a process silo, ignoring many of the surrounding warehouse micro-flows," says Moore. "To provide an example for a consumer goods shipper, automated forklifts might be used to retrieve a pallet to staging, but that pallet might sit in the staging area for 12 hours before it's actually loaded onto a trailer. This consumes valuable staging space for longer than necessary and may cost the site the opportunity to get a different order out on-time-in-full.
"Warehouse automation needs to be intelligently orchestrated to ensure equipment is performing the most positive action at the right time," adds Moore.
Solve the problem
While a holistic approach is a significant necessity in purchasing automation equipment and solutions, it is also important to make sure the automated service solves a problem the warehouse truly has. Introducing new technology for the sake of technology will be detrimental to operations. Disrupting operations for something that sounds good but won't work in the field is a failure for everyone.
"Make sure you truly have the problem you are trying to solve with automation," Recht says. "Many companies buy into hot trends without taking the time to properly document and understand their current business processes to validate the investment in automated solutions. As business processes evolve or turnover occurs, companies using automated solutions also run the risk of having outdated or unsupported software running in the background, which could impact integrations, uptime or business continuity. This is why it's very important to partner with experts in these solutions to ensure they're right for your business and help keep your software updated and running smoothly."
Unified visibility is a keen way to get the most of an automation investment. The goal is to get a clear picture of the end-to-end operation and the automation within it, as well as a look at what possible disruptions can occur. Simulation automation such as digital twin technology and integration with all technology platforms make this possible.
Speed and accuracy are imperative in today's warehousing space, pushed by major e-commerce giants, even in the cold chain.
"Two pitfalls to watch out for when it comes to automation include speed and accuracy," Deakins says. "Amazon has set the standard for delivery speeds today. This can be a tough barrier for companies, especially ones that are just starting out. Luckily, faster delivery speeds can be achieved and maintained with warehouse automation tools driving efficiency.
"In terms of accuracy, Amazon has also set high consumer and business expectations for delivery accuracy," he adds. "Warehouse automation systems that seamlessly work together with ERP solutions are able to ensure that e-commerce inventory is accurately reflected and that companies avoid selling things they do not currently have in stock."
While it's important to make sure cold chain and supply chain companies integrate automation that solves problems within its business, fits into its overall operation strategy and increases efficiency and accuracy, installation time is an important characteristic to consider when choosing a technology to purchase. Partners should research what the installation and integration process will look like instead of the promised end result, so they have an accurate picture.
"When evaluating software applications that tout the benefit of automation, dig in and make sure you're clear on what level of effort is required to set the system up in order to achieve the benefits," Rueffer says. "There are great solutions out there that promise an end-of-the-rainbow kind of utopia, but gloss over all the work that's required to get to that state. Today's advanced technology should make it easy to achieve those benefits; do your due diligence to understand the full scope before you jump."
Into the future
For the future, automation will do best with seamless integration with human workers. The supply chain should upskill employees to work alongside automation and technology to make the most out of these new resources and bridge the labor shortage gap.
"The future of supply chain automation does not mean replacing people, but rather upskilling employees to work alongside automation," Deakins says. "As autonomous supply chains are on the horizon, these technologies can only be improved, upheld and further developed by people themselves. Additionally, automated supply chains of the future can only survive if they are agile and resilient, which will enable them to be equipped to withstand any surprise disruption and challenges that will inevitably come along."
Automation and artificial intelligence in the future will likely focus on outcome prediction and driving efficiencies, which could lead to reduction on deadhead miles, job loss and delayed payments, according to Rueffer.
"Our world is moving fast, and automation is the key to competing and winning in tomorrow's supply chain," Rueffer says. "We can expect to see additional opportunities around not just automating mundane tasks, but [also] leveraging AI to predict outcomes based on past performance. What this means for the companies charged with hauling goods is the ability to achieve efficiencies never seen before. Imagine a world where there are no deadhead miles, no lost jobs, no delayed payments. We're close to that today, and automation and AI is advancing at such a rapid pace that this could become reality sooner than later."