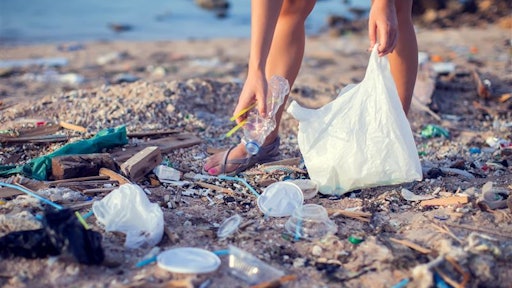 Aleksej
The discussion about sustainability in packaging has been picking up some steam over the past several years, but took a necessary backseat during the Coronavirus disease (COVID-19). This break was necessary and actually ended up shedding some light on several aspects of packaging manufacturing that affect overall business success. These affect not only the packaging industry itself, but also the food and beverage industry, which accounts for the biggest chunk of the packaging market.
One of the lessons learned during the pandemic was that plastics, once demonized with images of water bottles and grocery bags floating in oceans and rivers around the world, turned out to be a good ally in the fight against the spread of the virus, with businesses employing single-use cups, straws, masks, grocery bags and other articles to keep the virus from spreading through contact.
The natural consequence was that experts in a variety of industries started to really think about how to resolve the problem of reducing the amount of plastics in landfills. The entire packaging industry has placed a spotlight on end-of-life (EOL) for all packaging materials to showcase how packaging can help keep the planet green.
The reality is that packaging helps to determine how most food and beverage manufacturers differentiate themselves from their competition. Many products are identified and referred to by their packaging. Some packaging is so distinctive that companies can go without a logo or label. The shape and color of this type of packaging can be seen and recognized from a mile away. This kind of branding is critical to sales growth, as there are a number of consumers who rely on a certain type of product packaging. Many purchases are driven by the way a product is packaged. The packaging can change the customer's experience entirely, transforming it from simply purchasing a product to undergoing a cultural experience. Consumers will quickly indicate to a manufacturer if the packaging is a winner or a loser.
What exactly is sustainable packaging?
This is a question that can have a thousand different answers depending on who is providing the answer.
Over the last several years, climate change has been front and center as a global concern. Sustainability in business has also become a global issue, and customers are demanding that companies address it. One of the major components of sustainability, when it comes to protecting the environment, is waste generated from the packaging of food, beverage and consumer products. Packaging featuring a reduced environmental impact is now becoming a consumer priority. Consumers are now forcing manufacturers to use sustainable packaging materials and it's reflected in their spending habits.
To provide a definition of exactly what sustainable packaging means, let's look at the accepted 5Rs rule as described in the diagram below.
Although some in sustainability might have different views, especially around their ideal concepts for sustainability, the fact of the matter is that applying any or a combination of these R's will certainly improve the sustainability of any given packaging.
The concept that has possibly been employed the most so far is "Reduce," as companies have made incredible efforts to reduce the weight for all packaging formats. The bottom line is that anything that truly minimizes the overall carbon footprint, including addressing the EOL cycle, should be welcome.
Potential impacts on food manufacturers
The evolving types and composition of packaging for food products have major implications for the entire manufacturing supply chain, starting with phasing out the products that do not have sustainable packaging and changing product numbering. This phasing out needs to be managed carefully as it could have serious cost and profit implications up and down the supply chain and throughout the business.
Another often overlooked aspect is the compatibility of new packaging formats/designs with the existing packaging machinery. Therefore, manufacturers should conduct an in-depth analysis and eventually a trial run before scaling up to full production. This analysis should include primary packaging, secondary packaging and end-of-line, as well as set-up and change over.
Click here to learn more about food manufacturers and sustainable packaging strategy:
Product development
At the end of the day, one of the most important roles packaging plays is to protect the product inside. As manufacturers transition to sustainable packaging, the entire business will be impacted, starting with product development. As new food products are designed, developed and created, the new package, beginning with materials, components and shape, could impact the food product in the package. This could drive the composition of food items, ingredients and ultimately alter the taste of the food, which could impact the product's market appeal.
Procurement
One area that could completely change as new packaging evolves to meet sustainability goals is procurement. As new materials for packaging are introduced, previously used suppliers might not be able, for whatever reason, to make the new packaging. This will impact the entire purchasing process from product cost to the entire relationship between supplier and manufacturer.
New materials and components might significantly impact the packaging machinery in terms of operational parameters and could adversely impact overall equipment effectiveness (OEE).
Manufacturing
As products are re-engineered and new products are introduced, manufacturing will have to adapt to a variety of changes. There might be a need for modification of production lines or even the need to purchase new pieces of a line or equipment. The change to packaging and equipment could impact the timing of changeovers and setups, which ultimately could impact manufacturing efficiencies, throughput and the delivery of on-time orders.
Supply chain and sales and marketing
The trend toward sustainable packaging will also affect the supply chain. Products that remain in distribution will be in new packaging even if the look is the same. There will have to be a new SKU assigned to the newly packaged product. This will require a phasing out of the old product. Sales and marketing will have to research the new packaging's impact on sales. Since this transition is being made to accommodate a packing change rather than a product recall, companies should sell all the products in the older packaging to minimize cost losses.
E-commerce
Because e-commerce continues to grow throughout the food and beverage sectors, distribution channels need to be considered as they pose new challenges to the industry. Some of the most prominent companies have already developed a set of complete specifications involving packaging as a result of several lessons learned over the years. Following these specs won't totally prevent failures, but it should be a good starting point.
IT and systems
New product changes will impact most IT systems. Master data records, bills of materials and product routings might all be impacted. Data that exists for the old products will need to be archived and data for the new products will need to be added and managed.
Adapting to changing consumer buying habits
Packaging changes made to adapt to sustainable practices could have a serious impact on the market. Consumer-buying habits may change based on this new packaging. Manufacturers need to ensure all areas of the business are prepared for this change, especially in the areas of processes and systems. This will not be a one-time occurrence. As the sustainable revolution grows and packaging technology evolves, manufacturers will have to continuously adapt to the changes.
A trend to be observed and monitored throughout the year is some circular initiatives that have been initiated around the globe. These circular initiatives could have a profound impact. So far, several major retailers and brand owners in Europe and North America have launched projects to primarily test the waters.
The drive toward sustainability provides an opportunity for food and beverage manufacturers to take a good look at all areas of their business from the products they produce and sell to the systems and processes used in their operations. It can be an opportunity to implement a sales and operations planning process (if one is not already in place) to optimize the supply chain and manage this ongoing change to a new mix of SKUs to adapt to the packaging changes. This past year should be proof that change is the only constant in food and beverage manufacturing and that more change is likely on the way. Sustainable packaging is just one of the many on the horizon.