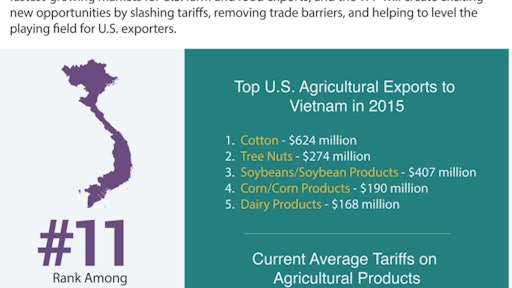 U.S. Agriculture Secretary Vilsack traveled to Vietnam to meet with his counterparts from the Ministry of Agriculture and Rural Development and the Ministry of Industry and Trade, among others, to discuss the details of the Trans-Pacific Partnership (TPP) agreement.
Vietnam remains one of the fastest-growing markets for U.S. food and agricultural products, with U.S. exports totaling $2.3 billion in 2015. That's a 357 percent increase from 2007, the year Vietnam joined the World Trade Organization (WTO). Vietnam now ranks as the United States' 11th-largest agricultural export market, with top products including cotton, tree nuts, soybeans, and dairy.
Vietnam is a member of the ASEAN Free Trade Zone and has concluded free trade agreements with a number of other countries, including key U.S. competitors such as Australia, Chile, Korea, and New Zealand. In addition to being part of the TPP, Vietnam is in the process of negotiating agreements with China, the European Union, Hong Kong, and Israel. In these negotiations, Vietnam has agreed to tariff reductions on many agricultural products, potentially putting U.S. exporters at a disadvantage.
Vietnam's average tariff on agricultural products is 16 percent, while the average U.S. tariff is 5 percent. Under the TPP, Vietnam will reduce and eventually eliminate tariffs across a broad range of food and agricultural products, helping put U.S. exports on a level playing field and giving the United States a leg up on non-TPP competitors. In addition to addressing tariffs, the TPP agreement also addresses non-tariff trade barriers, including sanitary and phytosanitary measures.