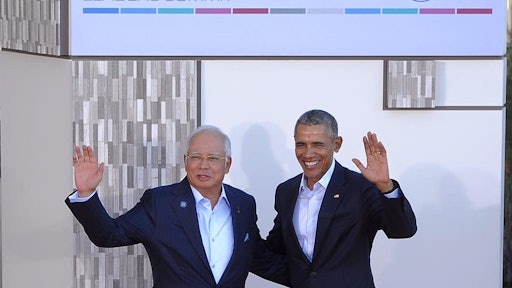 In an interview with the Nikkei Asian Review, Malaysian Prime Minister Najib Razak said Monday that the Trans-Pacific Partnership trade deal will likely not be implemented without the U.S. now that Donald Trump has been elected President and President Obama has all but given up his fight to pass the TPP.
Though it is too early to make a determination until President-elect Donald Trump assumes office, Najib insisted it is unlikely the TPP will take effect without the U.S., which accounts for some 60 percent of the combined gross domestic product of the pact's 12 signatories.
"In its current guise, the TPP agreement cannot come into force without the U.S.'s involvement," Najib said in a reply. "As such, it is not a question of whether or not Malaysia -- or any other country for that matter -- could still proceed with its ratification."
The victory by Trump, who vowed to scrap the TPP, in the U.S. presidential race has been a source of anxiety among members to the pact, which also includes Australia, Brunei, Canada, Chile, Japan, Mexico, New Zealand, Peru, Singapore, Vietnam and Malaysia.
Japanese Prime Minister Shinzo Abe is scheduled to meet Trump in New York next week and is expected to urge the U.S. to ratify the deal.
Malaysia, like other signatories to the pact, is amending the nation's laws to accommodate the deal before sending the TPP to parliament for ratification.
To read more, click here.