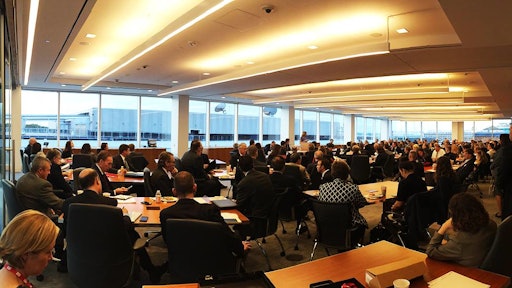 Members of the Coalition for Safe Affordable Food from 22 states visited Capitol Hill yesterday to urge Congress to pass a uniform, national food labeling standard for foods made with genetically modified organisms (GMOs).
The fly-in featured men and women from across the country who represent the entirety of the nation's food supply chain – farming groups, co-ops, seed producers and food companies. With Vermont's state labeling mandate set to go into effect in July and other labeling mandates passed or pending in even more states, participants said it was urgent for the Senate to take up and pass reasonable, common-sense legislation passed this fall that creates the same consistent labeling standard in every state in the country.
The fly-in attendees had a successful day with nearly 140 meetings in the Senate and House, and they came away encouraged that their message was heard loud and clear.
"Farmers across the United States are justifiably concerned that a maze of differing state labeling mandates is going to make an already difficult line of work even more complex," said Bob Stallman, president of the American Farm Bureau Federation. "A patchwork approach to labeling would force farmers to implement costly new crop segregation techniques, create confusion in the marketplace and would limit choices both for consumers and American farmers. We are determined to make sure Congress knows just how vital this issue is to the farmers we represent."
"In our meetings, we were encouraged to hear Senators from both parties say that they understand the need for a federal solution and came away confident that they understand how truly urgent this matter is," said Wade Cowan, president of the American Soybean Association. "This is a critical issue for us, as 94 percent of the soybeans grown in the United States last year were genetically modified. As soybean farmers, we've been part of the GMO debate for nearly 20 years. Mandatory labeling will impact all aspects of our operations, from planting to cultivation, and significantly increase our costs. We want to continue to feed American families in a way that is sustainable and economically viable."
"Our plant in Brewster, Ohio, sends our food products to customers in states across the country. They're the same products, and the product information on the label should be the same regardless of where the shopper is buying these products," said Mark Schwerdtfeger, vice president of sustainability, safety and wellness for Shearer's Snacks, based in Massillon, Ohio. "Making us put different labels on the products for different states doesn't make any sense, and complying with these new state labeling mandates is going to cost more – and raise prices for people buying our food."
The U.S. House of Representatives passed the Safe and Accurate Food Labeling Act in July by a significant 275-150 bipartisan vote, with 45 Democrats voting yes. That legislation would ensure that consumers have access to the same science-based information regardless of which state they shop in instead of different state mandates. It would also create a national GMO-free certification program that would provide consumers who prefer GMO-free foods a consistent means of identifying those products.