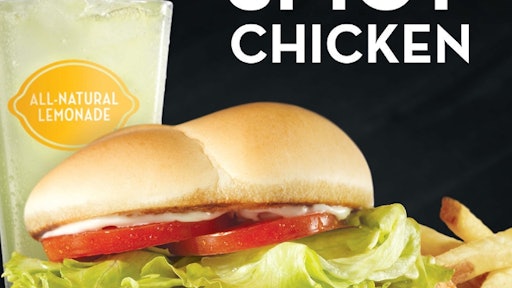 Wendy's this week is starting to test new chicken products made from poultry raised without antibiotics, a senior executive said, the latest sign of a broader industry shift away from the drugs in the U.S. meat supply chain, according to The Wall Street Journal.
Wendy's officials decided to test the antibiotic-free chicken at a handful of locations in response to its customers' rising interest in ingredients and how food is produced, said Kurt Kane, Wendy's chief concept officer.
The fast-food chain for now is stopping short of a broad commitment to use antibiotics-free meat like those some rivals have made. Customers' response to the new chicken products will determine whether it shifts more of its chicken offerings toward poultry raised without the drugs, Kane said.
The trials, which coincide with a revamp of Wendy's grilled chicken sandwich, come as more restaurant chains and meatpackers pledge to remove or reduce antibiotics in their meat supplies in response to growing public-health concerns. U.S. government agencies and consumer groups have warned that widespread use of antibiotics in both human and animal medicine has hastened the development of bacteria that are resistant to the drugs, posing a deeper risk to human health.
http://www.wsj.com/articles/wendys-starts-testing-of-antibiotic-free-chicken-products-1438014024
Editors Insight: The digital information revolution has the food industry responding to consumer demand faster than anyone ever imagined, constantly delivering new challenges to the food supply chain. Mobile media and social media have empowered the consumer to vent their concerns and consumer product companies are looking to technology to respond.
Supply chain technology allows supply chain companies to survive in this highly volatile marketplace. Supply chain companies have to master the evolving software and automation tools that enable them to meet these challenges.
One can only imagine the investment that a company like Wendy's will have to make to switch to using antibiotic-free chicken. Not mention the cost to the meat industry as the antibiotic-free movement gains momentum.
If switching to antibiotic-free meat weren't challenging enough, it is only one challenge facing today's food supply chain. Another news story in today's Food Logistics newsletter examines the challenge that the FDA's trans-fat ban poses to the food supply chain.
Today's food supply chain is not for the indecisive. 7-28-15 By Elliot Maras