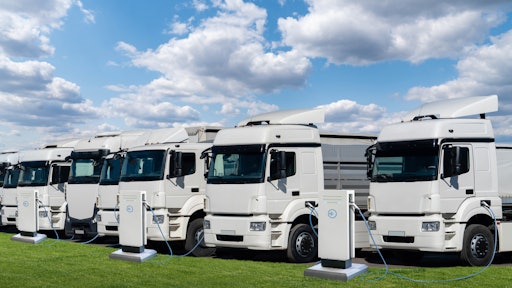 scharfsinn86 AdobeStock_514644993
Truck manufacturers are exceeding targeted sales of zero-emissions vehicles and are now two years ahead of schedule, according to research from the California Air Resources Board (CARB).
"The report makes several important points: users are interested in adopting zero-emissions technology; several manufacturers are stepping up to meet that market interest; and the flexibility that we built in to allow for a phased-in transition toward a zero-emissions future is working," says Dr. Steven Cliff, CARB's executive officer. "Helping the businesses that rely on trucks to transport goods across the state switch to zero emissions is key to achieving a clean air future, and the data show that progress is well underway."
Key takeaways:
The annual report tracks how manufacturers are achieving

CARB's

landmark regulation that established a phased-in transition toward the sale of 100% zero-emissions medium- and heavy-duty vehicles by 2045. The sales requirements start in 2024, so the early success of meeting them in 2022 ensures that manufacturers have enough credits to sell internal combustion engine models as needed to meet market demands.
Manufacturers have increased the sale of credit-generating diesel and natural gas engines that reduce smog-forming emissions, bringing cleaner engines to California ahead of the 2024 Omnibus standards. Taken together, the availability of credits generated by the sale of zero-emissions vehicles and the collaborative efforts on Omnibus flexibilities provide a clear path forward to continue meeting the heavy-duty market needs in California.