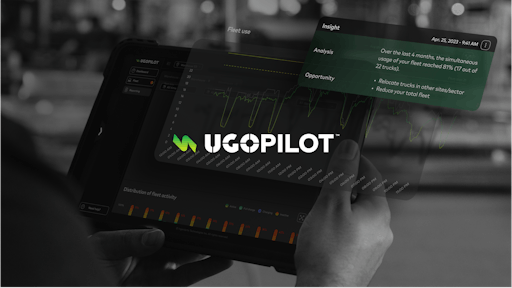 UgoWork
UgoWork introduced UgoPilot, an energy and battery intelligence management platform designed exclusively for industrial vehicle fleets.
"We've cultivated intelligence and harnessed our energy expertise through meticulous data collection from our cloud-connected batteries since Day 1," says Philippe Beauchamp, president and CEO of UgoWork. "Today's industry is shifting towards high performance products to meet safety, productivity and sustainability goals. The UgoPilot software suite is all about providing clarity. It generates the data-driven insights operations managers need to maximize the use of their fleets and enter into a new era of energy management that truly reduces carbon footprint and costs. Thanks to UgoPilot, batteries are not just black boxes anymore."
Key takeaways:
UgoPilot will unlock multiple opportunities that include safe and efficient equipment operation through real-time data; comprehensive fleet data to eliminate under-used equipment; provide predictive analytics to maximize fleet throughput and asset life; and offer instant access to energy experts.

UgoPilot is set to reshape industries such as food and beverage, third-party logistics (3PL), warehousing and manufacturing.

UgoPilot is designed for companies operating medium- to large-sized fleets, with each truck logging over 2,000 operational hours annually, UgoPilot stands as a beacon for businesses seeking enhanced fleet visibility, optimized performance, and significant energy savings.