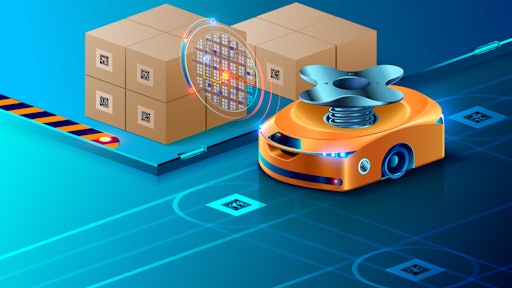 AdobeStock_244346143
When 2021 hit, the world was ready for the New Year. Even if it brought with it a New Normal -- new way of doing business, a new way to shop for groceries and more -- the turning of the calendar meant putting a year of supply chain disruptions, restaurant closures and constant pivoting behind us.
But, then, on March 23, a stranded Evergreen container ship blocked navigation in Egypt's Suez Canal, setting the stage for what would be a slew of supply chain disruptions after supply chain disruptions.
Suddenly, 2021 was quickly becoming a mirrored reflection of the year prior.
Then came the ransomware attacks, internet outages, container ships stuck at bay, bridge closures, driver shortages, ingredient shortages, natural disasters and more.
The hits just kept on hitting.
And, industry experts are already showing signs of struggle for 2022 into 2023, as routes to import/export remain clogged, ports continue to be backed up, cost of doing business increases and the labor shortage exists.
That's because supply chains are messy. And, they're only going to get worse before they get better.
In Food Logistics' Nov/Dec 2021 issue, editor-in-chief Marina Mayer talks with several industry experts about the state of the supply chain and what's in store for 2022.
Here's an interview with Dan Clark, VP of product innovation and strategy, Trimble Transportation, who details why a connected platform leads to a more connected supply chain, with excerpts publishing in Food Logistics' Nov/Dec 2021 issue. [CLICK HERE to read the article in full].
Food Logistics: 2021 started off with supply chain disruption after supply chain disruption. From the Suez Canal blockage and natural disasters to ransomware attacks and an industry-wide labor shortage, the supply chain industry is having to prove its resiliency over and over again. Looking into 2022, what does the state of the supply chain look like?
Dan Clark: 2021 has experienced pretty much all the issues the supply chain could have to face -- acts of God, a global pandemic, a labor shortage, natural disasters and so many other issues. I think these issues will continue to be magnified in 2022, particularly on the grocery side of the cold chain. Food sold in grocery stores comes from all over the world, so an issue that affects one part of the world does – and will continue to – influence other places halfway around the globe.
Especially during the pandemic and the monumental effort to quickly distribute medicines, medical devices and vaccines to people around the world, there has been, and will continue to be in 2022, a huge push in the cold chain space toward technologies that can enable efficiencies and better data tracking, like blockchain and IoT.
These solutions are just so much further ahead today than they were even two years ago. Now, we can get a more real-time understanding of exactly what's happening in a warehouse, as a load is transferred to a truck, how long a truck is sitting at its destination being unloaded, where it's going next and more.
Food Logistics: The cold food chain continues to face a host of risk/security challenges. What can companies be doing now to adapt for the future?
Clark: What it comes down to is if you don't have real-time visibility capturing events, you're susceptible to an unbelievable amount of liability, especially when it comes to food and drugs. Blockchain and IoT can drive a lot of this real-time visibility and are technologies that all supply chain stakeholders should be considering implementing, if they're not already.
At Trimble, we are focused on three main pillars of the supply chain -- planning, procurement and execution. In the cold chain, planning starts by reviewing existing infrastructure and ensuring that there are built-in redundancies, do you have a backup refrigeration plan? Are there hotspots in your refrigeration room? Are you tracking how long it takes a product to get from the field to a refrigerator? It's estimated that approximately one-third of food that's grown is spoiled even before it makes it to consumers, so having the proper infrastructure and plans in place is critical to reducing the amount of waste.
Second, procurement -- understanding what processes, rules and regulations a product has been subjected to (or, on the flip side, not subjected to) on its route from the field to the store has traditionally been a difficult task – not all countries are subject to the same compliance and regulations. Real-time tracking of compliance and other processes with blockchain and IoT can eliminate much of the unknown, thus reducing many food and drug security risks.
Last – but certainly not least – comes execution. This is the most important step, which is getting a shipment from Point A to Point B. This is where IoT sensors can really play a major part in ensuring that proper temperatures are maintained throughout the transportation process. When you think about just how important food and drugs are every day, the safety of how those items were shipped is tantamount.
Food Logistics: In terms of transportation, what are some of the trends you're seeing for 2022? How do emerging technologies like blockchain, Internet of Things, cloud-based, etc. play a role in the evolution of transportation in the cold food chain?
Clark: I don't think there's one technology that's necessarily going to "win out" against others. I believe it's a matter of bringing everything together in a connected platform to create a more connected supply chain. I'm a firm believer that blockchain and IoT will continue to grow in popularity and give us much better visibility and understanding of the real-time movement of goods.
The good news is that it is no longer necessary to build solutions separately – you can connect to existing tools and partner with organizations that can bring all data to a central repository for easier integrations between technology. We're continuing to move toward more platform-agnostic solutions that can connect to so many different providers and all types of solutions securely.
Carriers, shippers and brokers all need to share the same information in order to be effective, so for technology providers, the challenge has long been finding a way to integrate effectively between partners. But, if you're all operating on the same platform, there's no need to integrate because the data is already there and shared by all parties. This is the vision that Trimble has, for a truly connected supply chain where all stakeholders can collaborate more effectively in a single platform.
Cloud-based solutions will also continue to play a big role in the evolution of transportation industry. Across the board, transportation and logistics companies are seeing the value that cloud solutions provide and I expect that trend will only continue to grow.
Food Logistics: Let's talk supply chain visibility. What is your company – or what should companies – be doing to improve their own supply chain visibility?
Clark: Investing in technology is one of the top things a company can do to improve supply chain visibility. And that doesn't mean just investing in technology to track activities within their own four walls – you need to consider what happens to a product before it arrives and after it leaves, as well.
Although these investments can sometimes be costly, it comes down to the fact that you can't spend enough money to make sure that food and drugs are safe. Supply chain stakeholders – and cold chain stakeholders in particular – have a responsibility to ensure that the products that pass through their organization are safe for the general public, and any investment to ensure that occurs is money well spent.
Of course, margins are notoriously slim in the grocery business in particular, so I think we'll see additional investments in visibility- and monitoring-related infrastructure at a governmental level to help augment those efforts.
Food Logistics: The labor shortage is a real thing, and it's impacting several facets of the supply chain. What is your company – or what should companies – be doing to hire, onboard and retain good quality supply chain workers?
Clark: In this current environment of a labor shortage, hiring and training the right people is of utmost importance. It's not uncommon in this environment to hire third-party groups to help fill labor gaps, but it's critical to make sure that those groups are following the right processes to maintain compliance.
In the cold chain, many of the errors that occur are unfortunately due to human error – things like leaving product in places where the temperature is too high, or accidentally contaminating products when moving from one area to another.
Technology like IoT sensors and other tools can help reduce many of those human errors by increasing the visibility and traceability of products from start to finish.
Food Logistics: The COVID-19 pandemic put extra emphasis on food safety and worker safety. What is the state of food safety and worker safety going into the New Year?
Clark: Food safety and worker safety are incredibly important. The current labor shortage has forced many industries to realize that automation can be a great way to address labor needs while keeping workers safe. By automating processes that can be easily done by robots to eliminate boring, unsafe and/or repetitive tasks, humans can take over new, more engaging and exciting tasks that help keep the supply chain moving.
In the transportation space, autonomous delivery vehicles will be more and more utilized, particularly with the final mile. We're already beginning to see this – these services now exist in several cities. Certainly, there will need to be increased focus and effort from the government to effectively oversee these services to make sure they are completely safe, but it'll continue to improve in the future, and it'll be here before we know it.
Food Logistics: When it comes to grocery retail shopping and/or foodservice establishments, what are some trends you see sticking around post-pandemic, and which ways of doing business will somewhat go away?
Clark: I see demand continuing to grow for shopping and food delivery services where others are running errands for users. The pandemic has changed the way a lot of the things we do, and things like grocery delivery services and online shopping that make life more convenient are in high demand.
These services are not all too different from final-mile solutions that are used in the trucking industry, and the technology will only continue to advance as consumers look for new ways to receive goods without needing to leave their homes.
Food Logistics: What are some things not addressed above that may be pertinent to our readers?
Clark: The unfortunate reality of our cold supply chain is that we are one catastrophe away from a major, global issue with our food system. We've shown just how resilient our cold chain is this year with the distribution of vaccines, working through delays at ports and more, but the fact is that we are pushing the limits of what our current method of supply chain management can handle.
Climate change, for instance, continues to result in increasingly severe weather patterns around the world, which have the potential to cause major disruptions for not only shipments, but for farmers and global agriculture as a whole. I think this will result in continued pushes toward more localized food systems.
While this sounds like a lot of "doom and gloom," I'm truly an optimist – I believe things will get better. There is a lot of investment and evolution of technology taking place in supply chains today, which will lead to better processes, and ultimately, better end results for everyone.
[CLICK HERE to read the article in full].