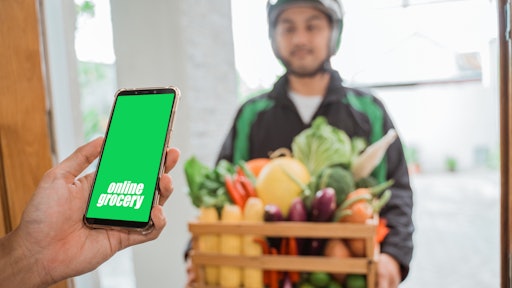 AdobeStock_346469883
When 2021 hit, the world was ready for the New Year. Even if it brought with it a New Normal -- new way of doing business, a new way to shop for groceries and more -- the turning of the calendar meant putting a year of supply chain disruptions, restaurant closures and constant pivoting behind us.
But, then, on March 23, a stranded Evergreen container ship blocked navigation in Egypt's Suez Canal, setting the stage for what would be a slew of supply chain disruptions after supply chain disruptions.
Suddenly, 2021 was quickly becoming a mirrored reflection of the year prior.
Then came the ransomware attacks, internet outages, container ships stuck at bay, bridge closures, driver shortages, ingredient shortages, natural disasters and more.
The hits just kept on hitting.
And, industry experts are already showing signs of struggle for 2022 into 2023, as routes to import/export remain clogged, ports continue to be backed up, cost of doing business increases and the labor shortage exists.
That's because supply chains are messy. And, they're only going to get worse before they get better.
In Food Logistics' Nov/Dec 2021 issue, editor-in-chief Marina Mayer talks with several industry experts about the state of the supply chain and what's in store for 2022.
Here's an interview with Patty McDonald, head of solution marketing, Symphony RetailAI, who says that the most successful supply chains are the ones that achieved significant transformation, with excerpts publishing in Food Logistics' Nov/Dec 2021 issue. [CLICK HERE to read the article in full].
Food Logistics: 2021 started off with supply chain disruption after supply chain disruption. From the Suez Canal blockage and natural disasters to ransomware attacks and an industry-wide labor shortage, the supply chain industry is having to prove its resiliency over and over again. Looking into 2022, what does the state of the supply chain look like?
Patty McDonald: In addition to retailers continuing to feel the residual of post-lockdown challenges, they're faced with new disruptions, from closed borders and extreme weather to import and supplier issues.
To offset these effects, it is more important than ever for grocers to modernize their business processes to ensure they can respond quicker and more aggressively to supply chain disruptions. As we head into 2022, the most successful supply chains will be those that have achieved significant transformation, either as a result of redefined process, supply chain roles or the specific technology used. If not, retailers will be unable to recover from unforgiving shoppers and hostile market competition, leading to lost profits and market share.
Food Logistics: The cold food chain continues to face a host of risk/security challenges. What can companies be doing now to adapt for the future?
McDonald: Agility and adapting to changes quickly is critical within the cold food chain. With fresh food in particular, understanding demand for individual items and properly allocating resources across the supply chain can ensure these items are delivered in an effective and timely manner to eliminate risk of spoilage. Master data management is also used as a foundation to minimize risks, by maintaining data integrity and facilitating collaborative communication around item availability, movement and traceability within the supply chain.
Food Logistics: In terms of transportation, what are some of the trends you're seeing for 2022? How do emerging technologies like blockchain, Internet of Things, cloud-based, etc. play a role in the evolution of transportation in the cold food chain?
McDonald: Pairing AI with IoT and blockchain technology within digital networks can completely transform business processes. When CPGs and retailers collaborate within a blockchain network, they not only benefit from having shared access to a broader scope of high-quality data in real time, but the network's machine learning capabilities allow both entities to reap predictive insights that can optimize execution.
For transportation specifically, the dramatic rise in e-commerce, as well as click-and-collect services, has placed an importance on last-mile delivery. The ability to manage timely delivery hinges on highly optimized logistics and accurate data. With fresh items, temperature and timing are critical surrounding delivery. As a result, access to data in real-time can help retailers effectively manage the movement of inventory through the supply chain and to the consumer.
Food Logistics: Let's talk supply chain visibility. What is your company – or what should companies – be doing to improve their own supply chain visibility?
McDonald: Full supply chain visibility can only be achieved once silos are eliminated. Currently, many retailers face challenges to see where their inventory is at every step of the supply chain. What's more, omnichannel has only added to this complexity – activity in one channel has a direct impact on other channels, and retailers must be able to understand these dynamics.
Our AI-based technology and master data management enables retailers to access inventory availability across the supply chain. In turn, this allows them to confidently predict changes in demand and respond rapidly, no matter how seemingly unexpected the change is. What's more, our technology enables retailers to support complex logistics networks by sourcing and pulling product from multiple locations and/or vendors during a period of disruption.
Food Logistics: The labor shortage is a real thing, and it's impacting several facets of the supply chain. What is your company – or what should companies – be doing to hire, onboard and retain good quality supply chain workers?
McDonald: In today's climate, many retailers are onboarding new employees and they need to do it quickly. To do this, they require tools that make it easy to learn and manage supply chain processes. From a store operations perspective, this looks like one application that helps manage day-to-day tasks, including receiving inventory, counting inventory and picking for online orders. For corporate offices, this might look like using AI to eliminate manual functions so employees can free up their time to focus on larger business decisions and overall strategy, which ultimately provides a more rewarding career experience that can improve employee retention.
Food Logistics: The COVID-19 pandemic put extra emphasis on food safety and worker safety. What is the state of food safety and worker safety going into the New Year?
McDonald: Regarding food safety, there will continue to be a strong emphasis on traceability. In fact, the FDA announced its plans to leverage technology to create a safer and more digital, traceable food system with the goal of reducing foodborne illness. Another continued focus as we head into 2022 will be proper operations around handling food items, such as the transportation and cutting of meat items. Symphony RetailAI helps retailers track and understand the items that are at risk, so that retailers can ensure the proper safety protocol are followed.
Food Logistics: When it comes to grocery retail shopping and/or foodservice establishments, what are some trends you see sticking around post-pandemic, and which ways of doing business will somewhat go away?
McDonald: Maintaining loyalty is at the forefront of every retailer's mind, as shopping behaviors changed over the course of the pandemic. Our most recent data looked at over 400 million baskets in the U.S. and Europe and found that omnichannel grocery shoppers spend up to 20% more compared to in-store-only shoppers.
If grocers want loyal customers, they must establish an effective omnichannel strategy. Insights analysis can provide information on what motivates customer segments, including what products holds their attention, what motivates them to make a purchase decision, and to what degree they're driven by price and/or quality during the shopping journey.
Food Logistics: What are some things not addressed above that may be pertinent to our readers?
McDonald: One problem in the supply chain can cause a ripple effect. Therefore, it's critical to have inventory visibility with real-time updates, along with the agility to respond to and bounce back from challenges. With AI-enabled forecast predictions paired with order management solutions, grocery retailers can re-optimize allocation in real time to fulfill orders.
Retailers are often missing a strong data foundation necessary to underpin supply chain visibility. Adopting AI-based predictive and prescriptive solutions underpinning processes enables retailers to understand data patterns that humans can't detect as efficiently or accurately without AI. This data analysis through AI solutions enables more accurate demand predictions, fueling more precise and seamless management of inventory traceability across the entire supply chain. This helps all retail associates from headquarters to each individual store work more efficiently and empowers a strategic business focus rather than tactical data analysis approach.
[CLICK HERE to read the article in full].