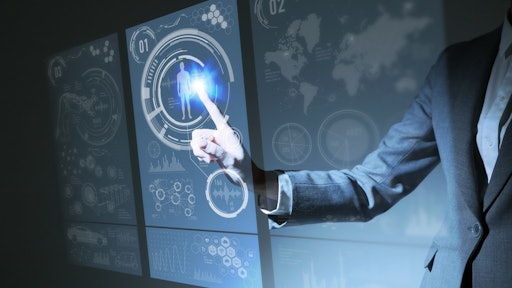 Getty Images
When 2021 hit, the world was ready for the New Year. Even if it brought with it a New Normal -- new way of doing business, a new way to shop for groceries and more -- the turning of the calendar meant putting a year of supply chain disruptions, restaurant closures and constant pivoting behind us.
But, then, on March 23, a stranded Evergreen container ship blocked navigation in Egypt's Suez Canal, setting the stage for what would be a slew of supply chain disruptions after supply chain disruptions.
Suddenly, 2021 was quickly becoming a mirrored reflection of the year prior.
Then came the ransomware attacks, internet outages, container ships stuck at bay, bridge closures, driver shortages, ingredient shortages, natural disasters and more.
The hits just kept on hitting.
And, industry experts are already showing signs of struggle for 2022 into 2023, as routes to import/export remain clogged, ports continue to be backed up, cost of doing business increases and the labor shortage exists.
That's because supply chains are messy. And, they're only going to get worse before they get better.
In Food Logistics' Nov/Dec 2021 issue, editor-in-chief Marina Mayer talks with several industry experts about the state of the supply chain and what's in store for 2022.
Here's an interview with Jaime Urquidi, regional VP and CPG lead at Parsable, who says it will always be a game of supply vs. demand, but it's time to create paradigms and new processes, with excerpts publishing in Food Logistics' Nov/Dec 2021 issue. [CLICK HERE to read the article in full].
Food Logistics: 2021 started off with supply chain disruption after supply chain disruption. From the Suez Canal blockage and natural disasters to ransomware attacks and an industry-wide labor shortage, the supply chain industry is having to prove its resiliency over and over again. Looking into 2022, what does the state of the supply chain look like?
Jaime Urquidi: Looking into 2022, I still see a lot of uncertainty and instability. There will continue to be supply chain challenges based on the volatility of the market, as well as labor shortages and continued increase in demand. This puts sustained pressure on labor, production and the entire end-to-end supply chain. As we head into the end of the year, we're seeing companies like Walmart and Target starting promotions early to encourage purchases in advance of the rush we normally see closer to December to distribute demand and better manage supply. Depending on how we get out of that peak demand will affect how long it takes the supply chain to stabilize next year.
Food Logistics: The cold food chain continues to face a host of risk/security challenges. What can companies be doing now to adapt for the future?
Urquidi: One of the biggest challenges in the cold food chain is visibility and traceability. If companies are able to increase the granularity of data on what is happening in each stage of the supply chain in a more finite way, they will be able to identify and address pain points and make a big difference. With the current level of granularity and visibility, companies are faced with very big problems to solve. As they implement technologies that make more granular data available, they will be able to dissect these big problems into smaller problems so they can be solved faster and more effectively. That will enable companies in this industry to face their challenges in a more solid way.
Food Logistics: In terms of transportation, what are some of the trends you're seeing for 2022? How do emerging technologies like blockchain, Internet of Things, cloud-based, etc. play a role in the evolution of transportation in the cold food chain?
Urquidi: It's a supply and demand game all of the time. Disruptions will either put pressure on the supply or put pressure on the demand. If we think about the pandemic from the beginning, it was pressure that caused an increase in demand for toilet paper, which broke everything. Now, it is a supply issue because the demand might have stabilized, but now companies are challenged with availability of drivers or workers to help produce and deliver products to consumers.
While emerging technologies like blockchain, AI and big data play an important role in predictability, it's important to empower those at the heart of transportation - the drivers and warehouse workers managing movement of products - with digital connected worker technology as well. These frontline logistics workers need access to technology to help them efficiently execute SOPs, workflows and checklists safely based on "small data" to drive flawless execution on the basics.
Food Logistics: Let's talk supply chain visibility. What is your company – or what should companies – be doing to improve their own supply chain visibility?
Urquidi: There is a major obsession with big data, but data that focuses more on the work execution is also very important. With visibility of how work is being done, companies can make sure they have a stable base and eliminate basic disruptions in the supply chain. Big data will help companies see big things, but if they can't execute efficiently on the basics, it doesn't matter. That's where connected worker technology can help.
Food Logistics: The labor shortage is a real thing, and it's impacting several facets of the supply chain. What is your company – or what should companies – be doing to hire, onboard and retain good quality supply chain workers?
Urquidi: The manufacturing industry needs to work to become more attractive to current and future employees. We need to make manufacturing more appealing and focus on the modern, digital aspects of the industry so that companies can attract top talent.
With Baby Boomers reaching retirement age and other older workers deciding not to return to manufacturing jobs following the pandemic, younger workers will be needed to help fill the predicted gap.
My company recently surveyed Gen Z graduates. We found that more than half (56%) of respondents said their views on manufacturing changed because of the pandemic, with 77% viewing the industry as more important now than pre-pandemic. This is a great step in the right direction, but there is more to be done. Companies should partner with universities and vocational colleges to help dispel any misperceptions about working in manufacturing. Hiring managers need to communicate the great benefits of a career in manufacturing, from high salaries to job security to growth opportunities and more.
Food Logistics: The COVID-19 pandemic put extra emphasis on food safety and worker safety. What is the state of food safety and worker safety going into the New Year?
Urquidi: Food safety and worker safety will still be center stage going into the New Year and will play a crucial role in how 2022 begins. What's important here, again, is making sure standard health and safety procedures are being followed at the site level – and easily updated, as conditions change – across sites. The stronger the systems that companies can embed for worker safety and food safety in their organizations, the better they will be set up to focus on supplying the demand that the market requires.
Food Logistics: When it comes to grocery retail shopping and/or foodservice establishments, what are some trends you see sticking around post-pandemic, and which ways of doing business will somewhat go away?
Urquidi: Social distancing as a concept is going to stay post-pandemic, especially in grocery and food services, whereby nature, there is a lot of interaction between people and things. Everything gets touched in these places, so sanitation and cleanliness requirements are also here to stay and will benefit the industry by driving up hygiene standards. Eventually, people are going to feel more comfortable and the stress, which a lot of people currently have, of going to the supermarket or a restaurant, will slowly go away.
Food Logistics: What are some things not addressed above that may be pertinent to our readers?
Urquidi: The supply chain will continue facing great challenges. But, with these challenges come great opportunities to drive innovation, transforming how people live, work and deliver the supply chain mission, which is to deliver the products and services people need to make their lives better. It is time to break paradigms and create new ones, definitely exciting times.
[CLICK HERE to read the article in full].