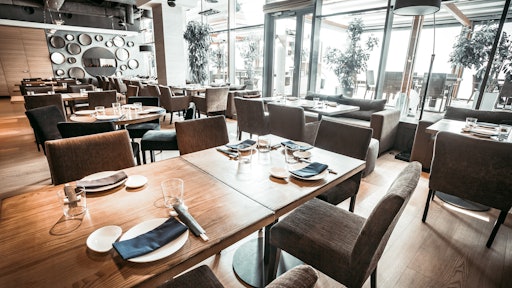 Goinyk - Adobe Stock
For food supply chains, a lack of visibility into inventory in warehouses and on shipments can create blind spots that may be crippling for businesses. Visibility became even more essential last year when the Coronavirus disease (COVID-19) pandemic stressed food supply chains just as panic-buying online and at grocery stores made the supply chain increasingly important.
In the post-pandemic food supply chain, getting products in the hands of consumers requires new strategies to keep costs in line while meeting delivery expectations. Digitizing the supply chain offers the ability to see and analyze what's happening across both the physical and digital sides of the operation. For instance, nearly 80% of supply chain leaders believe the digital supply chain will become the predominant model within five years.
But, why wait? Food companies that transition to a digital supply chain model gain business advantages over their competitors.
Actively managing disruptions
The pandemic and disruptions like the Suez Canal and Texas snowstorm have shown why it is important to build a resilient supply chain before issues occur. Managing these disruptions in real time can help prevent out-of-stock inventory or food rotting in warehouses, unable to get to the end consumer. Proactively managing risk is vital to the food supply chain, and you can't do it alone.
The food supply chain is a series of interconnected actions and events with vendors, carriers and suppliers. When you can tap into digital verification at every step of the process, not just within your own four walls, you can manage potential roadblocks as they occur. Collaboration with vendors using digital tools, feedback and processes helps improve communication of critical supply information, keeping all partners up to date on order status and estimated delivery dates while ensuring the seamless arrival of inbound product.
Aligning supply and demand
You're likely distributing and selling products through multiple channels, requiring you to actively manage demand across verticals, having visibility to data on fluctuations in supply, increased demand of certain products or a realignment of different channel sales.
While some demand curves are predictable, the dramatic changes seen in food demand during last year's pandemic was unprecedented. The closure of restaurants, as well as coffee shops, affected the food supply chain all the way to the farms. Supply of produce, dairy products and other perishable goods is a tenuous and time-sensitive process. While some grocery stores sat with empty shelves, some farms ended up wasting their crops, forcing each party in the food supply chain to reconsider how they mitigate risk.
Plan for the unpredictable
Visualization tools make it easier than ever to see trends and patterns, as well as account for one-off exceptions. Without data, forward-thinking technology like artificial intelligence and machine learning won't have information to work from. Data-driven digital insights can be gathered from warehouse technologies as well, like sensors, edge devices and augmented or mixed reality.
In the food and beverage industry, the competition for market share is constant. Cutting-edge technologies offer a strategic advantage both in steady times and turbulent ones. In the consumer packaged goods space, the evolution to create a multi-channel business with an increasingly complex supply chain requires digital transformation.
While we don't know what disruptions await us, we can plan for future success by mitigating risk and maintaining real-time visibility into the supply chain. This requires not just having your own company's steps digitized, but exchanging information with suppliers and carriers to help create a connected supply chain. Improving your data connections creates resiliency by providing the information that is required to adapt quickly to disruptions. This control tower view of your operations increases your opportunities to see changes across the supply ecosystem and react in real time.