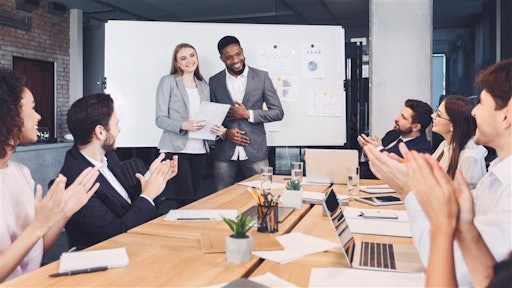 Prostock-studio
Supply chain leaders need to talk about employee engagement. It's not just something for those employees sitting at their desks. It's also about the people who make or break your business -- the deskless and frontline workers in today's food and beverage supply chains.
For one thing, supply chain workers are the backbone of every business, and as a result, they can have a huge impact on productivity and workplace safety. Ensuring that your workforce has access to information on safety protocols and other core intelligence means that they have what they need to operate a successful, safe floor.
Without a strong communication plan for these vital initiatives, employees are left feeling disconnected from what is going on in the business. When employees start to feel disconnected from the business, you'll see an uptick in turnover. Only 36% of supply chain workers say they are likely to stay with their current employer over the next six months. That's 64% of the workforce thinking about leaving their current job in less than a year.
Along with decreased turnover, better communication leads to increased productivity and engagement among employees. Gallup found that highly engaged teams are 14% more productive. In other words, when there's a breakdown in communication, there's a breakdown in employee engagement, and that means productivity takes a hit.
Proper communication also improves employee wellness and morale, but a lack of communication can have a negative impact. The Economist Intelligence Unit's Communication Barriers in the Modern Workplace found that communication breakdowns lead to increased:
● stress levels (52% of respondents)
● delay or failure to complete projects (44%)
● low company morale (31%)
● missed performance goals (25%)
● and lost sales (18%)
In other words, it pays to talk to your workforce. Finding ways to go beyond the usual staff meetings, notice boards and handbooks to actually connect with supply chain workers can have a huge impact on retention, productivity and more.
Here are three tips for communicating more effectively with your supply chain.
1. Technology makes everyone's job easier.
It's easy for some to think outside the cafeteria bulletin board, but it can be a challenge to find exciting new ways to disseminate information to supply chain workers. That's where technology comes in. A communication platform can make it simple to share announcements, training and resources in a highly accessible format.
Providing a user-friendly mobile platform gives employees access to relevant and timely information when and where they want it. That way, even when shift workers are on the job, they can easily access the communication they need and get real-time notifications that keep them in the loop. These types of platforms can house everything from standard operating procedures to quizzes and training to chat functionality among peers. This can also make onboarding more streamlined, so you engage your new hires from Day 1.
2. Don't just talk — listen.
Putting the policies and procedures in place is the first part of the process, but ensure the smooth rollout sticks. The success of these initiatives depends on thorough implementation from everyone involved, not just the efforts of managers. Creating space for all employees to give feedback and be heard guarantees you know how things are actually unfolding on the floor.
Sharing information — or feedback — is not a one-size-fits-all process. To meet the unique needs of your diverse workforce, you need to offer a wealth of communication channels and styles. For example, processing and packing workers further up the food logistics supply chain are looking to feel connected to their organization by having their voices heard, particularly on new protocols and procedures. A digital communication platform with mobile capabilities makes it easy and organic for this upward feedback to flow.
3. Read into the insights.
Simply rolling out safety updates to the factory floor and collecting feedback isn't the end-all-be-all of a communication strategy. By understanding what's resonating with employees at a higher level, you can uncover knowledge gaps that could have led to catastrophic accidents. After all, one employee that doesn't fully grasp updated food safety protocols is easy to get under control, but a full location of employees who haven't picked up on the new process can have lasting effects on the productivity and success of the business.
It goes back to having the right technology; having the ability to view knowledge gaps at an individual level and by larger locations, giving you the data needed to rest assured your factory is operating in the safest conditions.
Now more than ever, talk to your food logistics workers. From the processing and packaging employees to the transportation team to the customer-facing workforce in foodservice and grocery environments, supply chain workers want to hear from you and they want to be heard. By investing in a communication strategy that leverages modern technology, facilitates organic feedback and unearths valuable workforce insights, you'll tap into the true power of your most valuable resource -- your employees.