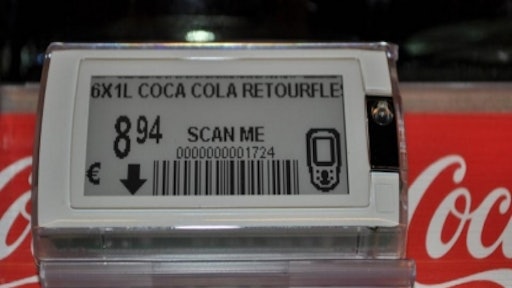 Electronic shelf label (ESL) solutions appear to be all about the consumer experience. ESLs offer shoppers real-time pricing that consumers trust more than paper labels. Limited-time offers and brand messaging can be inserted at different times of the day or week. And since 76 percent of in-store grocery decisions are made at the shelf, ESLs can improve navigation, influence purchase decisions and turn a shopper into a buyer. Some solutions are even integrating with geo-fencing, enabling retailers to deliver targeted messages and drive shoppers to less active aisles.
So what is an ESL? ESL systems are used by retailers for displaying product pricing on shelves. Typically, electronic display modules are attached to the front edge of retail shelving. These modules use electronic paper (E-paper) or liquid-crystal display (LCD) to show the current product price to the customer.
However, it is the backend metrics that are so intriguing and a key component of ESLs like inventory management and even planogram compliance. The old method of paper-based tracking of products isn't efficient in today's digital world, and we know maintaining store inventory levels at best is challenging. A shelf tag can ping its position, and confirm it was placed on the right shelf and section. Retailers can streamline FSI weekly promotions and be assured of chain-wide in-store compliance. In scanning the ESL barcode, it can match in-store inventory levels and send low-level inventory notifications.
Brands see ESL backend metrics as key to maintaining their product on the food retailers' shelves when and where the shopper seeks it. In fact, Aberdeen Group reported that brands using a formal process for demand planning and management saw a 91 percent in-stock achievement. Being able to understand in real-time that shelves need re-stocking or a near outdated product needs to be replenished helps the store operations, shopper experience and the bottom line. As consumers, if we come across shelves barely stocked or out of what we want, we will travel to another store who will take care of us and most likely not return.
With the sometimes heated topic of SKU rationalization, having accurate data to analyze what is selling or slow moving across the chain with nearly 40,000 SKUs is essential in today's competitive market. Extracting clean data that measures what is actually on the shelf level can make an impact on the supply chain process that most retailers will say is overburdened. Retailers can even offer shelf attention to products on the lower volume with ESLs to see if the needle moves.
Another application with ESL solutions is to efficiently support at-home deliveries or store pick orders. Store personnel can quickly find where the products are and scan the ESL barcode to match the customer order and ensure accurate and quick fulfilled orders.
Currently, there are a few retailer,s including Whole Foods, Home Depot and Kohl's, who have deployed ESL solutions. It has far deeper deployment in Europe, with many of the ESL's companies based in Demark and nearby. However, U.S.-based retailers are seeing more positive results from these solutions and building their ROI study to deploy.