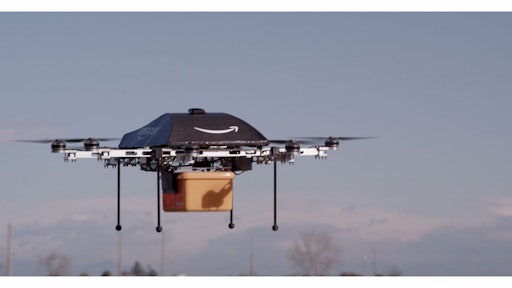 Google, Amazon and Walmart have joined the government's task force charged with figuring out a registration and identification system for drones, according to PCWorld.
The companies, all three of which are working on drone delivery systems, are among 25 members that have been asked to formulate recommendations by Nov. 20 on how such a registration system would work and what types of drones should be exempt. Their work will begin with a three-day meeting next week.
Unlike aircraft, drones are not subject to any registration process, but a rapid increase in the number of drones involved in dangerous incidents has prompted the Federal Aviation Administration (FAA) and the U.S. Department of Transportation to act. With registration and identification, it's hoped airspace violators will be easier to identify and prosecute.
Dave Vos, who heads up drone activities at Google X, will co-chair the committee with Earl Lawrence, who leads the FAA's UAS (unmanned aircraft systems) Integration Office.
At a NASA-run conference in Silicon Valley in July, Vos proposed that every drone, including those flown by hobbyists for pleasure, constantly transmit its identification and location so airspace access and collision avoidance can be managed by computer.
He envisioned drone users entering a flight plan and getting approval before any flight took place. It's a self-serving proposal, because Google wants a high degree of computer control so it can efficiently and quickly deliver packages via drone.
To read more, click HERE.