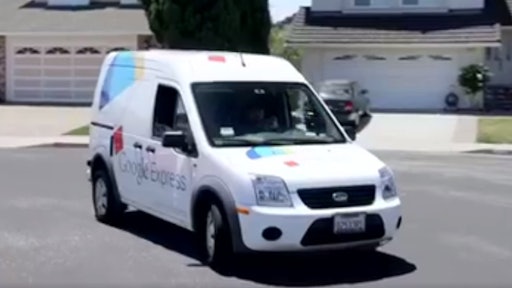 Google is expanding its same-day delivery service to fresh groceries, the latest example of the tech titan's increasing push into consumers' daily lives, according to The Wall Street Journal.
Google said it would begin delivering produce, meat, eggs and other perishable goods on Wednesday in parts of San Francisco and Los Angeles. The service is part of Google Express, which partners with retailers in some U.S. cities to deliver goods to consumers within hours of an order.
Food delivery poses sometimes trickier problems than searching the Web. Fresh-food delivery in particular is a well-stocked field that has yielded few profits.
While Amazon and Fresh Direct maintain expensive refrigerated warehouses near cities, Google says it will make deliveries directly from its existing retail partners. That will avoid the risks of owning its own inventory, like food spoilage.
In San Francisco, Google will deliver from Costco Wholesale Corp., Whole Foods Market Inc. and Smart & Final Stores Inc. In Los Angeles, it will start deliveries from Costco, Smart & Final and upscale grocer Vincente Foods.
Google said it is making some changes to its current delivery operation to accommodate fresh groceries, such as reducing customers' delivery window to two hours from four.
To read more, click here.
Editors Insight: Food e-commerce is expanding. What's not clear is the role that major delivery services will play in this growth.
Two days ago, DoorDash Inc., a food delivery startup, reported it missed its targeted $1 billion valuation when its funding only delivered a $700 million valuation.
Google, which announced its plans to begin food delivery in September, now says it is raising the minimum size for an order including fresh groceries to $35, from $15.
Amazon reportedly has plans to be a major player in food delivery and continues to invest in its fulfillment services.
An article in the September Food Logistics reported that traditional brick and mortar supermarkets are deploying e-commerce by leveraging their stores for order pickup.
While home delivery is expected to play a role in grocery e-commerce, it may not be the dominant method by which customers receive their orders. The pickup option, where customers pick up orders at a destination, has emerged as a promising alternative to home delivery. Most observers believe both methods will be used; which will dominate remains unanswered. 2-18-16 By Elliot Maras