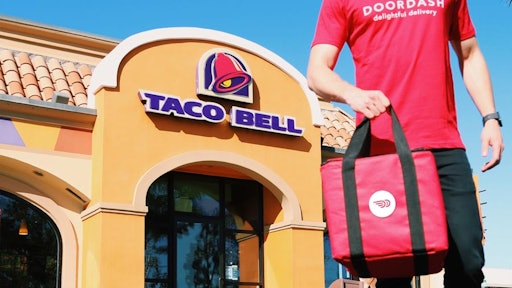 Taco Bell delivery is rolling out to select markets through a partnership with on-demand delivery service DoorDash. The delivery service will be available in over 90 cities and more than 200 restaurants throughout the Los Angeles, Orange County, San Francisco Bay Area and Dallas regions. The partnership provides delivery service beginning today through the DoorDash, iOS, Android or website. Pricing and delivery costs may vary depending on restaurant location.
"Delivery is yet another example of how we're using technology and innovation to respond to consumers' wants and needs, further evolving the Taco Bell experience for customers. We were one of the first to redefine convenience at QSR with our mobile app, and knowing that delivery is the no. 1 request from our consumers, we see a tremendous opportunity to bring the Taco Bell experience to fans where and when they want it most," said Taco Bell CEO Brian Niccol. "Taco Bell has always been about value and convenience, and we believe delivery is the next step in catering to today's on-demand culture that's driving consumer behavior."
The Taco Bell delivery announcement is the first national partnership for DoorDash. The Palo Alto based tech company uses a proprietary data-based logistics platform to provide a fast and affordable way for consumers to receive on-demand deliveries; something that pairs well with Taco Bell.
"Taco Bell is a natural complement to our technology and vision," said Prahar Shah, head of business development at DoorDash. "We are both committed to innovating through data-based decision making and providing an exceptional customer experience."
Taco Bell has been testing delivery with DoorDash in select cities and aims for this larger roll out to provide even more opportunities to listen to customer feedback and evaluate the experience, with plans to bring Taco Bell delivery nationwide.
"We're testing and learning at the speed of the on-demand economy," stated Tressie Lieberman, vice president of innovation and on demand at Taco Bell. "We're thrilled to partner with DoorDash and leverage their like-minded commitment to customer service and innovation. This partnership enables us to provide consistent quality service and the feedback we need to elevate the delivery experience and evaluate where Taco Bell delivery goes next."
"This partnership marks an important milestone for DoorDash," said Tony Xu, CEO at DoorDash. "As DoorDash looks to double its footprint by the end of the year, today's announcement shows our continued momentum in building top tier partnerships, expanding nationally, and providing the very best local delivery options to our customers."
For more information on locations where Taco Bell delivery is available and how to provide feedback on where it should come next, visit http://www.tacobell.com/delivery or http://www.doordash.com.
Editors Insight: The bar keeps rising for all serious food businesses, and the burden on the food supply chain has never been greater. Food retailers have to be able to serve customers faster and provide product when and where they want it. Hence, the supply chain has emerged as one of the most critical factors in food retailing. The traditional retail business models are falling fast.
Fast feeders like Taco Bell operate on razor-thin margins and they can't give up market share to Amazon and numerous other competitors who now provide food delivery service.
It's a supply chain and logistics play more than anything else. A retailer has to respond to traditional retail customers, e-commerce orders and business-to-business customers. And if this weren't enough of a challenge, the product mix continuously changes as customers acquire tastes for new types of products. And if this weren't enough of a challenge, the retail organization has to be able to keep track of its inventory at every point in the supply chain.
For any food retailer to succeed in this scenario, they need the most efficient supply chain organization, the most robust supply chain software, and the most capable supply chain management. By Elliot Maras, 07-08-15