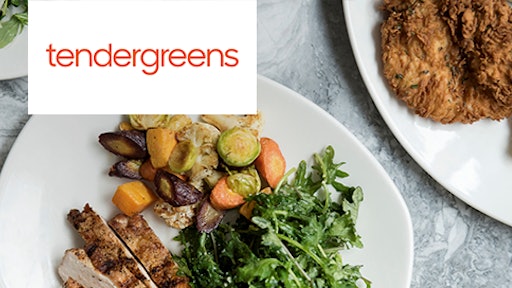 Tender Greens
Since 2006, Tender Greens has been a pioneer in the hospitality industry, firmly securing its place as a go-to fine-casual dining restaurant. And, the multi-unit restaurant chain offers more than just a meal. Its mission-focused practices include creating relaxed, eco-friendly dining spaces, making sustainable choices for fresh, locally grown food and operating a culinary internship program for young adults coming out of foster care.
Recently, the company set an ambitious goal to reach $100 million in revenue by doubling its number of restaurant locations every few years. As Tender Greens prepared for this rapid growth, its finance team knew they needed to replace the legacy, on-premises accounting software. They went in search of a new financial management solution that could deliver greater visibility into performance across 12 locations, seamless integration with other applications and more efficient financial processes.
After settling on Sage Intacct and optimizing their configuration of the cloud-based system, Tender Greens automated several repetitive tasks, uncovered new insights into operations and reduced accounting overhead by over 20%—all while the business added 15 new restaurants.
Seamless IT ecosystem integrations boost back office bandwidth
Over the past four years, the finance organization revamped accounts payable (A/P) and other key processes, and established Sage Intacct as the nucleus of Tender Greens' entire technology stack. Although the restaurant grew its footprint by 90%, the team reduced headcount by 1.5 full-time employees, and still has capacity to handle double the transactions as the company continues to expand. Furthermore, accounting overhead, including salary and system costs, dropped from 0.94% to just 0.74% of sales, well below the industry's average.
Tender Greens' best-in-class IT strategy minimized manual data entry, while greatly improving accuracy. The company's specialized hospitality applications now feed many valuable pieces of information into Sage Intacct, such as invoices from Plate IQ, point of sales numbers from NCR Aloha, and average check and labor data from CTUIT restaurant management software. In addition, Sage Intacct integrates with BlackLine for streamlined account reconciliations and financial close automation, SAP Concur for expense management, UltiPro HR for payroll data, and more.
The resulting efficiencies sped the monthly close by two days and eliminated months of accumulated time the team previously spent on report preparation.
"We're doing more with less people, and we have more controls and processes in place with Sage Intacct. When I think about how much this potentially saves us, it's astronomical," says Sean Skuro, controller at Tender Greens. "I'm personally saving time I can allocate to developing my team and automating mundane tasks. I am able to delegate responsibilities, and we can focus on deeper reviews and becoming analytical monsters who can better support the operations team and ensure effective data-driven decisions."
Valuable insights help reduce labor costs and increase profitability
Skuro also worked with Sage Intacct consulting partner SC&H Group to build out a robust hospitality reporting suite, giving executives real-time visibility into critical business metrics.
"SC&H is a phenomenal work partner. The way they transformed our reporting was absolutely incredible," says Skuro. "Now I have helpful dashboards and can provide real-time reporting every single day, which is revolutionary for our business."
With accurate data constantly flowing into Sage Intacct, it provides another effective way to monitor labor and food costs, average check prices for different meal types, sales per labor hour and four-wall net revenue for each restaurant. Sage Intacct's report writer and flexible dimension tagging capabilities let the finance team effortlessly separate out their controllable costs from occupancy expenses like rent, maintenance and taxes and compare these numbers across regions, restaurants or fleets by any time period they want. The system's self-service dashboards give every manager transparency into how their department or store is trending as compared to budgets or other similar locations, which prompts them to glean advice or operational best practices from each other. This is especially helpful when Tender Greens opens a new restaurant, since leaders can see from early on how it's doing with sales, food costs and labor vs. expectations.
"Financial literacy is really important at Tender Greens, and the level of visibility we have through Sage Intacct plays a big role," says Skuro. "Each regional manager and department head knows how their restaurants are performing. We're all having discussions constantly, and each team is looking at flash reports and monthly financials to flag trends and make decisions based on our labor costs or product mix at particular stores."