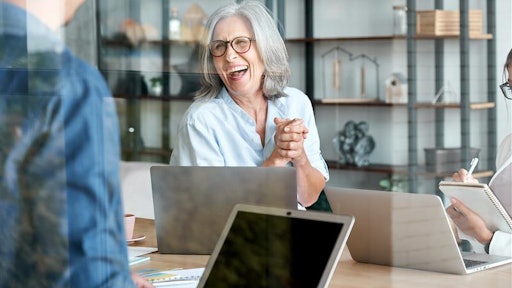 insta_photos
While food logistics companies are increasingly embracing technology to optimize operational processes, digital transformation of marketing strategies is lagging behind. Integrating digital marketing into business strategy is vital for companies in all industries to meet and engage their customers where they are, and today, that means digital platforms.
Adopting digital marketing strategies can help food logistics companies increase brand visibility, generate leads, boost conversion rates and drive revenue. These bottom-line impacts can be achieved through a robust digital marketing program that includes website optimization, SEO, social media marketing and reputation management.
Website optimization
Optimizing food logistic company websites is an important part of driving sales. B2B customers are increasingly going online to source information before making buying decisions. Optimizing a website makes it easy for potential customers to find businesses online, which can jump-start the buying journey.
Optimized websites have a clean, uncluttered, navigable design, and most importantly, are Google-friendly. Having a Google-friendly website is important because over 70% of all internet searches are processed on Google. If Google determines that a food logistics company has a quality website, the company will show up in search rankings when consumers are searching for logistics options.
To "Google optimize" their websites, food logistics companies should:
· Make them mobile friendly
· Ensure they are fast loading
· Keep them updated
To rank well in search results, food logistics companies should also make sure website content is user-friendly, accurate and up to date. This is critical for establishing the expertise, authority and trust that Google's search engine loves.
In this context, it is important for food and logistics companies to develop web content such as blogs, product and service descriptions and customer testimonials that are relevant and useful, demonstrate knowledge and expertise and are engaging to website visitors. Research shows that quality content impacts customer thinking and buying decisions. In fact, 87% of B2B buyers say online content has a major or moderate impact on vendor selection.
Search engine optimization (SEO)
SEO is essentially the process of optimizing a website so that the algorithms of search engines drive organic or unpaid traffic to the website through search result rankings.
There are more than 1.8 billion websites on the world wide web today. With the massive amount of information available, business that want to be found online need a strong SEO strategy to stand out among the many websites in their industry.
SEO is a powerful tool that can improve a company's ranking in search results in the more than 85,000 searches per second Google processes. Without an SEO strategy, a business won't be found in the 93% of online experiences that begin with a search engine.
A strategic SEO program can help food logistics companies generate more revenue, build a more impactful website that ranks higher on Google and more effectively reach their target audience.
Social media marketing
Social media can help brands amplify content, increase brand awareness and is one of the most effective strategies for connecting with customers. And, social media does impact buying decisions, influencing 75% of B2B buyers and 84% of C-level executives when making purchasing decisions.
Logistics companies can use social media platforms such as LinkedIn and Facebook to position themselves as industry experts, which can help generate leads and increase customer engagement.
Food logistics companies can maximize their presence on social media platforms by frequently asking customers to be followers of their pages and developing a regular cadence of posting that keeps their brand visible.
Reputation management
In this digital age, it is easier than ever for customers to leave reviews on social media and review sites to share their opinions of products and services. These opinions in turn influence customer decision making in everything from buying a product to selecting a service provider.
The online reputation of companies of all sizes has a seismic impact on business success. As such, food logistics companies should integrate the key components of reputation management strategies, including monitoring, asking, responding and automating into digital marketing strategies.
Monitoring. One of the first steps in reputation management is monitoring. Food logistics companies should listen to what is being said about their business on social media, review sites and everywhere else online.
This ear to the "online ground" approach can provide insights on what customers really think about a company. It also gives logistics companies a better understanding of customer concerns around what is working and what is not in every aspect of customer engagement from business operations to marketing and promotional campaigns.
Asking. Asking satisfied customers to post a review is simple and one of the best times to ask for a positive review is after the customer has a great experience. These customers will often want to recognize businesses for that good experience. If a customer offers unsolicited praise, food logistics companies should seize the moment and ask them to write a review on one of the company's social media platforms.
Responding. A key part of building a positive online reputation is responding to reviews both positive and negative. Being responsive demonstrates that the business cares about and is listening to customer feedback.
Responding to positive reviews is not difficult but the negative feedback is more challenging. Criticism is not easy to take and dealing with an angry customer is even more challenging. Responding with empathy, apologizing and taking action to solve the issue will go a long way to diffusing the situation and could even turn an unhappy customer into a happy customer.
Food logistics companies should make it a practice to accept and engage with customer reviews – good or bad and gain further insight on reviews whether positive or negative by asking how services can be improved.
Automating. Digital tools can help food logistics companies optimize reputation management. These tools simplify reputation management, doing everything from soliciting reviews and ensuring they are spread out over review sites, pre-qualifying reviews and routing customers to the right review sites.
These tools also allow logistics companies to sync all of their user review platforms, such as Yelp and Google ratings, to their account and receive instant notifications when a new review has been shared. These notifications increase responsiveness by allowing companies to respond to customers in real-time right from an app.
Building a positive online reputation offers a wide range of benefits for food logistics companies, including building customer trust, increasing online visibility, improving search engine rankings and driving business growth.
Digital marketing programs that include website optimization, SEO, social media marketing and reputation management can increase brand engagement, convert leads and support revenue generation. These bottom-line impacts of integrating digital marketing into business strategy are key to helping food logistics companies drive growth and stand out in a competitive market.