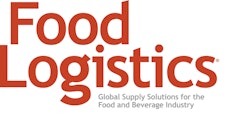 Guidelines for submitting industry expert columns:
Topic must pertain to cold food and beverage supply chain and logistics. CLICK HERE to download Food Logistics' print and digital editorial calendars and learn about upcoming topics.

Q&A format will not be accepted, as Food Logistics does not publish Q&As not conducted by editorial staff.

Word count = 800-1,200 words. 

Must include headshot of author in high-res jpg format. Can also include (1) high-res jpg image pertaining to content, i.e., product, fleet, plant, etc.
Must include author's full name and title, as well as company name. (Author emails and company websites will not publish). 

Copy must be non-promotional, non-commercial. Any content promoting a company's products, services or blogs will be omitted. This includes hyperlinks back to company websites.

Company websites will be listed in the company page tagged to the column.

Editorial staff reserves the right to edit and fact check according to magazine style. Any statistics, facts and/or research must be supported with adequate sourcing.

Per magazine policy, Food Logistics does not insert hyperlinks back to company's websites, products, blogs or services. 

Deadline: Columns are published online on a first-come, first-serve basis, therefore, there is no specific deadline, unless otherwise specified. 
You are encouraged to share the link on your website and through your social media channels. Our logo is available for request to post an excerpt on your website or in your e-newsletters. Posting the article on your website or in your e-newsletters without linking back to the article on our site is strictly prohibited and will be subject to copyright infringement. 


Go to https://www.foodlogistics.com/blogs to learn more about previous Expert Columnists.


Please submit expert columns to Editor-in-Chief Marina Mayer at mmayer@acbusinessmedia.com

Please note: We receive about 10-12 expert columns a day, so it may take editorial staff a couple of weeks to provide a publish date. Thank you for your patience.