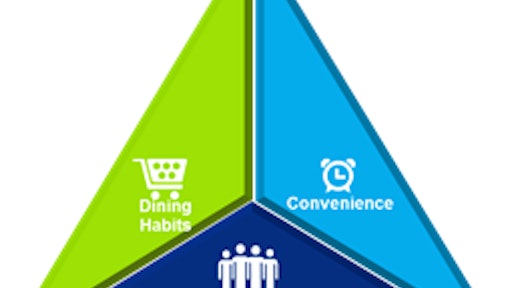 As the U.S. economy improves, the food and beverage industry now finds itself in a generally favorable demand environment. However, consumer behavior and preferences are rapidly changing—arguably at a speed that many industry providers are not prepared for. We are witnessing an explosion of consumer interest in locally sourced, fresh, organic, natural and sustainable products. Furthermore, consumers are increasingly expecting food companies along the value chain to be responsible environmental stewards and corporate citizens.
In response to these new demands, several disruptive innovations from the supply side have begun to appear in the marketplace, most notably in the home delivery space. Some of these innovations have been well received by consumers, and many start-ups entering the space are well funded.
Although today's food supply chain infrastructure is efficient, the underlying assumptions that form its foundation are becoming less relevant. In responding to the transformative demand-side changes that are occurring, the food industry logistics function faces strategic disruptions relative to labor, costs and dynamic demand, requiring significant adaptation.
The impact of demand-side changes on food industry logistics will likely be amplified by continual disruptive supply-side innovations designed to offer fast, accurate fulfillment of customized orders. The ability to deliver new logistics solutions to meet the supply-chain challenges of the "new demand" will become a key strategic differentiator for companies that want to remain competitive and gain market share. Companies that take on this challenge will have to also deal with the operational complexity and cost of managing both the old and the new logistics infrastructure, and ensuring product quality integrity (e.g., freshness, temperature or consistency) isn't compromised during transportation, a key risk that can impact a brand's reputation, consumer satisfaction and future sales.
Traditional industry leaders should act now to ensure that they capitalize on innovative delivery models and manage risks appropriately, both to minimize disruptions to their business and to further differentiate themselves strategically. It is the purpose of this whitepaper to provide perspectives on what the future may look like and how industry participants should consider responding.
Challenges based on yesterday's thinking
Today's supply chains are largely designed to meet yesterday's consumer dining and purchasing habits. Dining habits have traditionally focused on convenience and cost. Large, broad-format distribution channels exist in retail foodservice (e.g., grocery, c-stores) and restaurant establishments (e.g., limited- and full-service restaurants). Convenience has been traditionally delivered through one-stop shopping and drive-thru service, and more recently through a proliferation of value-added prepared food establishments. In addition, an immense but largely standardized variety of consumer packaged food products has been offered by broad-line retailers and wholesalers.
Demographics have also radically changed from previous years, when a predominant middle class and geographic dispersion of communities favored conditions for mass-produced, efficiently distributed, widely available and low-unit-cost food options. Growth in dual-income households has also reshaped the landscape. Middle-class consumers now have greater desire for, and access to, many categories of consumer products. This change has been accompanied by a shift toward away-from-home spending on food.
Logistics networks have been designed with mindsets relevant to a prior era. Production and distribution efficiencies commonly drive product and placement. The infrastructure and apparatus are built around a high proportion of (and preference for) heavily processed foods with extended shelf life. Large manufacturing plants and distribution centers are prevalent, and efficiencies have been built around bulk shipments, which have often driven product assortment decisions. Lastly, outbound distribution models have been designed by large players to maximize their bottom line relying on fairly predictable demand rather than to respond optimally to consumer on-the-go needs.
How evolving consumer demand is changing everything
Consumer demand patterns are evolving fast, and food spend is increasingly diverted to an expanding number of innovative niches such as fast casual restaurants (limited service restaurants providing convenience and customized meals, often emphasizing fresh ingredients) and specialty markets. This is a real and material threat to the underlying assumptions that food industry business models and food supply chains are built on.
We have identified three main accelerating drivers of change that will require logistics structures and operations to immediately adapt to help maintain market share and service levels at relatively low cost.
Dining habits: Shifts in what consumers prefer to eat and the need for transparency
Convenience: Changes in where and how consumers want food to be available
Demographics: "One size fits all" no longer works for the key demographic cohorts
1) Dining habits
Changes in consumers' dining and dietary preferences are driving innovation, and chipping away at the "mass produced" share of the food dollar.
Health-consciousness: The definition of what is "healthy" is expanding to encompass many attributes besides low-fat and low-calorie—including, most notably, natural/organic, GMO-free and the absence of artificial ingredients / additives.
Dietary restrictions: A significant and growing number of consumers have specific dietary restrictions, whether medically discovered or self-determined (e.g., celiac disease/gluten-free, lactose intolerance/dairy-free, vegan). These consumers are diverting their expenditure to products that meet their needs. Small, niche brands are usually first to market with these products.
Product variety: Consumers know about and demand a greater variety of products within many categories—ingredients (e.g., ancient-grain flours), ethnic profiles (e.g., Korean barbecue), craft/artisan positioning, and price point (e.g., premium, budget). Choices will proliferate with the emergence of many local purveyors and producers of specialty products.
Sourcing: While definitions of "local" vary, consumers are more interested in, and more willing to spend on, products that are locally grown or raised. Demand for products from small, family-owned farms is demonstrably on the rise, and the consumers' need to know where product is being sourced from. Consumers are increasingly concerned about the social and environmental impact and carbon footprint of growing and processing methods and animal treatment, contributing to rapid changes in demand patterns.
There is heightened awareness of and growing demand for "clean labels"—products with fewer additives, no pesticides/antibiotics, shorter ingredient lists, and less processing overall.

2) Convenience
Today's consumers no longer desire to be limited in consumption and purchasing options based on what retailers dictate. They have learned from their technology engagement with other industries that they can demand access to the food that they want, where and when they want it.
Points of distribution: Growing consumer expectations for freshness require shorter farm-to-fork times and distances. There has been major growth in small-footprint urban retail locations, as well as substantial growth in home delivery from online channels (e.g., Blue Apron). "Uber-type" on-demand deliveries in a one- to four-hour timeframe are also coming to market.
Distribution channels: There is growth in nontraditional retail and foodservice channels (e.g., limited-assortment and fresh-format stores, specialized chains). Convenience retailers are actively working to deliver a broader, fresher and better variety of prepared foods to customers. Emerging channels like food trucks and farmers markets with unique offerings are also developing; many are harnessing the power of social media to reach consumers.
Packaging and format: Demand for snacking (both traditional and healthy options) is on the uptick. Food on the go is expanding rapidly across channels, allowing some channels that previously could not compete in prepared foods to take share.
Consumers want freshly prepared foods wherever they are and wherever they go, and managing the supply chain for shorter-shelf-life foods is of growing importance.
3) Demographics
Consumers are no longer a "one size fits all" marketplace, with demand patterns increasingly differing between urban and suburban milieus among the generations, and as a result of growing economic stratification.
Urbanization: Expanding urbanization is changing geographic demand patterns with a heavy increase in urban and local retailers and restaurants. Urban density is also driving the need for smaller footprints in retail food units. From a distribution standpoint, this means smaller drops and more frequent deliveries.
Generational differences: The three core adult groups that make up the total food market (Boomers, Generation X and Millennials) demonstrate important differences in dining habits and food preferences. Generational differences in technology use, flavor preferences, expectations about corporate social responsibility, and expectations about where to access food add complexity to the industry.
Economic differences: The middle class is being squeezed, and the needs of the top and bottom economic tiers are increasingly polarized. That is shaking up conventional business models and supporting supply chains in foodservice. Savvy brand marketers and retailers targeting the top and bottom are a competitive force to traditional supermarkets and restaurant chains that were built under the "everything for everybody" paradigm.
A changing demographic and economic landscape has resulted in the splintering of consumer demand patterns.
How is this impacting logistics?
The aforementioned consumer demand elements are just starting to bring to light the dramatic adaptation of logistics infrastructure and execution that will be required in order to keep up with the new food environment. From smaller, closer-to-market and more responsive distribution and consumption sites all the way to entire production systems built on predictive demand analytics and real time information, the field of food and beverage logistics is changing rapidly. Organizations must remain flexible and ready to implement change today. They must know how the market is changing and anticipate the next market move.
The core of logistics is drastically changing
The very basis of logistics network design (facilities location and design, mix of modes and frequency of delivery) will need to change in order to meet changing consumer demand patterns. This will radically impact food industry logistics:
Facilities: The increasing need to be closer to customers necessitates additional brick-and-mortar facilities (e.g., distribution centers, cross docks). To speed up cycle time even further, robots, automation and advanced technologies will be required.
Mode: Look for increased reliance on unconventional transportation channels (e.g., Uber Fresh food delivery service, Postmates last-mile delivery service) with emerging advanced technologies (e.g., drones, future driverless trucks). Organizing and deploying idle assets (both humans and vehicles) represents virtually unlimited disruptive potential.
Frequency: Recent pressures include shorter cycle and delivery times (e.g., same-day delivery) as well as longer hours for transportation service. Implementation has sometimes resulted in increased urban congestion, creating environmental issues.
Capacity and rates: Reduced driver and asset availability are driving up ground transportation rates. Median age of over-the-road drivers is 56, and the demand for qualified and willing drivers greatly exceeds supply, further pushing migration to supply chain alternatives.
The tools required to manage logistics also need to evolve
In parallel with the significant shifts in food industry logistics, the overall logistics profession and industry are evolving. Practices and technologies that enhance execution and performance capability can help the food industry cope with the radical changes that are upon it.
Real-time visibility: Centralized distribution management via "control towers" is becoming popular, enhancing monitoring and decision making. Mobile computing for track-and-trace capability is increasingly common.
Technology/analytics: Organizations are expected to continually right-size the distribution network through advanced modeling and scenario alternatives. Advanced analytics platforms continually coming online have led to improvements in forecasting. We will likely continue to see movement towards automation and advanced execution platforms (e.g., WMS, TMS).
Communication and collaboration: Cross-functional, enterprise-wide collaboration to ensure operational visibility and forward-looking demand will expand, with increased usage of formal planning programs (e.g., S&OP).
Performance management: Focus will increasingly move toward performance outcomes and away from tactical transactions. Comprehensive performance management plans with strict lines of accountability and robust reviews and audits will be prevalent.
Prepare for the future
Changes in consumer behavior and the business landscape mean that laser-like focus on your logistics operation is paramount, particularly last mile distribution. Logistics is no longer perceived as only a cost center or a utility, but rather a differentiator to set your company apart from the competition.
If a company can deliver the logistics capabilities to meet the new consumer demand patterns, it can keep and win market share. The food production and processing capabilities required to meet the new demands have already started to mature. The food that consumers want is available, and more will come to market soon. Opportunity lies in getting these products to the marketplace timely in a cost-effective manner. Logistics is the key strategic differentiator.