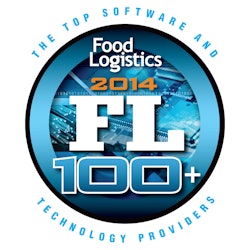 For the eleventh consecutive year, Food Logistics has compiled an impressive list of software and technology providers who are major players in our industry, as well as the supply chain sector at large. These companies' products and solutions benefit our industry in multiple ways, from helping reduce food waste and extending shelf life, to facilitating safe and sanitary transportation of product while assuring regulatory compliance.
To view the entire list of all 133 companies awarded as FL100+ winners, click on this link: http://www.foodlogistics.com/document/12028366/the-2014-fl100-list-of-top-software-and-technology-providers.
Company: Allen Lund Company/ALC Logistics
Web site: www.allenlund.com
Year founded: 1976
Number of employees: 390
Number of food customers: 900+
Solution name(s): ALC Logistics TMS
Worth noting: While our software is programmed to handle any type of freight, ours is the first TMS solution designed to handle the very complicated world of produce transportation. We tie in with live load and temperature tracking.
Company: Arkieva (formerly Supply Chain Consultants)
Web site: www.arkieva.com
Year founded: 1993
Number of employees: 50+
Number of food customers: 7
Solution name(s): Arkieva
Worth noting: We have food processing-centric solutions for managing and scheduling product packaging, product allocation, and inventory optimization.
Company: Armada
Web site: www.armada.net
Year founded: 1890
Number of employees: 338
Number of food customers: 25
Solution name(s): Technology Solutions; Warehouse Solutions; Transportation Solutions; Global Logistics; and Supply Chain Planning
Worth noting: Armada combines in-depth experience with proprietary technology to create more transparent, efficient, cost-effective supply chains for our clients. From lethargic to agile, from reactive to proactive, Armada is changing how supply chains are managed. Armada technologies gather data and apply context to it—transforming the data into relevant, accessible information. This lets us focus on your specific supply chain opportunities and automate manual components of it. The result is a dynamic supply chain that rapidly adapts its activities to variations in demand and supply, whether they are actual or anticipated.
Visibility - We make information immediately available to clients and trading partners. This rapid access dramatically reduces response time, giving you a more relevant view of information and relieving much of the demand on your internal reporting and business intelligence resources.
Automation - We collaborate with clients to create business rules and then automate them, providing dramatic improvements in execution speed and mitigating opportunities for error. In particularly complex supply chains, this lets your people focus on exception cases while the technology executes standard workflows.
Agility - Visibility and automation are the bedrock of agile, proactive supply chain management. The data created, gathered, and transformed into information by Armada technology supports a process of continual improvement for our clients—a process of greater efficiency and agility that results in greater savings and opportunities.
Company: ArrowStream
Web site: www.arrowstream.com
Year founded: 2000
Number of employees: 74
Number of food customers: N/A
Solution name(s): ArrowStream Crossbow, ArrowStream OnDemand
Worth noting: Over the past 14 years, we have defined inbound logistics best practices and evolved our technology to help our customers transform their supply chains. Our Software-as-a-Service platform allows an organization to connect the entire supply chain, from the manufacturer to the actual store in one system. Our flexible, yet dynamic Software-as-a-Service solutions are Crossbow and OnDemand:
Crossbow is a patented strategic inbound logistics planning and performance management tool. This particular solution is a game-changer in the market, because it establishes proactive decision-making between the Purchasing and Logistics teams. This has historically been a reactive process in which Logistics can only work with the orders as they are given. Crossbow now enables optimization of order patterns and shipment routing simultaneously. By creating a proactive, collaborative relationship between the two entities we are seeing significant results; including at least a 7% freight cost reduction, 2-5% inventory reduction, 5% dock capacity reduction and a 10% carbon footprint reduction.
OnDemand is a centralized visibility and decision-making tool that drives impactful savings by empowering restaurant chains to uncover and proactively address the biggest opportunities and threats in their supply chain. OnDemand addresses the major issues facing restaurant chains today: off-contract spending, quality issues and promotional stock-outs, just to name a few. OnDemand takes the manual work off the hands of a supply chain team and maps, merges, cleanses the data to identify specific savings, and then provides the information and tracking to address them. With this level of visibility and predictability, our customers are seeing realized savings: 10% spend reduction on newly contracted items; 20% reduction in landed cost due to improved visibility and tools; up to 30% in spend recovery with price verification tools.
Company: Avercast, LLC
Web site: www.avercast.com
Year founded: 2008
Number of employees: 63
Number of food customers: 25+
Solution name(s): Avercast Business Forecasting, Avercast Supply Planning, Avercast Retail Analysis, Avercast Sales Forecasting, Avercast Rough-cut Capacity Planning, Avercast Supplier Connection
Worth noting: Avercast provides forecasting and demand planning technologies to name brand companies all over the world. With customer support centers in every major time zone, Avercast customers receive the help they need, where and when they need it. At Avercast, it's not just about the world leading forecasting and demand planning technology, it's about building enduring business partnerships for decades to come.
Company: Blue Ridge
Web site: www.blueridgeinventory.com
Year founded: 2007
Number of employees: N/A
Number of food customers: 23
Solution name(s): Blue Ridge Supply Chain Planning Cloud
Worth noting: Blue Ridge technology is changing the way supply chains connect with consumer, by focusing on what drives consumers to buy, rather than a mere estimation of sales. By uniquely analyzing every customer transaction, Blue Ridge powers a deeper of understanding demand, and in turn the most precise inventory alignment across the supply chain. Our Cloud platform is the cornerstone of delivering low total cost of ownership, rapid deployment, the nearly limitless scalability required to process consumer data, and a flexible, centralized platform for agile innovation. Because Blue Ridge technology is unified as a single instance of code, supply chain planning functions are inherently harmonized. Customers achieve unparalleled efficiency from leveraging a single well of 'demand truth' across supply chain planning processes.
Company: Cadec, Inc.
Web site: www.cadec.com
Year founded: 1976
Number of employees: 80
Number of food customers: 74
Solution name(s): PowerVue
Worth noting: Company: 1) With over 38 years' experience, Cadec is the only fleet management systems provider solely focused on private fleets; 2) Cadec, working on a project with Frito-Lay, was the first fleet management system to offer electronic driver logs (eLogs) that included DOT-compliant Hours of Service (HOS) with FMSCA approval; 3) Cadec has a loyal customer base with many of its customers being with the company for over 10 years; and 4) Cadec has been a FL100 recipient for the past 7 years. Product: 1) PowerVue assists food distribution companies by consolidating data across the supply chain with direct integration of fleet data into food distribution business systems such as ERP, warehouse, inventory, invoicing/billing, time/payroll and many more; 2) PowerVue helps food distribution fleets lower costs and increase efficiency by consolidating technology in the cab through its on-board computer acting as a smart hub to the internet and other business applications; and 3) PowerVue offers a highly-configurable driver workflow that eliminates activities that are not part of the drivers' tasks and matches specific driver terms and exact activities.
Company: CAMS Software
Web site: www.camspro.com
Year founded: 1998
Number of employees: 20
Number of food customers: N/A (100% of customers are grocery retailers or wholesalers)
Solution name(s): CAMS Prospero, CAMS Profiler, CAMS Professional, Backhaul Optimizer, Salvage Optimization, Tour Builder, Multi-Site Director
Worth noting: CAMS Software is the leading supplier of dispatch and driver payroll software to the grocery industry, every day, across the country, more grocery trucks are dispatched using CAMS software than any other product. CAMS was designed and developed exclusively for the grocery industry and is not used outside of grocery. Since 1998, CAMS Software has been implementing our products at distribution centers across the United States and CAMS has a 100% success rate for deployments.
Company: CaseStack
Web site: www.casestack.com
Year founded: 1999
Number of employees: 200
Number of food customers: 2,000+
Solution name(s): CaseStack Warehouse Account Management System
Worth noting: CaseStack monitors industry changes and adapt our technology to stay ahead and prevent problems before they arise. CaseStack employs a three-server hierarchical test environment. Experts design new solutions on the R&D server, migrated to another for testing and only move new designs into our customers' live environment when they are production ready. Each of our customers is assigned a triad of full-time staff who ensure that data is integrated cleanly and each customer is fully trained on the system. A dedicated Client Development Manager, Warehouse Account Manager and IT representative provide complete administrative, technical and shipping support.
Company: Cass Information Systems
Web site: www.cassinfo.com
Year founded: 1906
Number of employees: 1,033
Number of food customers: 25
Solution name(s): Cass Information Systems (for Transportation, Utility, Telecom, Waste, and Banking sectors)
Worth noting: Cass' large base of food and beverage customers provides us with the industry knowledge and expertise to be of benefit to this market. Cass Transportation Expense Management Services assists in:
• Reducing Expenses through an outsourced freight rating, audit, payment and business intelligence solution.
• Achieving Processing Efficiency through process automation such as increased use of EDI, on-line reporting, document and payment visibility, etc.
• Obtaining Operational Enhancements through tactical performance improvements and use of metrics.
• Decision Support to aid in strategic planning and execution.
Company: Corcentric
Web site: www.corcentric.com
Year founded: 1998
Number of employees: 86
Number of food customers: 140
Solution name(s): Corcentric
Worth noting: Corcentric is a leading provider of financial process automation solutions. Our solutions make B2B commerce faster, simpler and more transparent. We help customers automate and manage complex transactions that streamline both order-to-cash and procure-to-pay processes. Corcentric solutions incorporate:
• Deep knowledge of how the Accounts Payable process actually works
• Supplier portal and e-invoicing through the Corcentric Supplier Network
• Best-in-class invoice imaging and OCR data capture
• Workflow technology configured using your business rules
• Automated invoice matching using Straight Through Processing technology
• Ability to connect with 100% of a customer's supply base
• ERP/business system integration
• Streamlined user experience with intuitive navigation
• Cost-effective AP automation solutions with built-in best practices
Company: Crown Equipment Corporation
Web site: www.crown.com
Year founded: 1945
Number of employees: 10,700
Number of food customers: Thirty percent of Crown's global Crown Insite Productivity Suite customers come from the food/bev industry
Solution name(s): Crown Insite Productivity Suite
Worth noting: It's not uncommon to find technology from third-party suppliers in warehouses and distribution centers. It is uncommon to find an experienced material handling solutions provider equipped with its own comprehensive technology platform. Through Crown Equipment's decades of material handling experience, the company offers its customers technology that is supported with the relevant expertise, deep resources and an established distribution channel that end users require for a long-term solution. Software upgrades are provided at no additional charge. Updates, which are the culmination of customer suggestions and improvements, are done in-house and made about every six months. The technology is durable and a functional fit for material handling environments.
Company: Demand Solutions
Web site: www.demandsolutions.com
Year founded: 1985
Number of employees: 250
Number of food customers: 59
Solution name(s): DS Forecast Management, DS Requirements Planning, DS Sales & Operations Planning, DS Retail Planning, DS Supply Chain Collaboration, DS Advanced Planning & Scheduling, DSX Forecast Management, DSX Requirements Planning, DSX Sales & Operations Planning and DSX Collaboration
Worth noting: Demand Solutions has helped address our customers' most challenging supply chain planning issues for almost 30 years. During this time, we have worked with over 3,000 customers and have assisted our customers in over 77 countries. This level of experience is unusual and shows the value of our solutions and the ongoing commitment that Demand Solutions has made to support the planning needs of the Food/Bev industry. It has required continuous improvement and innovation in both the value and functional capabilities of our software as well as the underlying technology infrastructure. Stability, longevity, and innovation are three hallmarks of Demand Solutions.
Company: Dematic Corporation
Web site: www.dematic.com
Year founded: 1939
Number of employees: 4,700+
Number of food customers: 55+
Solution name(s): Deep Lane Pallet Storage Solution and Dematic Multishuttle Staging/Sorting/Sequence/Buffer
Worth noting: Dematic has the largest customer service department in North America and can support companies on many levels from "800" phone support to resident site maintenance.
Company: Derive Efficiency
Web site: www.deriveefficiency.com
Year founded: 2014 (founded after the merger of SCT and Bully Dog)
Number of employees: 130
Number of food customers: 13
Solution name(s): Derive Efficiency
Worth noting: Derive Efficiency is the only truly active fleet control solution. Most other solutions are passive in nature (i.e telematics)—identifying issues with specific drivers/vehicles (i.e. speeding, excessive idling) and providing behavior modification recommendations for the driver. At Derive, we resolve the key issues in pro-active manner—by transferring the responsibility from the driver to the vehicle. The result is a massive savings—in time and frustration—for the fleet manager, who would otherwise have to constantly dig through and monitor data, and then spend time and effort disciplining drivers...and for drivers who have to constantly worry about being beeped/buzzed by alerts and admonished by their bosses, rather than focusing on the other jobs they are tasked with performing.
Company: ExtenData
Web site: www.extendata.com
Year founded: 2002
Number of employees: 25
Number of food customers: 36
Solution name(s): MobileConductor is ExtenData's proof of delivery, direct store delivery, and single device in the cab solution for foodservice and food distributor organizations
Worth noting: MobileConductor had been recognized by the FL100 for three years running and was recognized in 2013 by the International Dairy Foods Association for Innovation in Food Safety. This year we are proud to submit the newest version of MobileConductor, which can now act as the single in-cab interface for drivers. Further improving the efficiency of drivers and reducing in-cab costs, MobileConductor™ is a cohesive and easy to use mobile app that supports several critical in-cab functions. Imagine one device for a driver that provides proof of delivery, driver logs, daily vehicle inspection reports, integrated vehicle telematics, route scheduling, turn-by-turn navigation, and messaging—this new capability for MobileConductor means decreased hardware and data plan costs and simplification of DOT regulatory compliance for delivery and distribution companies.
Company: EXTOL International
Web site: www.extol.com
Year founded: 1989
Number of employees: 95
Number of food customers: 124
Solution name(s): EXTOL Business Integrator, EXTOL Data Synchronizer, EXTOL EDI Integrator for i (EEI), EXTOL VAN, EXTOL Secure Exchange
Worth noting: EXTOL International is celebrating its 25th year in business, a significant milestone for software companies. Additionally, EXTOL is celebrating its remarkable Net Promoter Score (70.1) that it earned this year. Net Promoter Score is a customer loyalty measurement based on a survey of its customers. According to a study published in 2013, the highest Net Promoter Score for top North American B2B software companies was 47, which is 23 points lower than EXTOL's score. EXTOL also touts a 96% customer retention rate and prides itself on unrivaled customer support.
Company: Fortna Inc.
Web site: www.fortna.com
Year founded: 1958
Number of employees: 300+
Number of food customers: 25
Solution name(s): N/A
Worth noting: At Fortna our primary business principle is that our "Clients' interests come first," ensuring that we provide the best possible solutions for their challenges and earning our Clients' trust and long term partnership.
Company: GreenMile
Web site: www.greenmile.com
Year founded: 2004
Number of employees: 91
Number of food customers: 200+
Solution name(s): GreenMile Live, GreenMile Route, GreenMile Driver, GreenMile Manager, GreenMile Sales, GreenMile Merchandiser, PROER Consulting Services
Worth noting: GreenMile was formed by a group of ex-Roadnet Technologies executives with more than 70 years' combined experience working with the food/beverage market. Our cloud-based technology was created specifically to fill the gaps that exist within this vertical regarding last-mile transportation and fleet performance software.
Company: KNAPP Logistics Automation, Inc. (daughter-company of KNAPP AG, Austria)
Web site: www.knapp.com
Year founded: 1952
Number of employees: 2,450
Number of food customers: 58+
Solution name(s): KiSoft WMS, KiSoft AUTOMOTIVE, KiSoft RMS (Reusables Management), KiSoft Pick-it-Easy, KiSoft Beverage Solutions, OSR Shuttle, KiSoft Open Shuttle, KiSoft FAST (Fully Automated Standard Tray), Flexible Case Picking, KiSoft E-Grocer
Worth noting: KNAPP suggests automation in a sensitive way, only where it makes sense, in order to stay flexible and prepared for further change and growth. Therefore, a broad range of solutions is available and is offered tailor made to the clients.
Company: Llamasoft, Inc.
Web site: www.llamasoft.com
Year founded: 1998
Number of employees: 200
Number of food customers: 43
Solution name(s): Supply Chain Guru, Transportation Guru, K2 Enterprise, Data Guru
Worth noting: LLamasoft was the first company to combine enterprise level simulation with full-feature network and inventory optimization within a single modeling application. We have a rapidly growing international presence with offices in countries throughout the world, including Japan, China, United Kingdom, France, Germany, South Africa, Brazil, Colombia and Mexico and customers in many more.
Company: Logility
Web site: www.logility.com
Year founded: 1996
Number of employees: 180
Number of food customers: 175
Solution name(s): Logility Voyager Solutions
Worth noting: Logility Voyager Solutions is a suite of collaborative, best-of-breed supply chain solutions that help small, medium, large and Fortune 1000 companies realize substantial bottom-line results in record time. It gives you proven best-of-breed capabilities to streamline your global supply chain operations. From planning and forecasting…to sourcing and production…through warehousing and transportation management…you'll have the tools, flexibility and supply chain visibility you need to achieve a competitive advantage.
Company: MercuryGate
Web site: www.mercurygate.com
Year founded: 2000
Number of employees: 147
Number of food customers: We are a Transportation Management Software (TMS) solution, and sell to shippers, 3PLs, LSPs, brokers and freight forwarders that have both domestic and international transportation. Currently, we have over a dozen direct food/bev accounts, but through our transportation-related customers we connect with over tens of thousands of food/bev accounts.
Solution name(s): MercuryGate TMS
Worth noting: Not all organizations are "optimizing" their TMS investments. In fact, just one in four companies fully leverage the features and functions of its system. By ignoring a TMS' status as a platform for innovation and continuous improvement, the other 75 percent of companies miss out on key benefits and cost savings. Those that do leverage their TMS' rich capabilities also gain access to real-time decision-making—the Holy Grail for compaies in today's competitive business environment. With MercuryGate's configurable architecture and workflow engine, MercuryGate clients are able to manage parcel, LTL, intermodal, and truckload shipments as well as complex multi-leg, ocean, air, and rail movements.
Company: Plug Power Inc.
Web site: www.plugpower.com
Year founded: 1997
Number of employees: 150
Number of food customers: 21
Solution name(s): GenKey, GenDrive, GenFuel, GenCare
Worth noting: With GenKey, adopting hydrogen fuel cell power has been made simple by Plug Power. GenKey takes the complexity out of the equation for customers by delivering a complete range of turnkey services to streamline the entire process. Plug Power provides full integration and deployment of the entire GenKey solution package for customers like Walmart, P&G, Sysco and Kroger to ensure a seamless transition to hydrogen fuel cell-based power for material handling operations.
The GenKey package was founded on customer trust and Plug Power's proven performance. Plug Power acts as a single-source vendor, handling the power, fueling, service integration and deployment, so customers can focus on their core competency and business objectives. As part of the GenKey solution the lease payments are rolled into one monthly sum that also includes fuel and maintenance. Plug Power has deployed 11 GenKey sites in North America in 2014. In total, there are over 5,000 GenDrive fuel cell units powering lift trucks in North American operations. These units have accumulated over 20M hours of run time.
Company: Power Automation Systems
Web site: www.powerautomationsystems.com
Year founded: 2000
Number of employees: 50-100
Number of food customers: 20
Solution name(s): PowerStor, PAS Voyager, PowerStor4000, PowerStage
Worth noting: PowerStor is the only fully automated warehouse solution on the market today. It has been proven to significantly increase storage capacity, provide absolute inventory control, reduce product damage and waste, and provide significant cost savings and energy output.
Company: ProCat Distribution Technologies, Inc.
Web site: www.procatdt.com
Year founded: 2001
Number of employees: 20
Number of food customers: 100
Solution name(s): PickRight by ProCat—hands-free order picking/loading solution for warehouse distribution incorporating visual touch screen display and ring scanner for virtually 100% order accuracy.
Worth noting: PickRight by ProCat is an affordable, hands-free order picking/loading system providing virtually 100% order accuracy that is easy to install, easy to learn and does not require a warehouse management system. If you can print a pick ticket, you're ready for PickRight. In addition, PickRight is ready to help manage the ever growing needs and customer customization required in today's complex market place.
Company: Retrotech, Inc.
Web site: www.retrotech.com
Year founded: 1985
Number of employees: 120
Number of food customers: Approximately 32% of current clients sites are food/bev
Solution name(s): Retrotech WCS
Worth noting: Modernizing and enhancing the capability or repurposing existing automated equipment is a key opportunity for the food/bev industry. The industry's need to change the performance and capability of its existing automation and our retrofitting and modernizing software programs are outstanding investments in lieu of asset replacement.
Company: Ryder System, Inc.
Web site: www.ryder.com
Year founded: 1933
Number of employees: 28,900
Number of food customers: 4,000 active customers across Ryder
Solution name(s): N/A
Worth noting: A competitive differentiator of Ryder's is the linkage it creates by combining lean operating principles to the data available in Warehouse Management System (WMS), Yard Management System (YMS), and Transportation Management System (TMS), to drive continuous improvement opportunities throughout the supply chain.
Company: SafetyChain Software
Web site: www.safetychain.com
Year founded: 2011
Number of employees: 60+
Number of food customers: 65+
Solution name(s): SafetyChain for Food Suite, SafetyChain Supplier Compliance, SafetyChain Food Safety & Quality Data Management, SafetyChain Audit Management, SafetyChain for HACCP/HARPC, SafetyChain for GFSI, SafetyChain SPC, SafetyChain Mobile
Worth noting: SafetyChain's tremendous growth and adoption in the food industry is due to several key differentiators:
1. SafetyChain is focused on prevention vs. reaction. Our solutions are designed to alert non-conformances at the earliest point possible—for timely Corrective/Preventive Actions (CAPA)—before non-compliant products go in to commerce.
2. SafetyChain affects your bottom line with a proven return on investment model.
3. SafetyChain for Food is the only cloud-based, end-to-end FSQA suite that includes solutions for every phase of the supply chain—from supplier compliance, to plant safety and quality management, to cold-chain/transport FSQA, to onsite monitoring in stores/restaurants and to regulatory/third-party compliance. We have heard over and over again from our customers that "we thought we would have to go to three or four vendors to get all of these components.
4. SafetyChain goes far beyond document management—we actually automate the management of food safety plans such as HACCP/HARPC, GFSI schemes, SOPs, GMPs, PRPs and the like. When we say we help your company be audit-ready, we don't just mean documents – but passing audits by ensuring that programs/plans are carried out on time and within requirements.
5. SafetyChain allows you to unlock data and turn it into real time, actionable insight for continuous improvement
Company: Safeway Management Group, Inc.
Web site: www.smgsafety.com
Year founded: 2004
Number of employees: 14
Number of food customers: 46
Solution name(s): Quality Management System, Food Safety/HACCP Plans, Quality Control Module, Quality Training, Transportation Safety Program, Workplace Safety Program, Human Resources Program, File Maintenance, Document Control, Regulatory Compliance Services, Recruitment Process Outsourcing, E-Training
Worth noting: We think of our services as "Software Plus." You'll receive superior technology with a human factor that only Safeway Management Group offers. Working with us will provide your company with a complete Quality and/or Safety Department for a fraction of the cost.
Company: Seagull Scientific
Web site: www.seagullscientific.com
Year founded: 1985
Number of employees: 120
Number of food customers: 2,000+
Solution name(s): BarTender
Worth noting: BarTender's position as the global standard in labeling and barcoding software provides unparalleled business-to-business interoperability, communication and harmonized data capabilities.
Company: Supply Chain Services
Web site: www.supplychainservices.com
Year founded: 2002
Number of employees: 39
Number of food customers: 140
Solution name(s): Barcode Scanners, Barcode Printers, Rugged Mobile Computers
Worth noting: As specialists in the automated identification and data collection (AIDC) industry, we provide knowledgeable sales and IT support with industry and technology expertise. Our methodology is built on understanding business needs and applying appropriate technologies—incorporating barcode readers, barcode scanners, barcode printers, rugged mobile computers, and barcode labels. We are a single source for evaluating, designing, integrating, implementing, managing, and supporting data collection technology infrastructures that generate very high and very fast return on investment for our customers. Our goal is to help our customers operate better.
Company: Technology Group International
Web site: www.tgiltd.com
Year founded: 1990
Number of employees: 30+
Number of food customers: 400+
Solution name(s): Enterprise 21 ERP
Worth noting: TGI is unique in that Enterprise 21 ERP is developed, sold, implemented, and subsequently supported directly by TGI. We do not sell through resellers, implement through business partners, or outsource our software development and/or technical support services to third-party companies or overseas. This means that food processors and distributors can have a single company partner relationship with TGI for all of their enterprise software needs.
Company: Terra Technology
Web site: www.terratechnology.com
Year founded: 2001
Number of employees: 100+
Number of food customers: 9
Solution name(s): Demand Sensing, Multi-Enterprise Demand Sensing, Long-Term Demand Sensing, Multi-Enterprise Inventory Optimization, Transportation Forecasting
Worth noting: Terra Technology uses better mathematics to sense demand, optimize inventory and predict transportation and warehousing requirements for some of the world's best-known companies including Shell, Procter & Gamble, Unilever, Mondelēz International, Kimberly-Clark, AkzoNobel, Kraft Foods, General Mills, ConAgra Foods, Kellogg, Campbell Soup and others. Terra invented demand sensing in 2002 and offered the first solutions to use retailer data systematically to improve supply chain efficiency, enhance service, cut inventory and reduce waste. Terra's solutions are currently used in more than 160 countries.
Company: Testo
Web site: www.testo.com
Year founded: 1957
Number of employees: 2,000
Number of food customers: 5,000
Solution name(s): Testo 184 Series Data Loggers
Worth noting: The newly released Testo 184 Series Data Loggers eliminate many of the problems that international shippers contend: easily pulling data from logger at destination, quickly and accurately configuring multiple loggers, and keeping track of certification documentation, by offering a USB logger with .pdf configuration that is easily copied and pasted to multiple loggers and certification documentation is stored directly on the logger.
Company: The Raymond Corporation
Web site: www.raymondcorp.com
Year founded: 1922
Number of employees: 1,500+
Number of food customers: N/A
Solution name(s): iWAREHOUSE
Worth noting: Raymond's iWAREHOUSE fleet and warehouse optimization system contains two solutions tailored to a business' needs, iWAREHOUSE Essential and iWAREHOUSE Enterprise. These iWAREHOUSE solutions combine fleet efficiency, warehouse optimization and professional services. iWAREHOUSE Essential provides access control and compliance, and monitors and collects lift truck and operator data in real-time, allowing warehouse managers to increase visibility of assets and labor. iWAREHOUSE Enterprise turns collected asset and labor information into actionable data that helps warehouse managers identify opportunities for fleet and warehouse optimization. The solution integrates with select labor management systems (LMSs) to help increase productivity and reduce operating costs, and can be used by Raymond's expert consultants to enhance additional optimization decisions.
Company: TMW Systems, Inc.
Web site: www.tmwsystems.com
Year founded: 1983
Number of employees: 550
Number of food customers: 200+
Solution name(s): TMWSuite, Appian DirectRoute, Appian DRTrack and 3GTMS
Worth noting: Solutions from TMW Systems enable companies to process both inbound and outbound shipments and optimize product movements for either local distribution or throughout the supply chain. Web-based or on-premise dispatching and reporting tools provide time-critical information to customers, management staff, service personnel and drivers. Cost-tracking and fleet-tracking features expand visibility and support better operational decision-making.
Company: topVOX Corporation
Web site: www.top-vox.com
Year founded: 1995
Number of employees: 110 worldwide
Number of food customers: 200+
Solution name(s): Lydia speech-based solutions, Voxter hardware suite specializing in voice recognition systems
Worth noting: The Lydia voice directed solution is speaker independent, so employees don't need to create a voice template to use the system. That means workers become much more productive in less time since absolutely no training is required to obtain excellent recognition.
Company: Transportation Insight
Web site: www.transportationinsight.com
Year founded: 1999
Number of employees: 300
Number of food customers: 25
Solution name(s): Bundled enterprise logistics solution providing freight bill payment & audit, transportation management (Insight TMS), business intelligence (Insight Fusion), and carrier sourcing. Transportation Insight also provides Extended LEAN, a lean consulting methodology that extends LEAN practices outside the 4 walls of a company to its suppliers and customers.
Worth noting: Insight TMS is Transportation Insight's Web-based transportation management solution that gives clients access to tools that empower them to maximize productivity, save time and improve decision making by presenting all of the transportation information needed in one place. Insight TMS allows clients to rate shop and select carriers across multiple modes, create shipping documents, tender shipments, track shipments to their destination and more. Eliminating the need for significant capital investment on customers' parts, Insight TMS is hosted, flexible and scalable, easily adapting as businesses grows or technology needs change. Because Insight TMS will help clients reduce effort spent on time-consuming and repetitive tasks, customers will be able to spend more time focusing on managing and growing their business.
Insight Fusion is our ground-breaking Big Data solution and interactive business intelligence engine. This cloud-based system enables clients to assimilate data from multiple, disparate sources such as:
• Raw materials costs
• TMS/WMS data
• Transactional records
• Freight invoices
• Production line
• ERP system
• Contextual data
Clients use mobile, actionable business intelligence to make pro-active decisions regarding supply chain activities and the enterprise. Business leaders can see all business metrics, analyze KPIs through multiple filters and drill deep into the numbers. By harnessing the power of Insight Fusion, clients obtain a significant competitive advantage.
Company: Tyco Integrated Security
Web site: www.tycois.com/insights-and-opinions/articles/food-defense-initiative
Year founded: 1874
Number of employees: 10,000
Number of food customers: Hundreds
Solution name(s): Food Defense Assessment, Access Control, Intrusion Detection, Alarm Monitoring Services, Video Surveillance, Loss Prevention, Fire and Life Safety
Worth noting: The focus of FSMA is on preventing food contamination, not reacting to an event after it has occurred. Tyco Integrated Security can help companies protect their brand as well as comply with the forthcoming Intentional Adulteration rule of FSMA by implementing a proactive food defense program to assess the key vulnerabilities in their food supply chain and mitigate the risks of disgruntled employees and terrorists intentionally adulterating food to harm the consumer.
Company: Vormittag Associates, Inc. (VAI)
Web site: www.vai.net
Year founded: 1978
Number of employees: 143
Number of food customers: 39
Solution name(s): S2K Enterprise for Food
Worth noting: VAI is a two-time IBM Beacon Award winner for: Outstanding Solution for Midsize Business and Most Innovative "Built on IBM Express Portfolio" Solution
Company: WITRON Integrated Logistics
Web site: www.witron.com
Year founded: 1971
Number of employees: 2000
Number of food customers: 30
Solution name(s): Order Picking Machinery (OPM)
Worth noting: Our Warehouse Automation technology doesn't just make work easier inside the Distribution Center, but also in the stores and on the road. Thoroughly calculated and store-friendly pack-patterns save space on the trailers and make the unpacking and replenishment of goods at the stores easier than ever.
Company: Wolters Kluwer Transport Services
Web site: www.wktransportservices.com and www.transwide.com
Year founded: 2000
Number of employees: 200+
Number of food customers: 34
Solution name(s): Transwide TMS
Worth noting: With regional sales, implementation and support offices in New York, Brussels and Shanghai, we have a unique capability deploying solutions anywhere across the globe, and are already delivering rapid ROI for 200+ companies in 80 countries across 4 continents. Our modular solution design and SaaS ("Cloud") delivery/business models are ideal for shippers who are looking to take advantage of the benefits of automating their transportation and logistics operations and processes, but doing so in a way that allows for minimal risk, rapid ROI and achievable deployment objectives. Our modularity and "pay as you go" business model enables our customers to deploy a TMS solution at a pace/speed that will not overtax their logistics, operational or IT resources, deliver ROI on every transaction (= freight move), and scale up (additional modules/functionality or volumes), or scale out (to additional sites, carriers, logistics partners, vendors/customers, etc.) when they feel ready to do so, rather than be forced to rush deployment in an attempt to achieve an ROI on a large capital expenditure as fast as possible.