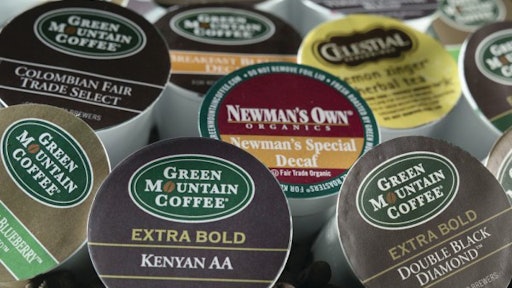 Many food and beverage manufacturers have expanded into new distribution channels in recent years. Some have moved from traditional lines of trade to ecommerce. But Keurig Green Mountain Inc., which makes a single-serve beverage brewer and single-cup coffee packs, has followed an opposite path: after launching its ecommerce initiative in 2003 it has since moved into to retail and foodservice.
"As a company, our mission is to be a beverage for every occasion," says Dave Manly, senior vice president for innovation at Keurig Green Mountain. The company began in 1998 supplying brewers and portion-pack K-Cups to office coffee service operators. In 2003, it launched its ecommerce initiative, allowing customers to order products online.
A year later, Keurig entered the department store channel, followed by mass merchants, supermarkets and warehouse clubs. In 2009, the company began selling its products through office supply retailers. This past year, Keurig Green Mountain announced a partnership with the Subway restaurant chain.
Keurig Green Mountain warehouses its products in company distribution centers and 3PLs, Manly says.